This is the second and final part of a series on mothers in TV writers' rooms. You can read the first part here.
This year will be the first that the team of writers for "Crazy Ex-Girlfriend" does not have a new mother among its ranks.
Last year, when the writing staff reconvened to start work on the show's third season, two writers had just given birth months before. In prior seasons, showrunner Aline Brosh McKenna recalls always having a pumping mother among them.
But with the two "little ones" among their ranks last year, Brosh McKenna knew what had to be done: They turned one of the writer's offices into a nursery.
One mom brought in a rocker for the room. Cribs were moved in. Brosh Mckenna hung a picture that had once been on the wall of her own son's room.
"I always want to create a comfortable environment for people where they feel safe and part of that is making sure that they feel like they're taking care of their family obligations," Brosh McKenna tells CNN.
Life in the writers' room of the CW series, which is produced by CBS TV Studios, is a sort of glowing example of what life can be for the working parents who spend every day cobbling together stories in this age of Peak TV and is a stark contrast to the troubles, harassment and bullying being experienced by some working and new mothers in TV's writers' rooms.
The writers tend to keep reasonable working hours and parents are encouraged to be present for their families, be it at doctor's appointments or first days of school.
"In addition to just being the nicer thing to do, it really affects how well people do their jobs," Brosh McKenna says.
The stats on "Crazy Ex-Girlfriend" speak for themselves.
The show has had almost the same writing staff since the first day of its first season, a fact Brosh McKenna is proud of because it demonstrates they've cultivated an environment that "can accommodate their lives."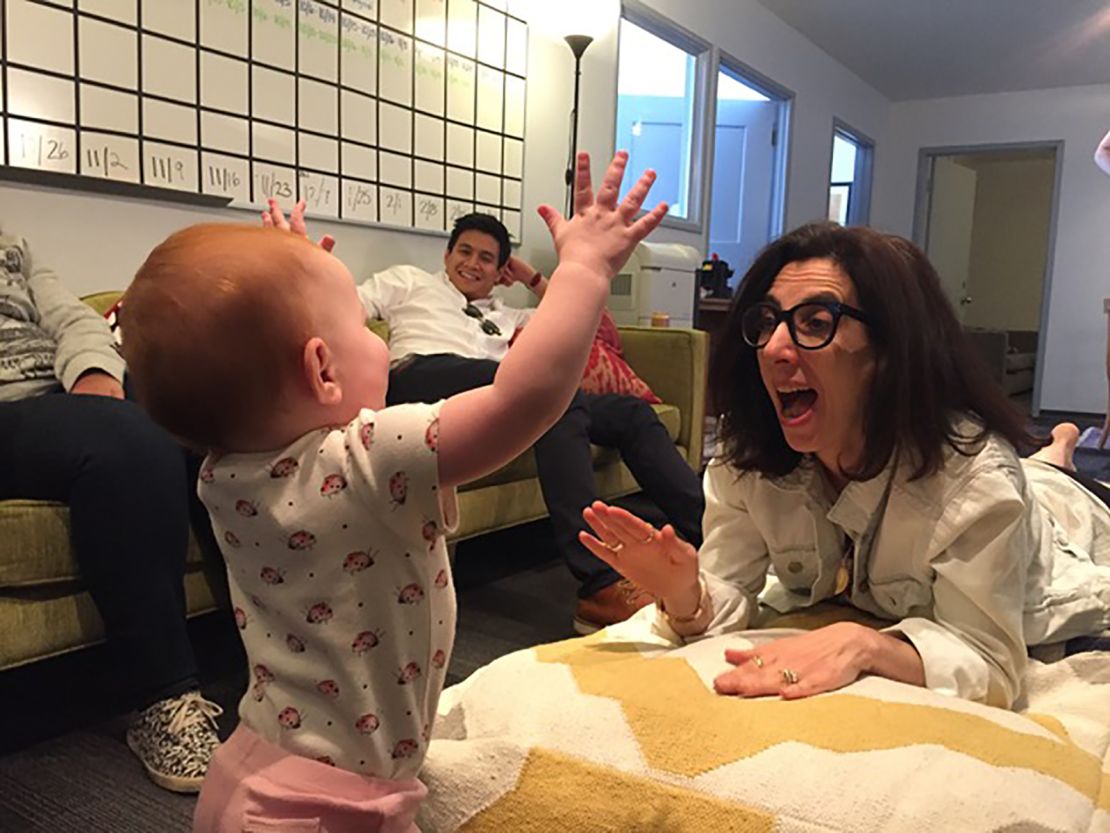 It all sounds so simple, but is rarer than you might think – and not just for those in the entertainment industry. Working parents everywhere find themselves in search of the elusive work-life balance. But it is possible to build models for pro-family, pro-mother work environments.
In Hollywood, doing so means making space for female writers who choose to expand their families, and ultimately, see their stories reflected on screen.
One longtime TV writer believes those in her industry have an opportunity before them to call for – or, if needed, demand – better treatment and policies in support of all working women.
"We're not talking about people making $10 an hour. Most of us have a massive amount of privilege," she says. "We should be using that privilege to say like, 'Hey, let's start making change so that change can trickle down to people where they really don't have a choice.'"
Big little changes
Erica Messer has worked on CBS's "Criminal Minds" since the show's start in 2005 and has been its showrunner for eight years.
In the show's second season, she became pregnant with her second child.
When she told the then-showrunner Ed Bernero, a TV veteran who also created the series "Third Watch," of her plans to return eight weeks after her daughter's birth in October, about midway through the show's season, she was surprised by his response – in the best way.
"I remember Ed saying to me, 'Don't come back at eight weeks. Eight weeks is our Christmas break. Come back in January,'" she tells CNN. "[He said], 'Don't worry about it. We're not going anywhere. We'll be here for you and we know you're committed to us.'"
To her, the simple statement was everything.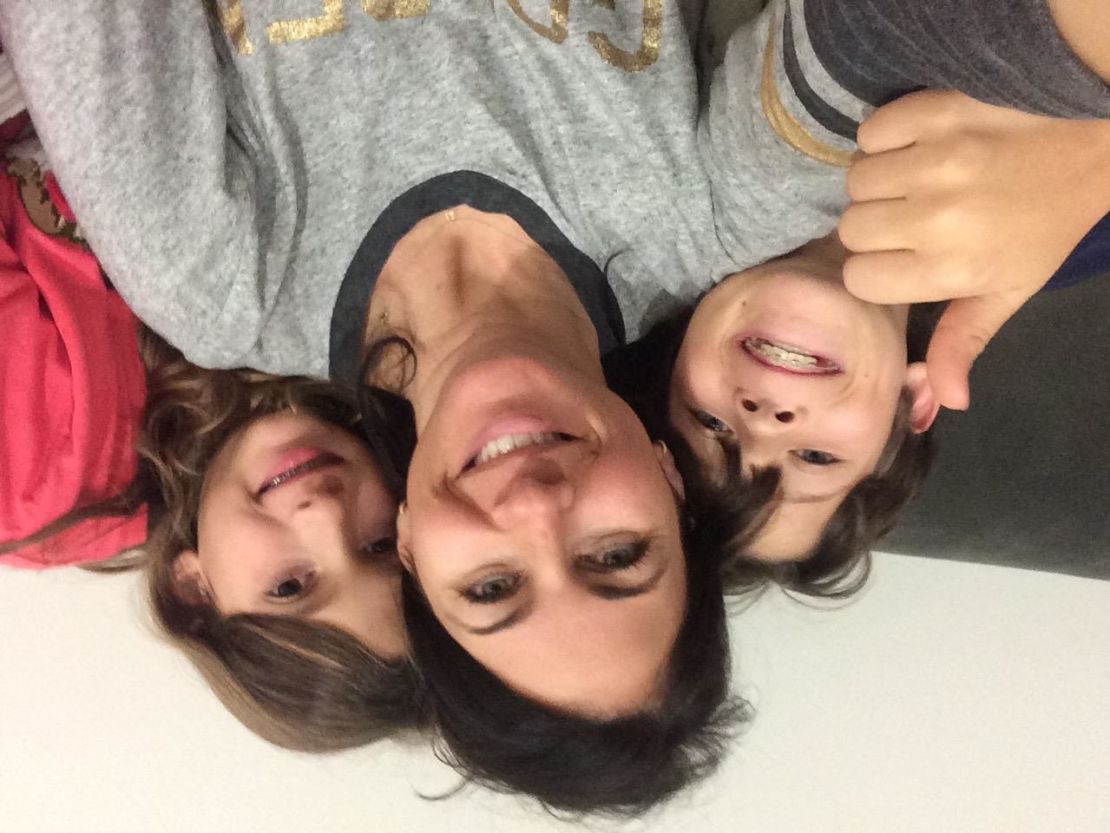 "I just remember feeling so relieved that I worked with someone who respected parenting and respected the choice that I was making to continue to be a working parent," she says. "He also understood like I probably wouldn't be my best if I came back too soon."
In her role as showrunner, she's tried to return the gesture to her staff, with flexibility and understanding about the demands of parenting.
"I feel like we need to change the narrative a little bit," she said.
For those who come back to work before they are physically or mentally ready, the challenges can be overwhelming.
One writer who was nursing says a showrunner created such a culture of fear that she would delay pumping for hours if he was around, to the point of physical sickness.
"You're choosing between doing your job and doing the right thing for your body and your baby," the writer says.
Not all examples of pumping problems are so severe. In many cases, however, women face frustration over the lack of a clean or truly private space to pump while at work or on set.
Employers are supposed to make a "reasonable effort" to provide a space other than a bathroom to pump and new mothers given the time they need to do so, according to California state law.
Many of the mothers who spoke to CNN say access to an on-site nursery for very young children could be a significant step toward making their workplaces more mom-friendly.
Kerry Ehrin, a drama veteran who's currently showrunning Apple's upcoming series about morning news, says her access to a daycare while she was working on shows for David E. Kelley Productions in the early 2000s was "life-changing."
At the time, Ehrin lived in Calabasas and worked in Manhattan Beach, where Kelley's productions were based. In Los Angeles speak, that's a roughly 90-minute commute, with moderate traffic.
When Ehrin's twin boys were six months old, she and her husband split up and she became a single mother.
The fact that she could see her children from her window at work and visit them during breaks was "a great blessing."
"It just made all the difference in that time in my life," she says.
Rick Silverman, former chief operating officer of David E. Kelley Productions who recently retired, tells CNN he spearheaded the daycare's creation after he was made aware of the need by a female staffer.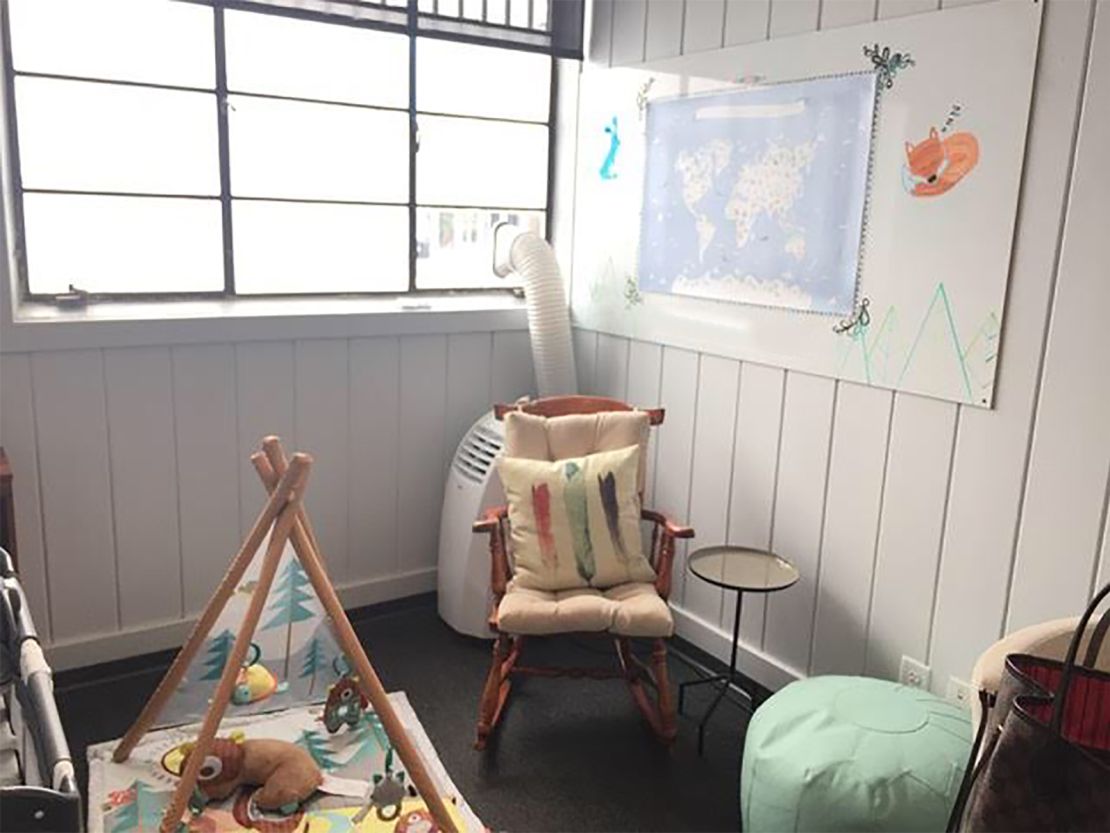 To get it up and running, a feat that took "quite a while," the company signed a contract with a daycare provider to run the operation, obtained the necessary permits and the permission of the studio at which the production offices were housed.
The daycare, which was available to the more than 400 cast, crew, and corporate staff working on the shows, ran for about four years while Kelley had multiple shows on the air, including "Ally McBeal" and "Boston Public."
The facility had a small playground and housed roughly five or six children at a time, Silverman recalls.
As shows went off the air, the need dwindled and the daycare was shuttered, but he tells CNN via phone, "I'm glad it did some good and helped some people out at the time."
"That does make me feel very good," he says.
'Give us the tools to be empowered'
Before getting pregnant herself, "Casual" showrunner Liz Tigelaar, who will soon be helming "Little Fires Everywhere" for Hulu, could not have predicted the exhaustion that would lead her to sleeping on an egg crate foam pad in the back seat of her car during lunch breaks or that by the time she was in the late stages of her pregnancy, she would have trouble fitting into the port-o-potties on set.
She gets it now, but says, "when you haven't been pregnant before, you don't even realize all the stuff that someone goes through."
For that reason, she suggests her showrunner peers make an effort to listen to the needs of those around them.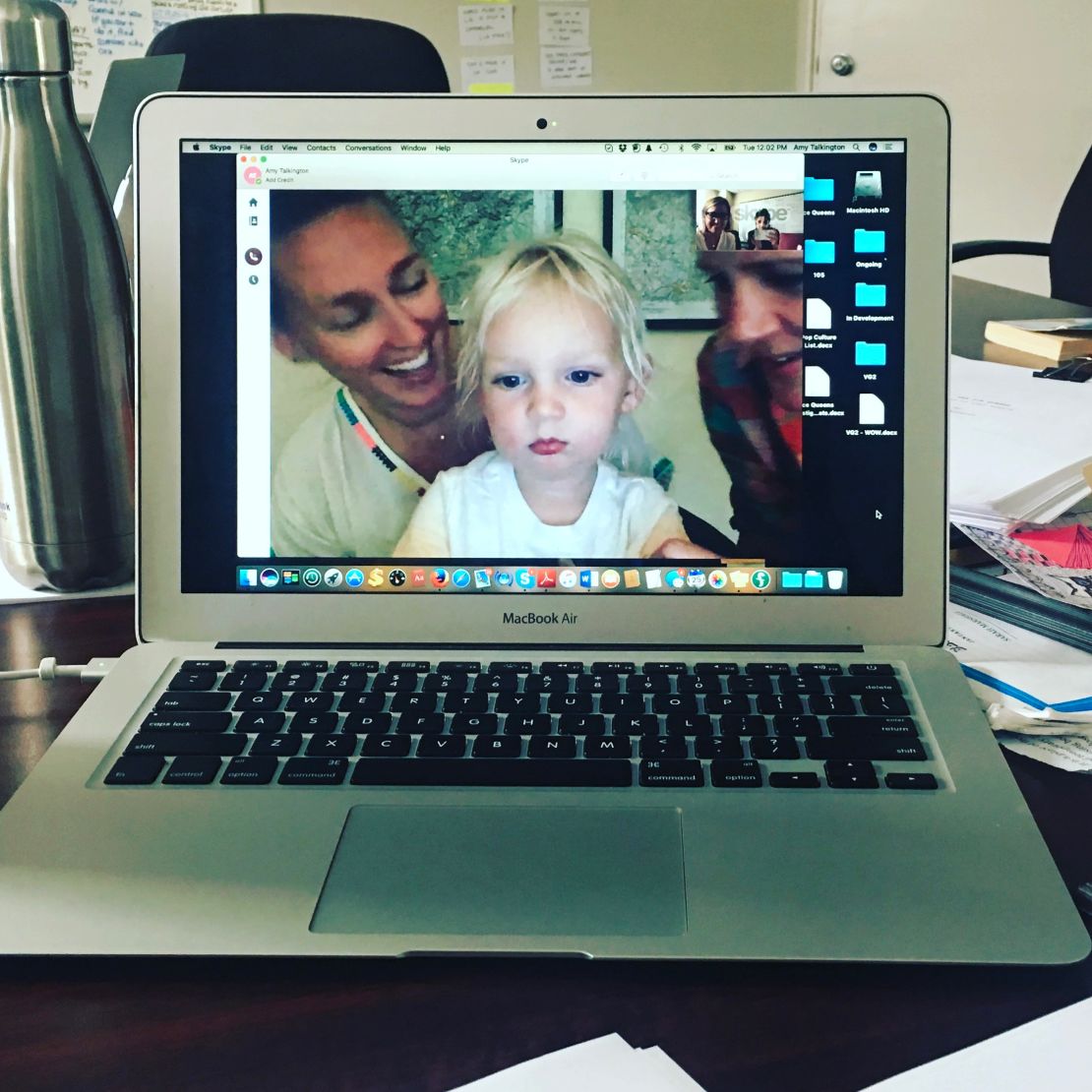 "Everybody – no matter if you've just had a baby, if you're pregnant, no matter where you are – you want to do a great job at your job," she says. "So just set people up to do that by communicating."
Sometimes, says one pregnant writer, that means listening to an expectant mother who believes she doesn't need to be told what she's capable of.
This writer, who works on a cable drama, says she will be nine months pregnant when shooting commences for an episode she wrote. Filming for her episode is set to end ten days before her due date, and she's prepared for the grind.
"If I can, if I'm able to, I don't see why not," she says. "I don't want to be 'other-ized.'"
This, one comedy writer says, is one way the stigma around pregnancy can be broken.
"The only way I think I can invoke change is being there and being the badass I am," she says.
Another mom, who once flew across the country with her baby in tow to be on set for the production of her episode, welcomes the challenge of juggling it all.
"It can be so empowering to be a working mom if they just give us the tools to be empowered," she says.
Being seen
Brosh McKenna believes a best practices course for showrunners could make a difference in making all these issues known to those who are "not in that phase of their life."
All the women CNN spoke to also believe more showrunners who are moms would have a positive impact on the culture.
"[If] you say you want to get stuff done, ask a bunch of moms," Tigelaar says. "They will get [it] done and it will get done quickly."
Efficiency is a key word.
Among TV writers' rooms, the hours can be long, depending on your place of employment and your showrunner, multiple women say.
It's not uncommon to hear of some writers' rooms running until the early-morning hours — an approach that can be difficult to contend with for working parents.
"I just think a lot of the ways things are run are just terribly anti-family," Brosh McKenna says. "It's one of those subtle things that just selects out women. If we want to include women and their voices and the only way to work on these shows is to prove you're a machismo guy, staying until midnight every night, women are going to opt out of that. Parents are going to opt out of that."
When that happens, we all lose – viewers included.
"Family is really, when you think about it, the basis of everything," Ehrin says. "They're a basis of every character's psychology – how they grew up and what family they grew up in. So family has always been very central to the way that I think about story."
Ehrin, who has worked on shows like "Friday Night Lights" and "Parenthood," both from executive producer Jason Katims, says there's an added "magic" when a story is infused with experiences personal to a writer – be it something that happened with their child in the morning or something they wish they said.
"There's scenes in 'Parenthood' that are directly written to my daughter, and that's the beauty of it. It's the truth," she says. "You never are going to do better than the truth."
Tigelaar says the same is true of her upcoming series. "Little Fires Everywhere," a drama that tackles motherhood and interracial adoption, based on the Celeste Ng book of the same name.
In staffing the series, Tigelaar says it's "a humongous priority" to hire moms for its writing staff as well as department heads and directors.
"I know we're just gonna crush it and get s**t done and bring so much to it because we're moms," she says. "We get to have complex mothers who aren't only defined by motherhood, but who motherhood is such a central aspect of who they are at this point in their lives. And that it does, of course, inform everything they do, just like it influences everything we do. So it's exciting."
Exciting, too, is seeing the industry move – however slowly – toward better practices, according to Ehrin.
"I mean you can imagine a world where female writers aren't saying, 'Oh, I have to ovulate during hiatus,'" she says, with a laugh. "It would be nice to imagine a world where that wasn't such a huge deal because there were things in place to help you do that while you're doing your job, and why shouldn't there be that for women?"
She adds: "Because who else is gonna have the babies? Someone's got to have them. So let's help out."