Against the backdrop of Sussex's rolling green countryside in south east England, 11 women prepare to take on the challenge of becoming jockeys for a day at a quintessentially English race meeting.
Not long ago, if you had asked former Burberry model and British Vogue cover star Rosie Tapner if she could ever have imagined herself in the saddle of a thoroughbred race horse, the answer would have been a resounding "no."
But she'll be racing in the annual Magnolia Cup, part of the Qatar Goodwood Festival – a five-day racing spectacle (affectionately known as "Glorious Goodwood" by those who attend), once famously described by King Edward VII as "a garden party with racing tacked on."
For four months now, Tapner's alarm has gone off most mornings at 4:30am, cramming in personal training and horse riding lessons to learn how to become a fully-fledged jockey in time for the race, which takes place Thursday.
"I don't think I had any idea just how fit these jockeys are," the model told CNN Sport. "It really shocked me how strong you have to be."
Tapner will line up against 10 other women, from a variety of different professional backgrounds, who have been raising money for Cancer Research UK. Together they've already raised over $49,000.
While Tapner is an experienced rider, she admits that it's completely different when you're in the saddle as a jockey.
READ: Queen Elizabeth II's undiminished love of horse racing
"My first day at the yard was terrifying," she explains. "I have ridden all my life but I've had to relearn how to ride completely."
What makes a racehorse so different to one that she might ride at home? Well, they're just like cars, Tapner explains.
"My horse is more like a mini and a racehorse is like a Ferrari – but with no brake. They are a different machine totally but I have learned to just completely love it and I got home the other day and I rode my horse and I just thought 'oh… I kind of want a race horse,'" she laughs.
'The stirrups are short and you're sitting on nothing'
Prior to her training, Tapner had ridden the same horse for the past 10 years, so the hardest thing was building up her confidence, and trust, as she hopped into the saddle of 16 different horses in just four months.
"I don't ride three-year-old thoroughbreds and I ride on a normal saddle usually so it's very weird," she says.
READ: "A gift from God" – Undefeated Triple Crown winner Justify retires from racing
"The first time I went out to gallop we'd gone quite slowly and I was shattered by the end of it so it really is, it's a whole different experience – the stirrups are short and you're sitting on nothing, you have to be aware that they might jump or do something silly at any point."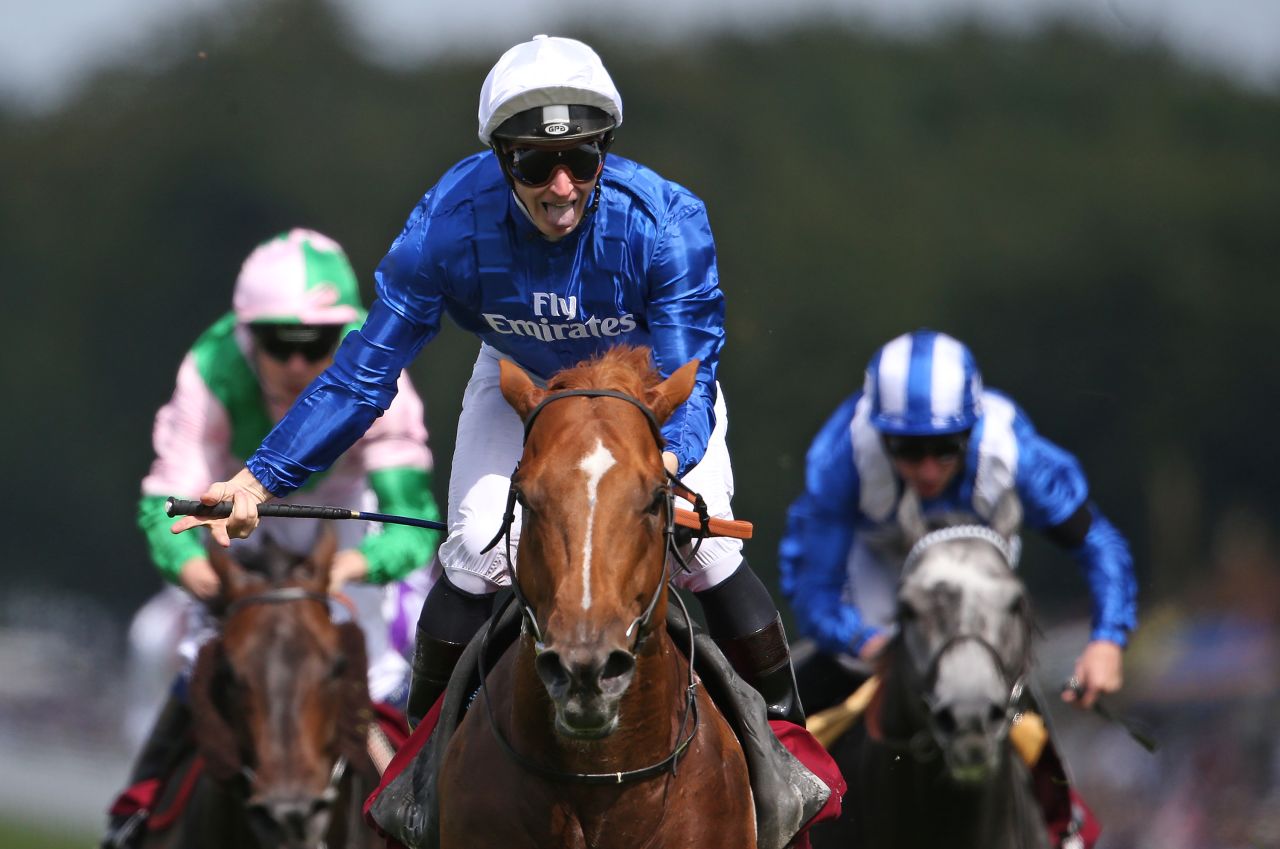 Glorious Goodwood: 'World's most beautiful racecourse' hosts festival
For two centuries spectators have gathered at Goodwood Estate to mark the end of the summer social season with the racing festival.
READ: Meet the teacher who handicapped the world's biggest races
A more relaxed affair, Goodwood has no official dress code, though many will come wearing Panama hats after Edward VII – a Goodwood regular – caused a major shock in 1906 by eschewing traditional morning dress (top hat and tailcoat) to attend the race in a while linen suit and a Panama hat. Soon after, everyone had followed suit – quite literally.
Bespoke suffragette styled silks
During the Magnolia Cup, the 11 women will compete in a five-and-a-half-furlong (1.1 km) flat sprint at speeds of up to 45 miles per hour.
They'll all wear bespoke silks designed specifically for the occasion by Iranian-born, London-based designer Morvarid Sahafi of Morv London – an ethical fashion brand, with a focus on women's empowerment.
READ: Wilhemena "Bill" Smith - Australia's first female jockey who lived life as a man
"They're beautiful designs and they're to do with the suffragettes and they're very clever because if you looked at them you wouldn't see any of the suffragette aspects in them, but when you look closely you can," said Tapner.
"I did a shoot for Goodwood and I wore a lovely yellow one and I'm hoping I'm allowed that one."
READ: Transgender jockey inspired by Caitlyn Jenner
'I'm nervous about pulling up at the end'
When it comes to nerves, Tapner says she's more excited than anything, but she does worry about the start and finish.
"I'm nervous about cantering to the start and finishing it, the actual race you just hang on and see what happens and I love the speed and I love the fact we're galloping down Goodwood with 25,000 people watching.
"I'm nervous but more excited nervous, I think my actual nerves are pulling up at the end."
READ: Racing's "Everest" aims to win back "Snapchat" generation
She'll be riding three-year-old Licinius from Charles Hills trainers.
"He's a really lovely horse, he'll keep me safe which is the main thing and I had a really good ride on hims yesterday.
"He gives me the best feeling on the gallops and he looks after me really well so I'm thrilled to be riding him."
Tapner has used social media to keep everyone updated on her journey to become a jockey, and so far has raised over $14,000 for Cancer Research UK.
"Social media was one of my main ways of raising awareness," she said.
How to be a jockey at the Magnolia Cup
"It (cancer) affects absolutely everyone so I think when people see that you're raising money for it it does relate to everyone so they're more inclined to donate.
"I think when they see how much effort you're putting into something; you know it's dangerous, and it's early mornings and it does take up your life and I love the fact it has but it's hard work … so when they see all of that donating is actually not too much of a hassle."
Visit CNN.com/horseracing for more news, features and videos
After Thursday, it'll be back to full-time modeling and studying for Tapner, who's completing her final year in digital media production at Oxford Brookes University.