Story highlights
Make traveling easier on yourself with these useful products
Picks include a compact luggage scale and anti-wrinkle spray
CNN —
After an extensive vacation abroad, I can firmly say that there are some essentials that should go with you on every trip. These products – which range from a travel pillow that's actually comfortable to a universal adapter with multiple ports – make a huge difference in your overall vacation experience, no matter how trivial they may seem when you're in the planning stage.
Learn from my mistakes – not packing these can be a serious buzzkill.
To save you time and spare you any travel headaches, I've curated a list with 10 items that would have made my trip that much better. Hey, hindsight is 20/20.
Durable spinner luggage
Luggage that can spin in all directions is just easier to maneuver around airports and beyond. The spinners make your bags feel lighter and can help you move faster when you're in a hurry. My old rolling luggage set (made of a flimsier cloth material) wouldn't stand a chance against a sleek, lightweight, durable and easy-to-wheel design like eBag's EXO 2.0 Hardside Spinner set ($299.99, originally $700; ebags.com). The set, which comes backed by a 91% approval rating from past customers, features a hardside polycarbonate shell and a limited lifetime warranty, making it a stellar choice for travelers.
Ergonomic pillow
Don't leave your travel pillow to chance. The options available at your local airport tend to have a serious price markup and generally, your choices are severely limited. The neck pillow I toted along actually made my flight more uncomfortable, as it couldn't properly cradle my head while I was snoozing on a long-haul, overnight flight. The result was nagging aches and pains that lasted a few days after I landed. What I should have opted for instead is an ergonomic travel pillow, such as the Trtl Pillow ($29.99; amazon.com). This one wraps around your neck for fuller support. Its built-in internal support system is designed to hold your neck in a better position than a typical U-shaped pillow.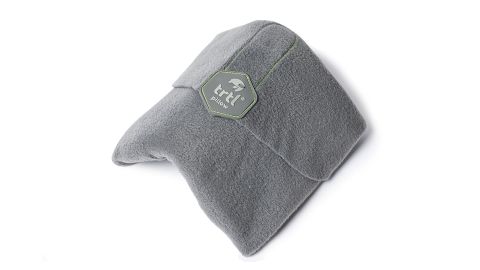 Skin hydration products
No matter how hydrated your skin is prior to a flight, chances are it will get dried out during your travels, because of the recirculated air on planes. During my trip, I took four international flights, two of which were over six hours long. So needless to say, my skin took a bit of a beating, as I didn't pack TSA-approved hydration products in my carry-on bag. Next time, I'll opt for both a tiny face mist like Mario Badescu Facial Spray with Aloe, Cucumber and Green Tea ($7; bluemercury.com), that can give me a quick pick-me-up when I'm starting to feel my skin dry out, and a lightweight moisturizer like Belif's True Cream Aqua Bomb ($38; sephora.com) to lock in hydration. For those looking for even more heavy-duty hydration on their flights, Patchology has a handy face mask kit ($20; amazon.com) that features four different types of face masks and patches to help your face absorb even more skin-loving ingredients while you're 30,000 feet in the air.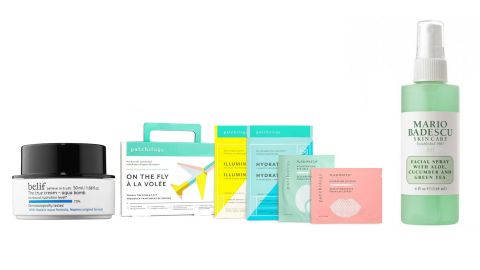 Universal adapter with multiple charging ports
A universal adapter is great. But if you only have one outlet to plug devices into on your adapter (as I did), it becomes pretty tough to power up all your necessities; you'll have to pick and choose which you can charge or use at any given point. For my trip, it meant deciding between charging my laptop, iPad, or smartphone, or plugging in devices like my hair dryer and straightener. This wouldn't have been an issue if I had a universal adapter with multiple charging ports. Take LOOP's World Adapter Plug ($16.95; amazon.com), for instance. It works in over 150 countries and has two fitted USB ports in addition to the electrical outlet, so you can charge three devices at once. You'll never have to choose between juicing up your tablet, smartphone or laptop again.
Anti-wrinkle spray
As I learned the hard way, not everywhere you stay will have an iron. If your clothes are wrinkled from being stowed away in your suitcase, anti-wrinkle spray can help you out. Simply spritz it on light to moderate wrinkles and give your clothing a quick tug to release the wrinkles, for a quick fix when you're on the move or don't have access to a steamer or iron. This tiny bottle from The Laundress ($8; saksfifthavenue.com) is only 8 bucks, so you don't have to break the bank on extra essentials for your next vacation.
A compact emergency kit
It seems accidents always happen when it's least convenient for you, like on vacation. During my vacation, there were a few seemingly random items I needed at a moment's notice – a safety pin, a Band-Aid and double-sided tape included. These are all items that I only needed one of during my trip, so it didn't make sense, economically or space-wise, to buy and bring packages of each item. But when I did need one of these small essentials, it was a pain to have to hunt them down in a foreign country, especially when it ate into my sightseeing and overall vacation time. A Minimergency Kit ($18; sephora.com) is the solution. This palm-sized pouch features 17 items, including bandages, safety pins, stain remover pads, elastics, a sewing kit, double-sided tape and even pain reliever, so that you're covered when accidents inevitably arise.
Active noise-canceling headphones
It's true: Over-ear, passive noise-canceling headphones are no match for active noise-canceling ones. The difference is that active noise-canceling devices include extra technology that produces sound waves to cancel out incoming noises, so you'll hear little to no external noise at all, making them a real lifesaver when it comes to traveling on planes. With them, you'll be able to block out chatter from other passengers and the noise of the plane's engine. An option that has great overall sound and stellar active noise cancellation technology is Sony's Noise-Canceling Headphones ($298; amazon.com). They feature smart listening technology that automatically adjusts the ambient sounds you hear. The device also features touch control, Google Assistant integration and a flexible design so you can listen wireless or stay plugged in.
Luggage scale
While traveling abroad, I took a number of different airlines, each with its own luggage weight requirements. That meant I constantly had to keep track of how much my baggage weighed in order to avoid additional fees or having to go through the hassle of repacking at the airport. A luggage scale would have been a easy solution to give me peace of mind as I was traveling from city to city. This scale from Fosmon ($9.99; walmart.com) costs just under $10 and gives you a quick and accurate reading (up to 110 pounds) of how much your check-in and carry-on cases weigh.
Packable blanket
Something I've learned the hard way is that not all airplanes provide blankets. This is no fun if the air conditioning is cranked up to the max while you're midflight. If you don't have much room to spare in your carry-on bag, consider this soft jersey blanket from Flight 001 ($30; shopbop.com), which has a tiny zip pouch where it can be compactly stowed. That way you can be warm and cozy on your next journey without sacrificing essential space in your carry-on bag. Sounds like wins all around to us.
A VPN service
A VPN service allows for greater protection when you're working on public Wi-Fi, which is something you're likely doing a lot while traveling. With a VPN, important private information, like your passwords or bank details, stays private. A VPN also allows you to access social media sites that may be blocked in the country you're visiting and to catch up on television or movies that are streaming in your local area. Norton's WiFi Privacy ($7.99/month; norton.com) is an affordable option — ringing in at just 8 bucks a month — that can help you protect up to five devices. It's a small price to pay for digital security.