Editor's Note: Alice Driver is a freelance journalist and translator whose work focuses on migration, human rights and gender equality. She is based in Mexico City. Driver is the author of "More or Less Dead: Feminicide, Haunting, and the Ethics of Representation in Mexico." The opinions expressed in this commentary are those of the author. View more opinion articles on CNN.
I was once a 21-year-old waitress like Emelia Holden from Savannah, Georgia. Had I possessed her confidence at that age, I too would have body-slammed a customer who groped me. As a college student waitressing my way through school in Kentucky, I worked at different restaurants over a few years, serving everything from burgoo – a spicy stew – to Kentucky Hot Browns – a sandwich – to spoonbread – a cornmeal-based pudding. I was happy to be earning tips to save money to study in Spain for a semester.
Although I liked the social nature of my work and eating free desserts on my break, I was acutely aware of how the money I earned was tied to my ability to ignore or laugh at daily sexual harassment, like a man pinching my butt, as the customer did in the viral video of Holden.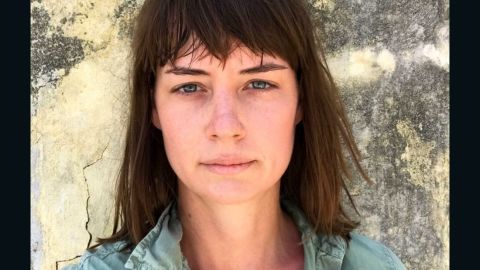 In the face of male customers touching me, talking about my body graphically or suggesting we meet outside of work, I tended to blush fiercely and quietly make my exit from the situation as soon as possible. I didn't speak up or correct their behavior because I was afraid to do so knowing that around 70% of my income was based on tips. Like many women who have waitressed, I made a quiet calculation in which I weighed the gravity of the harassment against the loss of tips. I also felt that my male colleagues and bosses would be unlikely to take any complaints I made seriously given that they witnessed such harassment regularly and did nothing. But in the #MeToo era, I hope we all feel as confident as Holden in physically restraining our harassers.
What the #MeToo era has brought into focus is the notion that sexual harassment in various forms – not just rape – constitutes a threshold for action. For too long, women have been told that certain types of sexual harassment aren't that bad or that they should just ignore or laugh off butt pinching or thigh grabbing at work, as if their bodies were not their own.
Holden told Savannah TV station WTOC, "Recently, there's the whole #MeToo movement, and I think that's really great. What I get from this is just how inspiring it is to other women. You have every right to stand up for yourself no matter who it is. No one has the right to put their hands on you. No means no. You have to have consent."
In an industry that is overwhelmingly female – 71% of servers are women and 90% of them have reported experiencing sexual harassment, according to a 2011 report by the Restaurant Opportunities Centers United, a nonprofit organization that advocates for the rights of restaurant employees. In addition, women report being required or told by management to wear sexy uniforms, clothes or more makeup. A 2018 investigation by The New York Times about the relationship between tipping culture and harassment among waitresses and servers showed that many women continue to feel they will lose their jobs if they speak out against or file complaints related to sexual harassment at work.
The truth is that this reckoning with sexual harassment in the service industry, harassment that disproportionately affects women, extends far beyond the dining room and into the kitchen. The power dynamics of both tipping and male-dominated kitchen culture have long ensured that women's bodies are seen as an up for grabs – mainly because women have been afraid to speak up for fear of losing wages or their jobs. And this culture, in which women remain silent and endure harassment to earn a living wage, affects our confidence, our sense of safety and our belief that we will be treated and paid with the same respect as men (we want payment not conditioned on our acceptance of harassment).
Get our free weekly newsletter
Sign up for CNN Opinion's new newsletter.
As soon as the Holden video went viral, internet trolls, of course, began to criticize what she was wearing – the typical blame-the-woman-for-the-violence-she-suffers type of explanation that patriarchal society has always leaned on. Had Holden been a waitress with me in 2002 in Kentucky, I can imagine her getting fired because restaurant management likely would have sided with a valued customer. Today, however, I am proud to see that times have changed and that men are being held accountable for their actions.
Holden has certainly received criticism for her behavior from some dark corners of the internet, but women on Twitter saw her body slam as a marker of the empowerment of the #MeToo era. In an interview with Glamour magazine, Holden said, "All I want from my experiences is for women to know that it's okay to stand up for yourself."
Had a man stepped in and restrained Holden's groper, there is no doubt he would be hailed as a hero. The fact that the 115-pound Holden body-slammed her groper and kept him restrained until police arrived has shocked some. But the truth is that she represents the power of the #MeToo era, one in which a woman who is sexually harassed knows instinctively and instantaneously that action – whether it be confronting the groper, reporting him to a boss or trying out a body slam à la Holden – is her right, because her body is not up for grabs anymore.