(CNN) —
A line of storms extending hundreds of miles from New England to the Mid-Atlantic region was causing havoc Tuesday through the major metro hubs in the Northeast.
Multiple hour delays were reported from Boston, New York and Philadelphia airports, and delays were expected to continue well into the evening as the storms move through the region.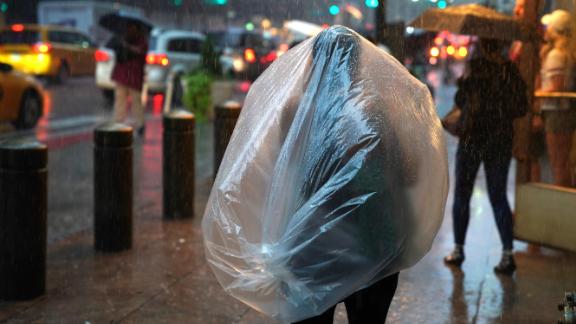 Timothy A. Clary/AFP/Getty Images
The National Weather Service issued flash flood watches for areas covering nearly 30 million people, including Philadelphia, New York and Boston, where 2-4 inches of rain was expected to fall.
The weather hit early in the afternoon commute, with flooding reported on streets and at subway stations in Washington and New York.
Time-lapse video from Allen Fisk on Instagram showed the storm roll into Manhattan on Tuesday afternoon, shrouding the city in clouds.
Michael Uturn captured video from downtown Brooklyn of a funnel cloud over the New York Harbor on Tuesday afternoon.
The National Weather Service New York posted on its Twitter account that from the videos it saw, "there was no apparent sign of the circulation touching the water."
Flightaware.com reports over 3,700 flights have been delayed and 2,145 canceled so far on Tuesday, mostly through New York metro airports.
These are the current average delays for major airports as of 4:45 p.m. ET, as reported by the FAA:
Boston – 2 hours 2 minutes

Newark – 5 hours 25 minutes

LaGuardia – 3 hours 30 minutes

JFK – 5 hours 8 minutes

Philadelphia – 3 hours 7 minutes

Baltimore Washington – 1 hours 1 minute

Reagan National – 58 minutes
CNN's Eric Levenson contributed to this report.