India's Supreme Court has recommended the government enact new laws to combat mob violence, amid a sharp rise in the number of so-called vigilante attacks.
In what amounts to a stinging denunciation of the central government's failure to curb such incidents, the Supreme Court ruled that the State has a "sacrosanct duty to protect its citizens from unruly elements and perpetrators of orchestrated lynching and vigilantism."
It added that the "horrendous acts of mobocracy cannot be permitted to inundate the law of the land" and urged the government to enforce measures to protect citizens from a "recurrent pattern of violence which cannot be allowed to become the new normal."
Condemning recent incidents across the country, the bench headed by Chief Justice Dipak Misra, asked Parliament to deal with lynching as a "special and separate offense and provide adequate punishment."
"A special law in this field would instill a sense of fear for law amongst the people who involve themselves in such kinds of activities. There can be no trace of doubt that fear of law and veneration for the command of law constitute the foundation of a civilized society," the ruling stated.
The judgment went on to prescribe a series of measures, including the creation of a senior police post in each state to head a special task force dedicated to monitoring individuals involved in "spreading hate speeches, provocative statements and fake news."
It also recommended that cases of lynchings be heard in a fast track court with trials to be concluded within six months and the highest possible sentences to be awarded.
Rising intolerance
The rise in mob violence has coincided with the electoral success of the ruling Bharatiya Janata Party, who critics allege have helped foster a culture of religious intolerance since coming to power in 2014.
The party, led by Prime Minister Narendra Modi, is strongly aligned with the country's conservative Hindu nationalists, the more extreme elements of which believe India should be governed in accordance with strict Hindu beliefs.
Recent high profile cases of mob violence include the September 2015 murder of a 50-year-old Muslim man suspected of eating beef in a country where the Hindu-majority population considers cows to be sacred. Fifteen people were charged in connection with his murder.
In June, 2017, a young Muslim man was stabbed to death by a group of men after an alleged dispute over a seat on a train in northern Haryana state, according to CNN affiliate News18.
Meanwhile, this year has seen a spate of mob killings linked to the Facebook-owned messaging app, WhatsApp.
In May, a transgender woman was killed and three others seriously injured in the city of Hyderabad when they were attacked by a mob of angry locals acting on WhatsApp rumors that the women were child traffickers.
The messages, which went viral in the region, claimed that transgender women were behind a plot to kidnap young children.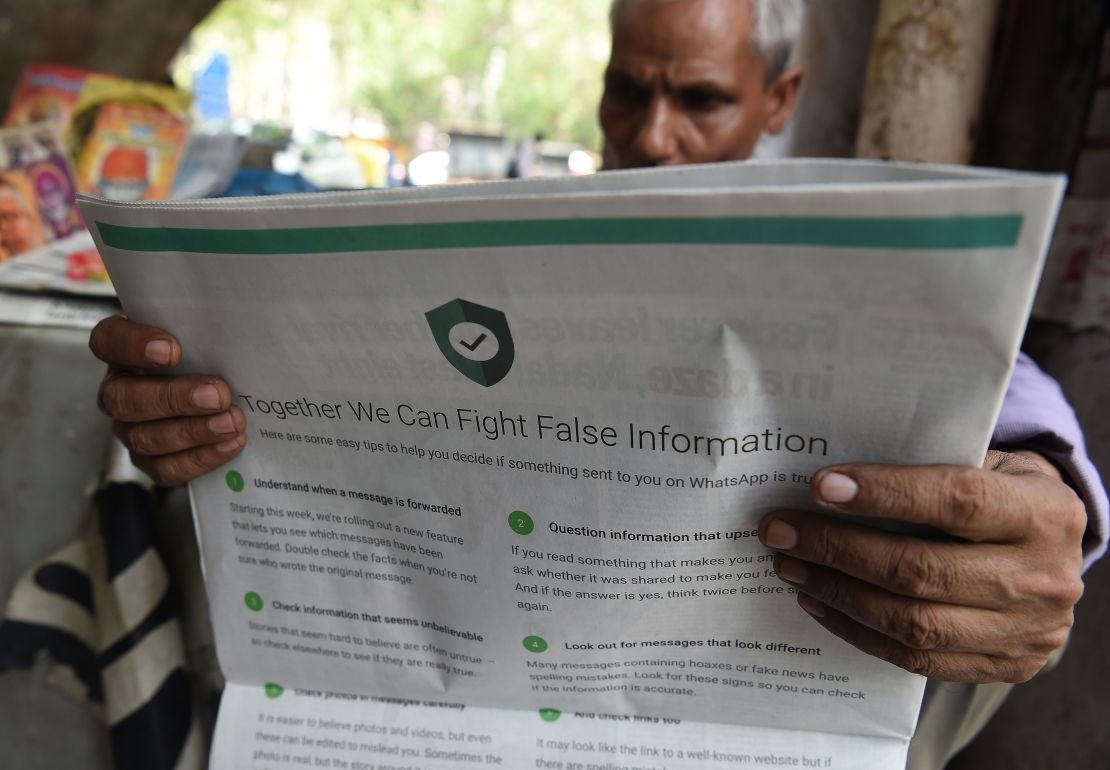 A day before the transgender attack, a man with mental health problems was beaten up in Pahadishareef, also in southern Hyderabad, over WhatsApp rumors that he was a member of a kidnap gang.
On Sunday, police arrested 30 people after a man was lynched by a mob of around 2,000 people incensed by rumors of child kidnapping spread on WhatsApp. 
Mohammed Azam was attacked, along with three friends in Bidar, in the southern state of Karnataka Friday. His friends were severely injured.
The recent attacks led to WhatsApp taking full-page ads in leading English and Hindi newspapers, giving readers 10 tips to spot messages that might be fake.
"Fake news often goes viral" one of the adverts read. "Just because a message is shared many times does not make it true."
The company told CNN it would translate the ads to run in local newspapers in nine Indian states, many of which speak different languages.
A hearing is scheduled on August 20 for further directions on the matter.