For three decades, the abduction, rape and murder of 8-year-old April Tinsley in April 1988 had frustrated Indiana investigators.
The mysterious killer's taunting messages admitting to the crime, scrawled on a barn door and on paper notes threatening to kill again, only added to the desire to solve the cold case. Still, no suspect could be found.
But thanks to advances in genealogy and DNA technology, the suspected killer was arrested and then confessed to the crime on Sunday – more than 30 years after April's death.
John D. Miller, 59, was formally charged with murder and child molestation on Wednesday, according to court documents.
"Right now I'm numb," the girl's mother, Janet Tinsley, said Tuesday on CNN sister network HLN.
She had feared over the years that an arrest would never come.
"I can't believe it's finally here," she said.
In court on Monday, Miller was given no bond and his initial hearing was scheduled for Thursday, according to online court records. CNN was not able to reach his attorney.
Police connected him to the homicide by using DNA from the scene of the murder and from the taunting messages, and inputting them into a genealogical database. That led investigators to two men: Miller and his brother, according to a probable cause affidavit.
DNA from Miller's garbage matched DNA from the crime scene and from the taunts, and when police brought him in for questioning, he confessed to the disturbing killing, the affidavit states.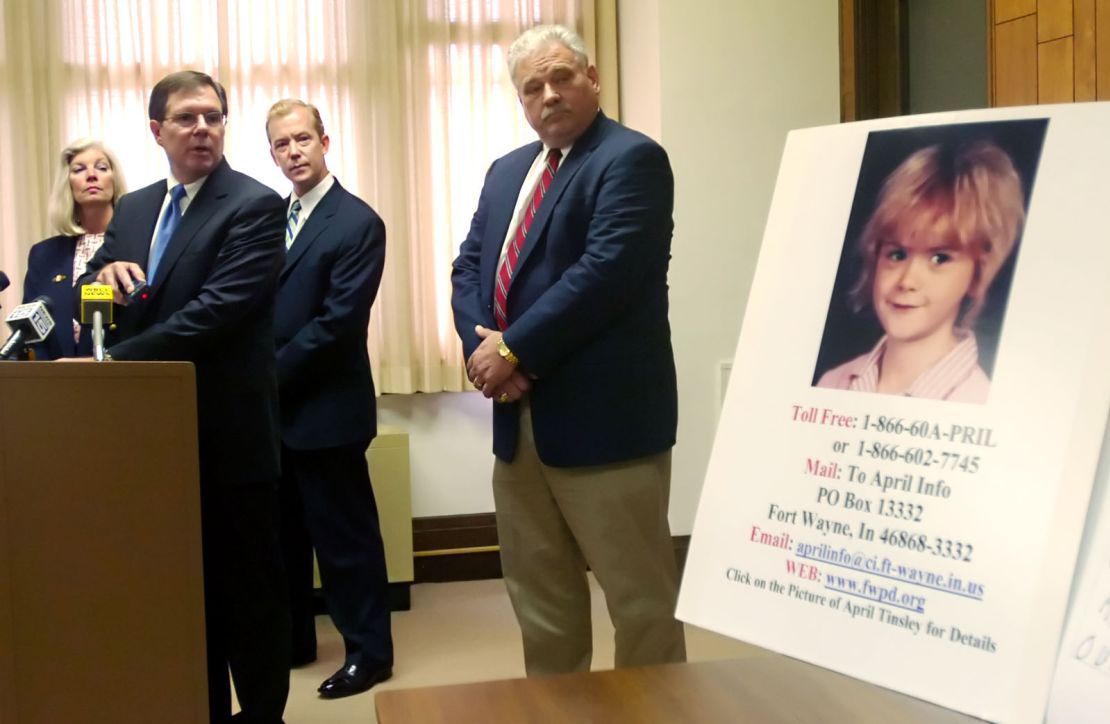 The cold case is one of several that have been solved in recent months because of advances in genealogy and DNA technology. In this case and in the Golden State Killer case, investigators had DNA evidence but could not match it to a specific person using state or national databases.
But the growth of genealogical companies, where people enter their own DNA profiles, has allowed investigators to connect suspect DNA to an extended family match. That has helped police to narrow down the list of suspects to a much smaller number and allow targeted investigations.
Death of April
On Good Friday in 1988, April Tinsley was abducted while walking in her neighborhood in Fort Wayne, Indiana, and then raped and murdered. Her body was found three days later about 20 miles away in a rural area, the FBI said.
Police launched a search but could not find a suspect. But two years later, a message scrawled in pencil or crayon appeared on a barn door not far from where her body was found, the FBI said.
"I kill 8 year old April Marie Tisley I will kill agin," the message said.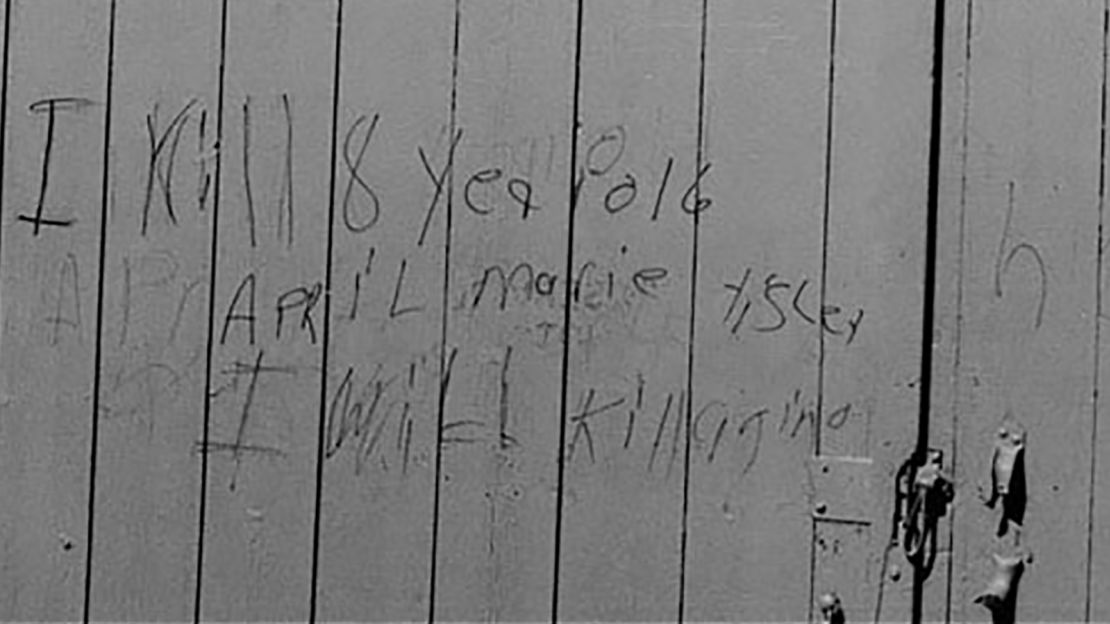 Fourteen years after that, four taunting notes were found at various Fort Wayne residences, including several on bicycles that young girls left in their yards, the FBI said.
"Hi Honey I Been watching you I am the same person that kinapped an Rape an kill Aproil Tinsely," the messages said. "you are my next vitem."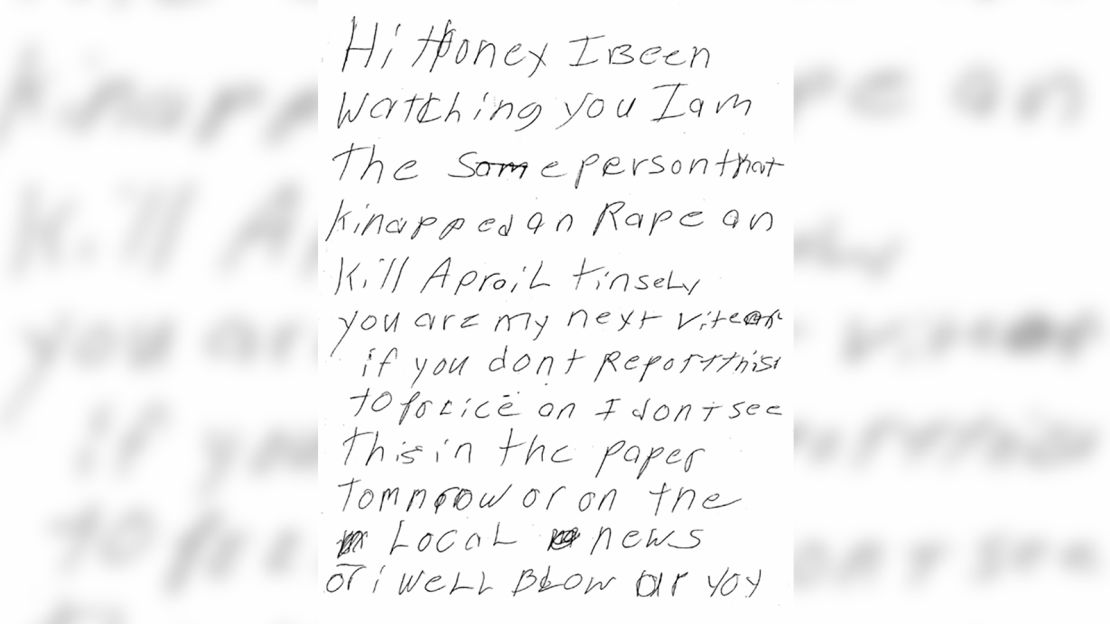 The disturbing notes were found inside baggies along with used condoms or Polaroid pictures of the killer's body, the FBI said. The DNA from those condoms was determined to be consistent with the profile developed from the underwear of Tinsley, the probable cause affidavit said.
But then the killer went silent. In 2009, the FBI joined in the search and called it "highly solvable," but no major breaks in the case came.
Arrest of Miller
In May 2018 – just two weeks after police in California used genetic DNA testing analysis to arrest the Golden State Killer – Fort Wayne Police detective Brian Martin arranged for genetic DNA testing in April Tinsley's case. Parabon Nanolabs, a DNA company based in Virginia, was contracted for the tests.
The testing was able to narrow down the suspects in the case to Miller and his brother on July 2, the affidavit says. Investigators then examined Miller's trash and found three used condoms that matched the DNA evidence from the suspected killer.
Once the match was established, authorities approached Miller at his residence in Grabill, Indiana. When asked why he thought police wanted to talk to him, Miller said "April Tinsley," the affidavit reads.
In the police interview, Miller admitted that he abducted April in 1988, raped her and then choked her to death, the affidavit says. He also admitted that he had sex with her deceased body and then dumped her body, the affidavit says.