The Justice Department charged a Russian national who, along with her mentor, aimed to set up backchannel communications during the presidential campaign between Donald Trump and Russian President Vladimir Putin, with conspiring against the US as a foreign agent.
Mariia Butina, also known as Maria, was arrested on Sunday and appeared in court in Washington, DC, on Monday, according to the Justice Department. She'll be detained for three days until her next court appearance.
She and her mentor, Kremlin-linked banker Alexander Torshin, spent three years trying to make inroads with US political organizations and operatives to develop a more conciliatory approach to Russia among American politicians, according to court filings and CNN reporting. Torshin and Butina feared the end of the Obama administration in 2016, and targeted Republicans, according to court filings.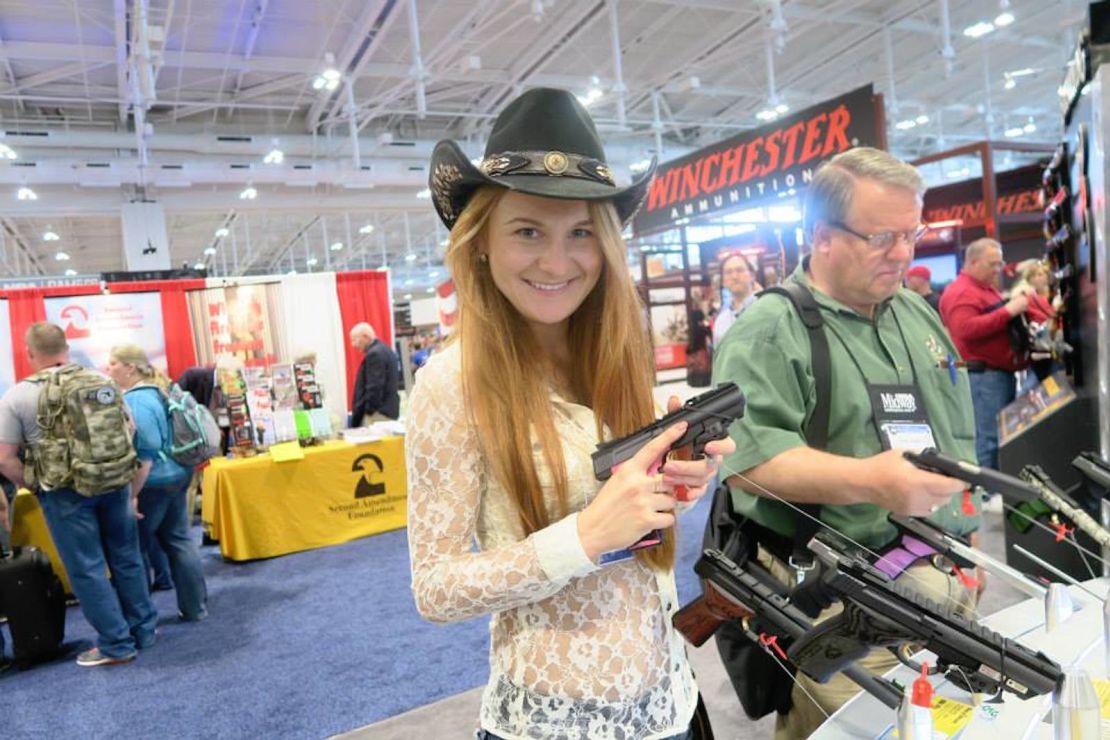 Their primary avenue of influence appeared to be the National Rifle Association, according to CNN reporting and court filings, though the organization is not explicitly referred to by name in the legal documents.
Torshin bragged both publicly and privately that he and Butina were the only Russians who were also lifetime members of the NRA, and they leveraged their relationship with the NRA's leadership to foster relationships with Republican Party leaders, American politicians and business leaders. They even used their connection to try to establish a covert communications channel between then-candidate Trump and Putin.
The NRA did not respond to a request for comment.
Butina's arrest is the latest dizzying development related to Russia in recent days and was revealed only about three hours after President Donald Trump's press conference in Helsinki, in which he shocked the world by siding with Putin rather than his own intelligence agencies regarding election meddling by Russia's spy agencies in the 2016.
The charges against Butina were filed by prosecutors from the Justice Department's national security division – not special counsel Robert Mueller's office – and offer yet another glimpse into the wide variety of methods Moscow employed to try to influence the US political climate ahead of the 2016 presidential election.
Butina's arrest comes on the heels of Mueller's move on Friday to indict 12 members of Russia's military intelligence service over a hacking and influence operation.
Prosecutors decided to move on Butina this weekend because there was information she was about to leave the Washington, DC, area, according to a US official.
Savvy student or a spy?
Butina's attorney, Robert N. Driscoll, denied that Butina was "an agent of the Russian Federation" in a statement on Monday, and insisted the charge levied against her was "overblown."
He described her as a bright, recent graduate of American University in Washington "with a Masters Degree in International Relations and a 4.0 grade point average." American University officials confirmed to CNN earlier this year that in fall 2016, Butina enrolled in the school's graduate program for international affairs.
"There is simply no indication of Butina seeking to influence of undermine any specific policy or law (of) the United States – only at most to promote a better relationship between the two nations," Driscoll said.
Driscoll decried the government's tactics in dealing with his client, protesting that her Sunday arrest was made "without prior notice to counsel" and after multiple offers to assist the Justice Department, who did not "avail itself of that opportunity." Back in April, more than a dozen FBI agents executed a search warrant at Butina's Washington apartment, Driscoll said.
Butina's lawyer said she has cooperated with government authorities for months and voluntarily testified before the Senate Intelligence Committee for eight hours. He added that Butina produced thousands of documents to the Senate panel and has offered to interview with Mueller's office, "which has not expressed interest."
Mueller's office declined to comment on whether it was involved in the investigation of Butina.
Inside an alleged Russian influence operation
The affidavit in the Butina case describes several steps the 29-year-old alleged Russian agent took to reach the Republican Party through the NRA, to host dinners between Russians and Americans, and to infiltrate the National Prayer Breakfast and other political conferences in 2016 and 2017.
According to the Justice Department, Butina was working at the direction of a high-level official in the Russian government. While the official was not named in the indictment, it appears to be Torshin. Previously a member of the Russian legislature, Torshin later worked as a top official at the Central Bank of Russia. He was among the Russian officials the US government slapped with sanctions in April 2018 as part of an effort to punish the Russian government for "malign activity" around the world.
Butina and Torshin "took steps to develop relationships with American politicians in order to establish private, or as she called them, 'back channel' lines of communication," an FBI affidavit filed in court says. "These lines could be used by the Russian Federation to penetrate the US national decision-making apparatus to advance the agenda of the Russian Federation."
One unnamed American that Butina corresponded with described a possible "VERY" private line of communication between the Kremlin and the Republican Party through the NRA. She also discussed with the American "an advisors team on Russia for a new president" two months before the US election in 2016.
CNN has previously reported that during the presidential campaign, Torshin worked with his protégé, Butina, as well as other associates, to try to arrange back-channel communications between Putin and then-candidate Trump. Those efforts appear to have been rebuffed by members of the Trump campaign, according to previous CNN reporting and documents that were provided to the House Intelligence Committee.
Torshin and Butina often used their NRA ties to try to bolster Russian interests. In one instance, Torshin aimed to meet with Trump around the 2016 NRA convention in Louisville, Kentucky. The meeting never took place, but Torshin and Butina did cross paths with Donald Trump Jr. at a dinner on the sidelines of the event.
Trump Jr. testified to lawmakers last year that he briefly met Torshin at a dinner with a few dozen officials from the NRA. Trump Jr. said they spoke for only "a few minutes" and did not talk about colluding with the Russian government.
Butina — who founded a gun rights group called the Right to Bear Arms in Moscow – has previously said her outreach to American political operatives was purely out of a shared passion for firearms. She told The Washington Post in April 2017 that "no government official has ever approached me about 'fostering ties' with any Americans."
Exchange with Trump in 2015
An interaction between Trump and Butina in July 2015 offers an early glimpse at the outreach efforts Butina was making on Moscow's behalf.