Another woman has come forward to publicly accuse Indiana Attorney General Curtis Hill of inappropriately touching her at a bar earlier this year.
Niki DaSilva, an Indiana legislative staffer, recounted in a statement sent to CNN that Hill told her and her co-workers they needed to "show a little skin" if they wanted to order a drink at an Indianapolis bar.
Later, DaSilva said Hill put his hand on her back and when she tried to push it away, "he grabbed my hand and moved both of our hands over my butt, lingering there before releasing me."
Hill, a Republican, has faced calls to resign after the leak of a June 18 confidential memo outlining the allegations and alleged observations of five women who attended a March gathering at an Indianapolis bar celebrating the end of the legislative session.
DaSilva's account is included in the memo printed by The Indianapolis Star under the pseudonym Employee A, she said in her statement.
It was at the party where DaSilva said the attorney general groped her, and that a state representative and other women said he either inappropriately touched them, or they witnessed him doing it to the women, at the party, according to the memo, which was published by the IndyStar.
Hill has denied the claims, saying earlier this week, "I now stand falsely and publicly accused of abhorrent behavior. These false accusations have irretrievably damaged my reputation."
He also addressed DaSilva's statement in a separate news release, and accused her of editorializing her account, which he said appeared to be "coordinated and changed under the direction of others."
Hill has not been charged with any crimes.
'I was ashamed and frustrated'
DaSilva and several of her co-workers were waiting to order drinks at the bar when she said Hill approached them.
DaSilva – who said she's worked for the Senate Republican Caucus for three years – said she was surprised to see Hill at the party because it was meant to be a celebration for legislators, their staff and lobbyists.
According to DaSilva, Hill said, "Ah, come on ladies! You haven't figured out how to get a drink yet? You've got to show a little skin!"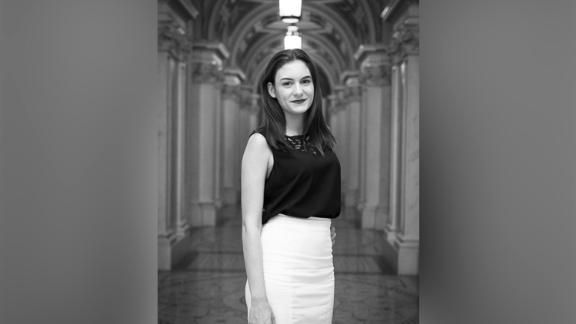 Niki DaSilva
"In that moment, my mouth fell open," DaSilva remembered. "I was stunned that the attorney general had told me to 'show a little skin.'" Shocked and irritated, she said, she decided to move around the corner of the bar to get away from Hill.
But soon after, while waiting with a friend who asked not to be left alone with Hill, DaSilva felt the attorney general place his hand on her back.
"I was taken aback by this gesture as we had never held a conversation before that night," DaSilva wrote.
Hill's hand began to move down DaSilva's back, and she tried to push it away "inconspicuously," she said.
"When our hands met, instead of taking this nudge as a cue to remove his hand from my lower back, he grabbed my hand and moved both of our hands over my butt, lingering there before releasing me," DaSilva said. "He looked at me with a grin on his face and continued the conversation."
Eventually, DaSilva and her co-worker were able to leave the attorney general, but she said the feeling of unease stayed with her.
"I was ashamed and frustrated," she added. "How could a man that did not even know my name feel like it was appropriate to put his hands on my back, or anywhere else on my body for that matter(?)"
Attorney general faces calls to resign
DaSilva said she "mentioned the incident here and there" in the following days, but no one thought anything could be done about it.
"This is the Attorney General we are talking about here," DaSilva wrote. "The highest law enforcement officer in the state. How do you hold someone like that accountable(?)"
It wasn't until May, when state Rep. Mara Candelaria Reardon – who says Hill also groped her – told DaSilva she had filed a complaint with the speaker of the House, that DaSilva decided to share her story.
Thursday, Hill issued a statement attacking DaSilva's account, calling it "editorialized."
His statement noted that the attorney general's office had received an email containing a draft of DaSilva's statement after she sent it to a friend who had recently been terminated from the attorney general's office.
"In her draft 'story,' she editorialized her recollection of events," Hill said, adding that DaSilva asked for her friend to look over the statement for grammatical errors.
Hill pointed to this as evidence that the "integrity of this investigation is compromised," adding, "The various stories appear to be coordinated and changed under the direction of others."
A number of state officials have already moved to distance themselves from Hill.
Among them are members of the Indiana Black Legislative Caucus and other Republicans, including Gov. Eric Holcomb, House Speaker Brian Bosma and Senate President Pro Tem David Long – all of whom have praised the accusers' courage and called for Hill to step down.
"Sexual harassment is unacceptable at any time, in any place," Bosma and Long said in a joint statement last week. "Curtis Hill is not our employee; if he was, he would already have been fired. Because we cannot terminate his employment, we ask instead for him to own up to his actions, apologize publicly to the victims, and tender his resignation immediately."
CNN's Janet DiGiacomo, Eliott McLaughlin and Carma Hassan contributed to this report.