(CNN) —
It's the Fourth of July, which means fireworks, parades, barbecues, sunshine and heat. It is summer, and it sure does feel like it across a broad swath of the country.
Last weekend's deadly heat wave will continue through the holiday. A dangerous combination of high humidity levels and hot temperatures will make the "feels like" temperatures soar. Nearly 100 million people are under a heat advisory for dangerous heat index values.
Here is a region by region look at what can be expected for your Fourth of July plans.
Southeast
(Florida, North Carolina, South Carolina, Georgia, Alabama, Tennessee, Mississippi, Louisiana, Arkansas, Texas, Oklahoma)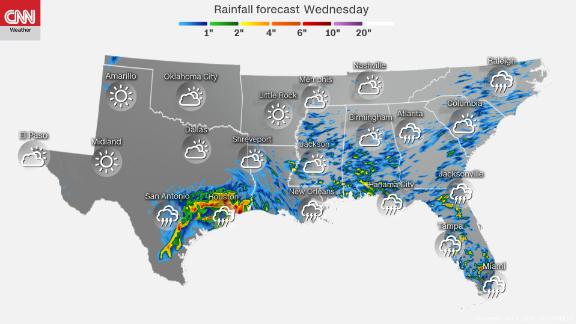 Conditions: Afternoon pop-up thunderstorms are possible over a large area of the Southeast. A tropical low-pressure system will cause an elevated risk for showers and storms along the Gulf Coast regions of southeastern Texas and southern Louisiana. The Houston metro area could have a complete washout of a day, with 1-3 inches of rainfall likely and nearby areas receiving closer to 5 inches.
Temperatures: Temperatures will be relatively constant across the Southeast, ranging from the mid-80s to 90s. Low to mid-70s for dew points will make for a sweltering hot and humid day across the Southeast, with heat index values in the afternoon around 100 degrees.
Northeast
(Maine, Vermont, New Hampshire, Massachusetts, Rhode Island, Connecticut, New York, Pennsylvania, New Jersey, Maryland, Delaware, West Virginia, Virginia)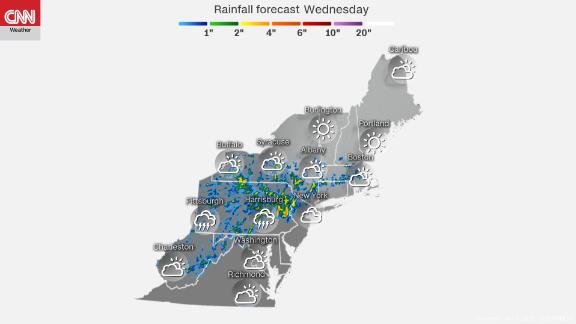 Conditions: Maine, New Hampshire and Vermont will stay sunny and dry for the Fourth. But central and southern portions of the Northeast will see the threat of showers and storms, particularly across Pennsylvania, southern upstate New York and eastern West Virginia. Along the highly populated coastal regions from Washington to Connecticut could see isolated storms in the afternoon.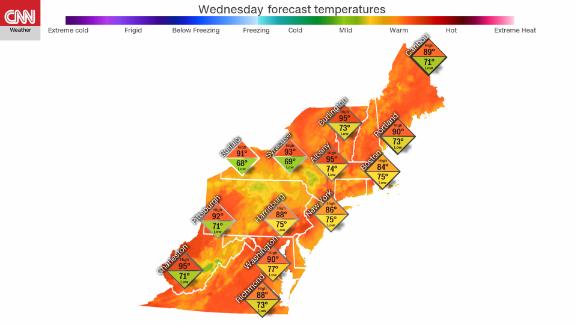 Temperatures: Across the Northeast, temperatures will be in the 80s and 90s. Dew points will be in the low 70s, making heat index values push 100 degrees.
West
(California, Oregon, Washington, Idaho, Montana, Wyoming, Utah, Colorado, New Mexico, Arizona, Nevada)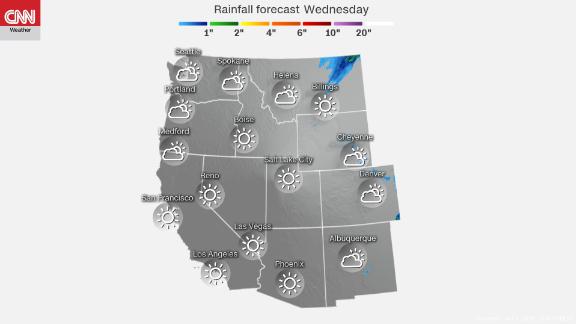 Conditions: Dry and sunny weather will prevail up and down the West Coast. Patchy fog will be possible along coastal areas of California until noon. In the intermountain West, a few locations could see an isolated shower or storm mainly in eastern New Mexico, Colorado and southeastern Wyoming. Red flag warnings have been posted for parts of Utah, Washington and Nevada because of the potential for fires to spread rapidly. Concerns over wildfires have led cities in Colorado and Arizona to cancel Fourth of July fireworks.
Temperatures: In Washington and Oregon, temperatures will range from the 60s and 70s along the coast to 80s in the interior. Farther south across California, the coast will see temperatures in the 60s and 70s while the valley will warm into the 80s and 90s.
Southern Arizona and southern Nevada will have temperatures in the 100s, while northern Arizona, New Mexico, Colorado, Idaho and Utah will have temperatures in the 90s and 80s depending on elevation. In Montana, temperatures will be in the 70s across the state.
Midwest
(North Dakota, South Dakota, Nebraska, Kansas, Missouri, Iowa, Minnesota, Wisconsin, Illinois, Indiana, Michigan, Kentucky, Ohio)
Conditions: Strong to severe storms are possible in portions of the upper Midwest. Minnesota, northern Wisconsin, eastern South Dakota, northern Iowa and eastern Nebraska will be under the threat of severe weather in the afternoon and evening, with the highest risk in the Minneapolis and Duluth area.
More isolated to scattered thunderstorms will be possible across Wisconsin, Michigan, Ohio, northern Illinois and northern Indiana.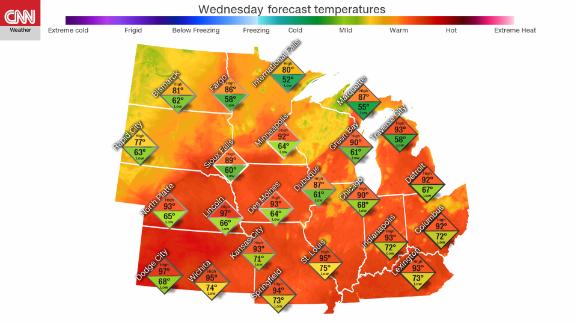 Temperatures: Across the Midwest, temperatures will range from the 80s to the 90s. It will be very humid, with some locations seeing dew points in the mid- to upper 70s.
This will cause heat index values to exceed the triple digits in many locations. Therefore, the National Weather Service has issued heat advisories for areas including Kansas City, Saint Louis, Indianapolis, Louisville, and Lexington, with excessive heat warnings posted in Minneapolis, Columbus and Cincinnati.
CNN's Michael Guy contributed to this report.