(CNN) —
Former Malaysian Prime Minister Najib Razak has been charged with four counts of corruption for embezzling public money from Malaysia's 1MDB fund.
In court Wednesday in the Malaysian capital, Najib was charged with three counts of criminal breach of trust and one charge of abuse of power, just weeks after voters ousted him from power in large part due to long-standing corruption allegations.
He was arrested Tuesday by a special task force at his home in Kuala Lumpur, according to the Malaysian Anti-Corruption Commission (MACC), which has been investigating billions of state funds that went missing while Najib was in power.
Any corruption related offense carries a general penalty of up to 20 years in prison and a minimum fine of five times the value of any bribe, according to the MACC. Najib could also face lashes with a whip.
Najib pleaded not guilty and is expected to be released on $250,000 bail. He is due to appear in court for case management on August 8.
As he was leaving the courthouse, Najib told reporters he believed that his trail was politically motivated by the new government, but added it was "my best opportunity to clear my name."
"If this is the price I have to pay for the 24 years of service to the nation and people, then I am willing to pay that price," he said.
MOHD RASFAN/AFP/AFP/Getty Images
Last week police said they had seized $225 million in luxury handbags, jewelry, cash and goods from six properties linked to the former leader.
The goods were seized as part of the investigation into the sprawling scandal related to 1MDB, a state investment vehicle from which Najib and others are accused of siphoning off billions of dollars.
A spokesman for Najib described the arrest as "politically motivated" and "the result of political vengeance" by the Malaysian leadership under Prime Minister Mahathir Mohamad, elected in May.
Najib "will contest these charges and clear his name in court," the spokesman said in a statement.
In a video posted to Twitter Tuesday evening, the former leader dismissed the accusations as "rumors, hearsay and slander" and denied any wrongdoing.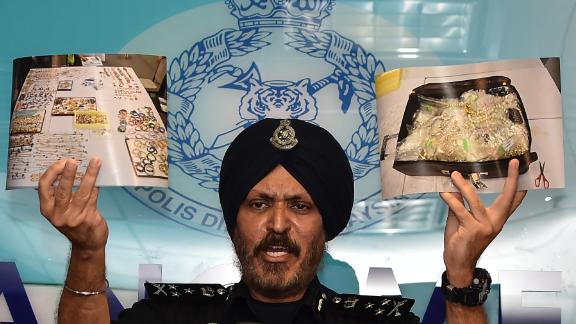 MOHD RASFAN/AFP/AFP/Getty Images
He also apologized to the Malaysian people, saying, "I have tried my best but I realize that it is not enough… Yes I am not perfect. I'm just a normal person. But believe me, all these accusations made against my and my family are not true."
Najib's daughter, Yana Najib, defended her father in an Instagram post Tuesday. "No one is as kind, loving and gentle as this man," she wrote, posting a picture of her father with the hashtag #FreeNajib.
Following news of the arrest, around 50 supporters of Najib gathered outside the MACC headquarters in Kuala Lumpur. Najib's stepson, Riza Aziz, was later seen arriving to give a statement.
Najib, whose government was plagued by scandal, was soundly defeated in parliamentary elections in May. Veteran politician Mahathir Mohamad came out of retirement to lead a coalition that challenged and defeated the incredibly unpopular Najib.
According to an investigation by the US Justice Department, Malaysian financier Jho Low used misappropriated funds from 1MDB to buy 27 different 18-carat gold necklaces and bracelets for the wife of someone listed in the complaint as "Malaysia Official 1." That official has been widely reported to be Najib.
The US is currently seeking to recover around $540 million misappropriated from the 1MDB fund, with more than $1.7 billion of assets subject to forfeiture under the Kleptocracy Asset Recovery Initiative.
Some of those assets include profits from the Martin Scorsese film "The Wolf of Wall Street," which was financed by a company associated with 1MDB, as well as properties linked to Low and others.
Ushar Daniele reported from Kuala Lumpur and Jamie Tarabay reported and wrote from Hong Kong. CNN's Judith Vonberg and Joshua Berlinger contributed to this report.