Editor's Note: Karine Jean-Pierre is the senior adviser and national spokeswoman for MoveOn, which is one of a coalition of organizations supporting the Families Belong Together day of action on June 30. The views expressed here are solely the author's.
(CNN) —
"What did I do wrong?"
She was a small girl. Her hair was up, and she wore a white T-shirt that stood out in the dry 100-degree heat of a summer day in El Paso, Texas. And she held up a sign that enveloped her whole body that read simply: "What did I do wrong?"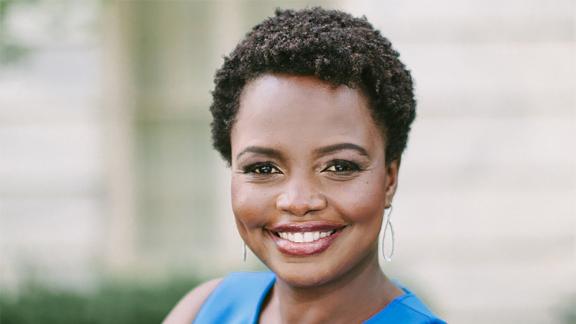 I saw her down at the border, where I went this week to bear witness to the inhumane, unspeakable conditions the Trump administration is imposing on children and families who come to America looking for help. I went there to see for myself one of the places where the Trump administration has been throwing children and families into cages – children and families who have just fled cages of violence and danger in their native countries.
That young girl had done nothing wrong, just as the children and families who arrived here seeking nothing but a better life, regardless of any potential infractions of law, have done nothing wrong.
But what have we done wrong, America? This country is not just experiencing a political crisis. We are experiencing a crisis of morals and convictions. We are at a breaking point, a moment of reckoning where we must decide what we want to be as a nation.
How did we become a country where tonight, 2,000-plus kids will go to sleep around this country separated from their parents? Where children will sleep in cities thousands of miles away from their parents, wondering when they'll get to talk to them next, hug them next? Where, after unprecedented public outcry and universal condemnation from the international community (including a scathing rebuke from the United Nations), President Trump signed an executive order ending family separation, but days later, few children have been reunited with their families?
We were wrong when we defined "civility" as saying the wrong things the right way. We were wrong when we asked what it meant to be civil only when Sarah Sanders' dinner plans were canceled, rather than when entire families were ripped apart and locked into cages. We were wrong every time we stayed silent when the Trump administration tried to tear us apart.
Because at the end of the day, there is more that connects us than tears us apart. In El Paso, when I saw the young girl with her sign, I thought of my own daughter, who just turned four. And I thought of my journey to the United States, which happened when I, too, was just a toddler.
My parents, like the families escaping brutality and bloodshed today, were fleeing their own danger. Their home country, Haiti, was beleaguered by a cruel, authoritarian dictatorship and living there was no longer safe. Their journey wasn't easy. Like those crossing deserts and mountains and canyons today, they couldn't come to the United States directly, so they went to Martinique, where I was born, before they were able to come to the United States, settling in Queens Village, New York.
My parents' story is the story of many families immigrating to the United States today, and the story of so many who came before us. It's the story of those who immigrated through Ellis Island and the pilgrims who arrived at Plymouth Rock centuries ago. It's the story of Native Americans, whose children have, throughout history, been ripped away from their parents by the US government. It's the story of Africans who were brought here, enslaved, and taken away from everything they ever knew – including their families. It's the story of Japanese-American internment during World War II, who were taken from their homes even though, for many of them, the United States was the only home they ever knew. My story is their story is your story is our story. Our story – our American story – is one of tragedy, but also one of hope, and a commitment to fight for civil liberties, with or without civility.
And I am hopeful, because even though what's happening right now at the border is horrific, I've never seen Americans this loud, this energized, this defiant. I've seen people from every corner of this country, across political affiliations and across racial, ethnic, and religious backgrounds, come together and say, "This is wrong."
Our voices matter. The Trump administration separated these families. Our voices are helping them be reunited. Our voices required that. And already, Americans – documented and undocumented, Democrat and Republican, black, white, Latino, Asian and Native – are saying that Trump's executive order isn't enough.
In the past few days alone, hundreds of thousands of people have signed up to attend more than 700 Families Belong Together actions happening in 350 congressional districts in all 50 states this Saturday. Because we can't stay silent.
My parents witnessed firsthand in Haiti that if you stop speaking up, one day you'll wake up afraid to speak. They came to America so they'd never be afraid of speaking up again.
Get our free weekly newsletter
We can never stop raising our voices – no matter how "uncivil" some say we are – to speak out for what is right. As children continue crying for their parents, we must continue to demand from our leaders a better, more decent, more humane system. And we cannot stop until these children are reunited with their families, until indefinite detention is off the table and until we ask more questions of the people who walk away from immigrants than the immigrants who walk here.
Saturday, I'll be walking at one of the hundreds of marches planned across the country, and I will keep walking until America becomes the country my parents dreamed of.