The US Supreme Court has upheld a ban by President Donald Trump on travel to the US from seven countries: North Korea, Syria, Iran, Yemen, Libya, Somalia and Venezuela.
The ruling comes after months of challenges to Trump's executive order on immigration, which previously targeted only Muslim-majority countries, was denounced as xenophobic by critics, and prevented even refugees from entering the US.
But what's life like for people in those seven countries? For many, conflict, human rights abuses and long-term unemployment are the norm, and are reasons to flee or try to immigrate.
Here are snapshots of the current situation in each country:
North Korea
Relations between the US and North Korea have improved in the past year, as Trump met North Korean leader Kim Jong Un in Singapore in June after months of negotiations over denuclearization and other security issues.
North Korea's inclusion on the list of countries now banned came after two other bans, which targeted Muslim-majority countries, were struck down by lower courts. It was added in September last year after the death of American Otto Warmbier, who was detained in North Korea for 17 months and was returned to the US in a coma. He died soon after.
As it is, North Koreans are tightly restricted from traveling overseas, except as part of controversial work programs which have been denounced as involving "slave-like" conditions.
Despite this, thousands of North Korean refugees have fled harsh conditions, mostly to South Korea, and human rights abuses remain widespread in the authoritarian state, where citizens also struggle with poverty and a lackluster economy weakened by US and other international sanctions.
A 2014 report from a United Nations Human Rights Council commission found that the Kim regime had committed "systemic, widespread and gross human rights violations" including "arbitrary detention, torture, executions and enforced disappearance to political prison camps, violations of the freedoms of thought, expression and religion, (and) discrimination on the basis of State-assigned social class, gender, and disability."
Syria
Millions have been affected by the Syrian civil war, a conflict that has raged for over seven years, with an estimated 400,000 people killed and many more injured or permanently disabled. Hundreds of thousands of refugees have fled the country into neighboring nations, as well as to Europe and North America.
The US has been involved in the conflict since the early days, funding and arming rebel groups, and carrying out airstrikes against ISIS and the Syrian government.
Most recently, Trump authorized, along with the UK and France, strikes against the regime of President Bashar al-Assad after an alleged chemical weapons attack against the last rebel-held town in Eastern Ghouta.
A day in the life of a Syrian refugee
Military operations to rout ISIS fighters out of their de-facto capital in Raqqa ended in 2017 after a sustained bombing campaign by the US and its allies. Separate action by the Assad regime and its Russian allies also contributed to a dramatic reduction in the militant group's territory.
Gains by the Assad regime have brought stability to many parts of the country, even as rebel groups continue fighting in other areas.
Many refugees fear returning to Syria over alleged and documented atrocities by the Assad regime, and efforts to reach a political solution have struggled as some parties insist that any settlement involves the removal of Assad as leader.
Since the start of the 2018 fiscal year last October, the US has resettled just 44 Syrian refugees, according to State Department data. That's down from about 6,000 in the same time frame last year, most of whom were admitted before Trump's inauguration.
Iran
Iran's oil-reliant economy had been hit hard by decades of economic sanctions, contributing to the country's high levels of unemployment.
Sanctions were first imposed by the United States in 1979 following the Iranian revolution and the seizure of the US embassy in Tehran. But more sanctions, including by the US and the UN, were later imposed over the country's nuclear program.
Iran was considered a pariah state by many Western powers, but that changed when Tehran agreed to restrict its nuclear program in a deal crafted with the US, European partners, and Russia. The deal allowed the lifting of many sanctions, loosening restrictions on Iran's economy, and allowing foreign investment.
Trump rescinded American commitment to that deal in May, angering European partners, drastically worsening relations with Tehran, and putting the status of foreign companies operating in Iran in doubt.
Explaining the Iran nuclear deal
While Trump and other hardliners in his administration have been strong critics of Iran, citizens of the Islamic Republic possess democratic rights some of their Middle Eastern rivals, like Saudi Arabia, have yet to realize.
At the same time, rights groups say the country remains autocratic in some ways and life is difficult for minority groups, women and the political opposition.
Mass protests which broke out in January over the economy and fuel prices were openly encouraged by the US State Department. On several occasions those riots turned violent as anti-government groups targeted police stations and other state institutions.
Yemen
In April, the war in Yemen became the world's worst humanitarian crisis. The United Nations continues to work to bring attention to a conflict that has gone on for years and left millions without water as well as at risk of cholera and starvation.
According to the Red Cross, there are more than a million suspected cholera cases in Yemen, and "more than 80% of the population lack food, fuel, clean water and access to health care."
The war in Yemen has its roots in years of conflict between various factions, but the latest war began in early 2015 when Houthi rebels – a minority Shia group from the north of the country – drove out the US-backed government, led by President Abdu Rabbu Mansour Hadi, and took over the capital of Sanaa.
Neighboring Saudi Arabia, supported heavily by the US, launched military operations and intense airstrikes in Yemen, including in civilian areas. Saudi forces have also blockaded Yemeni ports, preventing vital supplies reached the country's besieged population.
Efforts by the Saudi-led coalition to wrest control of key cities from the Houthis have stalled, and chances of a political settlement any time soon for the Arab world's poorest nation seem unlikely.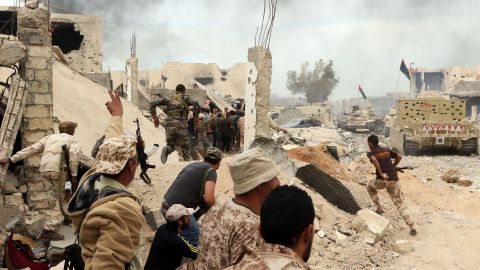 Libya
Libyans emerged from years of isolation in 2003 when then-leader Col. Moammar Gadhafi agreed to abandon his nuclear ambitions in exchange for sanctions relief. Whatever economic stability they might derived from oil wealth in the years that followed was obliterated in 2011, when the Arab Spring took hold in the country, resulting in Gadhafi's brutal death and the fall of his regime.
Since then, the CIA reports, Libya has become a transit point for economic migrants heading to Europe, its currency has lost much of its value, and its economy, "almost entirely dependent on oil and gas exports, has struggled since 2014 given security and political instability, disruptions in oil production, and decline in global oil prices."
Much of the country has devolved into chaos, with mass killings and open air slave markets. Thousands have fled, joining a flood of refugees from other African countries crossing the Mediterranean into Europe, further straining countries already seeing an influx of people trying to escape the conflict in Syria.
Somalia
One of the world's poorest countries, Somalia descended into civil war after dictator Mohammed Siad Barre's ouster in 1991.
Now, after two-and-a-half decades of conflict, much of the country's governance structure, economic infrastructure, and institutions, have been destroyed, the World Bank reports.
In 2012, a new government emerged, but warring tribes and extremist groups, such as al-Shabaab, have flourished over the subsequent years, carrying out attacks against government and military targets, and recruiting child soldiers for its cause.
While al-Shabaab's power has waned in recent years – in part due to an African Union coalition dedicated to peacekeeping in the country – Mogadishu is still subject to frequent attacks. The US has also carried out air strikes against al-Shabaab, and US forces are active in the country.
Government security forces, African Union troops and allied militias have been responsible for indiscriminate attacks, sexual violence, and arbitrary arrests and detention, according to Human Rights Watch, adding that restrictions on access to aid organizations have exacerbated the humanitarian crisis there.
Venezuela
Under former President Hugo Chavez's Bolivarian Revolution, Venezuela emerged as a bulwark against US influence in South America, using its vast oil wealth to fund left wing movements in countries around the region and launching efforts to eradicate illiteracy, distributing staple foods and providing health care in all corners of the country.
Chavez was elected and re-elected largely because of support from the country's poor who felt marginalized by previous governments. The percentage of those living in poverty fell significantly under his rule.
Following Chavez's death from cancer in April 2013, Vice President Nicolas Maduro succeeded him as leader and narrowly retained the position in a closely-fought election months later.
Maduro claims victory in contested election
Since then however, support for Maduro has dropped amid widespread and often violent anti-government protests led by right wing opposition groups. The opposition won a parliamentary majority in late 2015, the first major shift in power since Chavez first took office in 1999.
In January 2016, Maduro declared a state of "economy emergency" as Venezuela faced economic sanctions, falling oil prices, plummeting currency rates, power struggles within the government, and food shortages.
More violent anti-government protests broke out in mid 2017; a stolen police helicopter was even used to target the country's Supreme Court with gunfire and grenades.
A new National Constituent Assembly, with power to rewrite the Venezuelan Constitution, was elected in July last year, in a vote boycotted by the opposition and marred by inconsistencies and allegations of fixing.
Maduro's reelection in May 2018 was denounced as a sham by critics, and the country's economic woes show no sign of lessening. The International Monetary Fund predicts inflation in Venezuela will reach 13,000% this year.