(CNN) —
Investigators are asking the public for help as they try to figure out who fatally shot a 35-year-old scientist as he slept in a tent with his 2- and 4-year-old daughters at a California state park.
No arrests have been made in the Friday killing, authorities said Tuesday. The motive also remains a mystery.
An "information wanted" bulletin posted on Twitter shows victim Tristan Beaudette's photo and asks anybody with information to call the Los Angeles County Sheriff's Department.
The sheriff's department said that it's investigating three other shooting incidents over the past year at the same state park, though investigators so far see no connection to Beaudette's death.
A man reported that his car was hit by a bullet around 4:30 a.m. Monday, at the park, according to CNN affiliate KABC.
Beaudette, of Irvine, California, was found dead early Friday morning inside his tent at the 8,000-acre Malibu Creek State Park, a scenic recreation area 25 miles from downtown Los Angeles that's been used as a backdrop for movies and television shows.
His daughters were not injured, CNN affiliate KTLA reported. Authorities are working with relatives to arrange for forensic investigators who specialize in interviewing small children to speak with the two girls.
Park shootings reported in recent years
Besides the man who said his car was fired on Monday, a woman told authorities in January 2017 she was in the park when she heard a loud noise in the middle of the night and found a bullet hole in the back of her car, KABC reported.
There were reports of a man being shot at the park in 2016, the station reported.
"As part of their investigation, detectives are reviewing three prior shooting incidents within the past twelve months occurring nearby within the jurisdiction of the Sheriff's Department," the agency said Tuesday in a statement.
"Detectives will also be working with officials from the California State Parks Department to compare any similar shooting incidents which have occurred within Malibu Creek State Park, which is within the jurisdiction of the State Parks Department."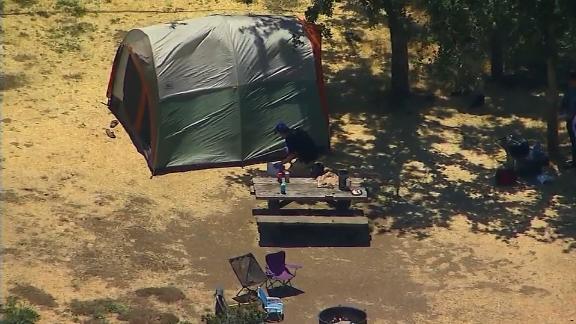 KABC
Campground closed indefinitely
Meanwhile, the state parks department said the campground where Beaudette was killed will be closed indefinitely while his death is investigated.
"The safety of park visitors is our top priority," the department said in a statement. "The campground area at Malibu Creek State Park, which contains 63 sites, has been closed since Friday due to the investigation and will remain closed until further notice."
Earlier, officials said the campground would close for only a week.
Malibu Creek State Park is a vast playground for outdoor enthusiasts, with trails for hiking and horseback riding. Hunting is not allowed in the park.
The park has served as a spectacular backdrop in movies and television shows. The rugged terrain crisscrossed with streams was used in the original "Planet of the Apes," "M*A*S*H," "Butch Cassidy and the Sundance Kid," "How Green Was My Valley" and "Pleasantville."
"Most of the park's land holdings were donated by Bob Hope, with later significant acquisitions from Ronald Reagan and 20th Century Fox," the park website states.
'No suspect information'
Beaudette was discovered at a campsite after authorities got a report of gunfire around 4:45 a.m. Friday, the sheriff's department said.
Deputies arrived to find Beaudette "had sustained at least one gunshot wound to his upper torso," according to LASD. He was pronounced dead at the scene. Winter said an autopsy is pending.
"There is no suspect information, no suspect vehicle," Detective Rodney Moore said Monday. "We are not investigating this as a suicide at this point."
According to his LinkedIn page, Beaudete was an associate director at the pharmaceutical company Allergan. The LinkedIn bio also says Beaudette received a Ph.D. from the University of California at Berkeley and had seven years experience in late-stage pharmaceutical drug product development.
Allergan spokesperson Amy Rose released a statement from the company on Monday: "It's rare that we lose a friend and colleague, especially in an event that was senseless and difficult to understand."
"Tristan will be remembered as a talented scientist who was admired by all who knew him and a meaningful contributor to our company's research and development efforts."
The company's statement also said it is "working closely with Tristan's wife and family to provide them with the support they need during this very challenging time."
'Absolute devastation and sorrow'
According to a verified Go Fund Me campaign set up by the family, Beudette was camping with his daughters while his wife prepared to take an exam. After the exam the family was planning to move to the Bay Area, the page said.
Beaudette's wife, Erica Wu, issued this statement: "Words cannot express the absolute devastation and sorrow we feel from the loss of someone so dear to our family. You were admired by so many for your devotion to your wife and two daughters. We are all so fortunate to have known you for your short time on Earth. You were taken from us far too early, doing something you loved with the girls you adored."
CNN's Stella Chan, Keith Allen and Amir Vera contributed to this report.