It's a room fit for a prince – or a US president, for that matter.
The $5,500-a-night hotel suite in Jerusalem that the Duke of Cambridge will be calling home for the next three days is the same one Donald Trump stayed in during his visit in May, CNN has learned.
The plush room – replete with bomb-proof windows – is on the top floor of the King David Hotel with views across the Old City, Sheldon Ritz, director of operations at the hotel, wrote in the Jewish News Online.
Courtesy King David Hotel
It is one of around 50 rooms the royal delegation have booked in the hotel during Prince William's visit to Israel and the Palestinian territories – the first official visit by a British royal ever to take place there.
In comparison, Trump's team booked 1,100 rooms during his visit to Jerusalem in May – including all 230 rooms at the King David, along with rooms at another 19 surrounding hotels, according to Ritz.
Security will be tight during William's visit, with everyone entering the hotel being screened, and all journalists relegated to the nearby sister hotel the Dan Panorama, Ritz added.
Courtesy King David Hotel
The hotel director told CNN that William will be staying in a suite usually costing $5,500 for regular guests, but offered at a discounted price for diplomatic visitors.
CNN has also learned from a source close to the royal that it is the exact same suite occupied by Trump during his official tour earlier this year.
A royal reception
Every effort has been made to accommodate the Prince's tastes, with tea and silver tea strainers specially flown in from Britain.
"In Israel you can't really get silver tea strainers, and it has to be silver, not aluminum," Ritz told CNN, hastening to add that the prince had not asked for the silver strainer, but rather the hotel had taken it upon itself to provide one.
He said scones with clotted cream and strawberry jam had also been provided. But given the uniquely British debate over whether cream or jam should be applied first, staff thought it best to leave both condiments on the side and let the Prince decide.
Courtesy King David Hotel
Indeed, Ritz even underwent royal etiquette training at the British Embassy weeks before the Prince's arrival.
"So for instance the first time you meet him you say 'Welcome Your Royal Highness,' then after that you call him 'Sir,'" Ritz told the Jewish News Online. "We were told you shouldn't put your hand out to welcome him – you have to let him initiate the handshake."
Courtesy King David Hotel
Read more: Why William's tour will be his most challenging royal trip yet
Since it was opened in the 1930s, the hotel has hosted many famous guests, including previous US President Barack Obama, Russian President Vladimir Putin, German Chancellor Angela Merkel, and Prince William's father Prince Charles twice – though not on an official tour.
In 1946, the hotel, which housed officials from the British mandate – at that time the ruling power in pre-1948 Palestine – was also bombed by Zionist militias, killing 91 people.
Historic tour
William kicked off his historic tour of the region on Tuesday with a visit to the Yad Vashem Holocaust Museum in Jerusalem, where he spoke with survivors and laid a wreath at the Hall of Remembrance.
He then met Israeli Prime Minister Benjamin Netanyahu, as well as President Reuven Rivlin. Later he was due to attend a local football game in Jaffa.
Ian Vogler/Getty Images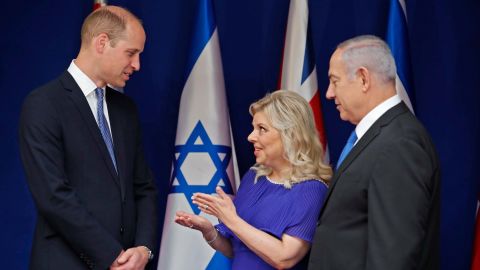 THOMAS COEX/AFP/Getty Images
Chris Jackson/Getty Images
On Wednesday, he will meet with Palestinian Authority President Mahmoud Abbas in Ramallah, in the West Bank.
The following day, William will visit Jerusalem's Mount of Olives, which has a view across the Old City, as well as the Church of St. Mary Magdalene in the Garden of Gethsemane, where his great-grandmother, Princess Alice – Prince Philip's mother – is buried.