Chiang Rai, Thailand
CNN
—
Families are nervously awaiting news of 12 missing boys and their soccer coach Tuesday as rescuers search a partially flooded cave complex in northern Thailand where the group is thought to have been trapped since the weekend.
Most of the boys' parents are at a makeshift camp near the Tham Luang Nang Non caves and have not left the area since they learned their children were missing on Saturday.
"I feel I have just lost my heart because I just found his bag, mobile phone and his shoes. But all I can do is just wait," said Sudsakorn Sudtham, 35, whose son, Prajak, is 14.
Kocha Olarn/CNN
The group, all belonging to the same soccer team from the nearby city of Chiang Rai, have been missing since 1 p.m. Saturday when a park officer spotted something amiss – bicycles parked idly by the entrance to the cave despite it being off-limits.
They are believed to have crawled into the large series of caves through a narrow, 15-meter-long (50-foot) channel.
Another anxious parent, Pinyo Bhodhi, 37, said he became worried when his son, Pipat, 15, hadn't returned home Saturday evening – the day before his birthday.
He told CNN he'd arranged a party and a cake for Pipat, a keen soccer player who "trains every day" and has dreams of being on the Thai national team, on Saturday night.
When Pipat failed to come home, his father started calling around to his son's friends, teammates and coaches.
"It was already 7 (or) 8 p.m. and he hadn't returned home, (so) I started to look for him."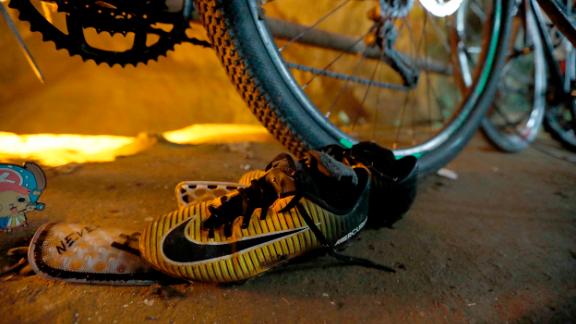 Thai News Pix/AP
When he learned of the boys' disappearance at the caves, he rushed to the scene near Chiang Rai and has been waiting there since Saturday night. He said he discovered his son's bike outside the cave.
"When I saw his bike parked inside at the cave, my tears were just dropping. I was desperate to find my son.
"We need a miracle. I want him back."
He was looking forward to seeing his son blow out candles on his birthday cake, but now "the cake remains at home."
Pumps used to drain water from cave complex
The families sit and wait as rescuers battle heavy rains to search the flooded system of caves where the group is thought to be trapped.
Emergency services are attempting to pump water out of the cave complex after the rain flooded the caves and the passages that link them.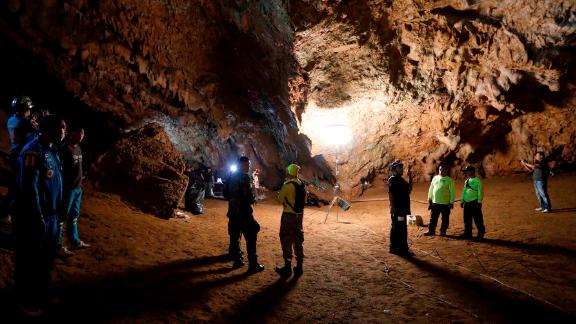 Krit Promsakla Na Sakolnakorn/Thai News Pix via AP
"We (are) drawing out water from the cave, and we're (currently) looking for more water pumps" and long cables with which to power the pumps, said Kamolchai Kotcha, an official with Thailand's national parks authority.
A team of Thai Royal Navy SEAL divers, who re-entered the cave complex early Tuesday, haven't found any trace of the children or their coach, Kotcha told CNN by phone.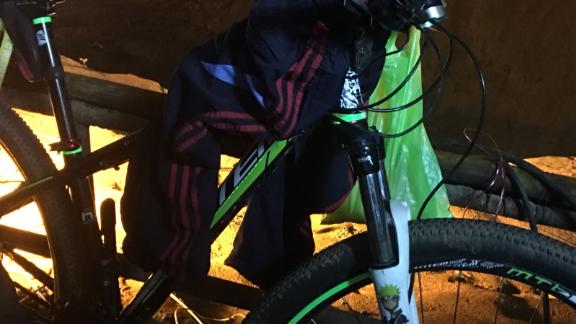 Kocha Olarn/CNN
However, Deputy Prime Minister Prawit Wongsuwan said that the government had not ruled out hope of finding the boys and the coach alive.
"We are still optimistic they are all alive. Even though they may not have anything to eat, they should have water to drink."
Vernon Unsworth, a spelunker who lives in Chiang Rai, said the conditions in the cave are difficult.
"The water is rising all the time. Physically it's not a hard cave; it's just very long," he told CNN from the rescue site.
"I think we just have to wait for the navy SEALs to see what they can do, how far they can go. The conditions further on will not be easy so we just have to wait and (keep our) fingers crossed."
He said a big pool of water is continually rising in a section of the cave about 3 kilometers (1.7 miles) from the entrance. The "next six to eight hours will be crucial," he said.
Kotcha of the national parks authority said around 40 chambers are inside the Tham Luang Nang Non cave, "both small and big ones."
Rescuers suspect the missing boys are still in the main chamber of the cave.
Thai Interior Minister General Anupong Paochinda said the divers could only work intermittently due to the restrictions of their equipment. He said the rescue team was trying to reduce the water level to prevent it from "reaching the ceiling of the passage" so there's an air pocket for the rescuers.
"The water is muddy; it has also still blocked the passage (into the chamber). The SEALs have switched from using (an) oxygen tank to a closed-circuit system," which allows them to dive up to three hours at a time.
"We are arranging more water pumps and electricity cable to drain water. Hopefully we can create some space (at the passage) for them."
Kotcha said the team is waiting for updates from the SEALs, who are trying to get through the flooded channel.
CNN's Kocha Olarn reported from Chiang Rai, and Euan McKirdy wrote from Hong Kong.