First Odessa Moore lost her marriage, then her job. Then things got worse.
She was evicted from her North Carolina home four years ago.
"I felt horrible as a person and as a mom," Moore told CNN.
"I couldn't even keep a roof over my head."
With her children her priority, the single mom decided it was best to go to a shelter. "I felt like a total failure," she said. "Like everybody in the world knew and everybody was pointing at me and laughing in my face."
Her experience is far from unique.
The US Department of Housing and Urban Development reported more than 350,000 people were staying in emergency shelters or transitional housing programs on a single night in January of 2017. And about a third of people experiencing homelessness were staying in unsheltered locations.
"Just the thought of being there, it was difficult for me," said Moore.
"I've always been self-sufficient. I've always had money to make sure my family was taken care of."
Pursuit of happiness
While staying in the shelter, Moore began to meet other women who were facing similar challenges. Those encounters, she says, made the experience a little better. "It was tough. I had to find some reason to keep my head up," Moore said.
"A lot of days, I couldn't find a reason to do that. A lot of times I would just cry all night."
Moore was then introduced to Shelters to Shutters, an organization that works with apartment management companies to place people who are homeless with jobs after they receive the job training. Once the candidate gets the job, they also get discounted housing in the complex where they're working.
"Even when you do put it down on your application where you are staying at now and you say 'I'm homeless', people look at you different," said Moore.
"They immediately think that you are beneath them."
Once Moore applied for the nonprofit's program, she got a job interview with an apartment complex for a leasing agent position.
They hired her.
"When I received the job opportunity from Shelters to Shutters, I was in the grocery store with my children. I was so excited," Moore recalled.
"I started leaping for joy to the point where other people that were in the grocery store were getting excited. I actually got a couple of high fives as I kept walking because they were like 'you got it?' I was like 'I got it! I got it!'"
Lending a hand
Shelters to Shutters founder Christopher Finlay says the inspiration behind starting the organization came from reading an article in an outdoor magazine.
"What I learned is that there's a majority of homeless people that have been employed, who want to be employed and are capable but simply fall on hard times for whatever reason," Finlay told CNN.
"I was inspired and compelled to act. The apartment industry is always looking for great employees."
Many of the organization's candidates are promoted within six months.
"I think helping one person is a win. Helping a couple of hundred people, like we have, is a bigger win," Finlay said.
"We have the ability in this industry to make a meaningful impact and provide an opportunity for real growth and advancement. And not just a job but in a career. And that's really what's so powerful about this industry initiative."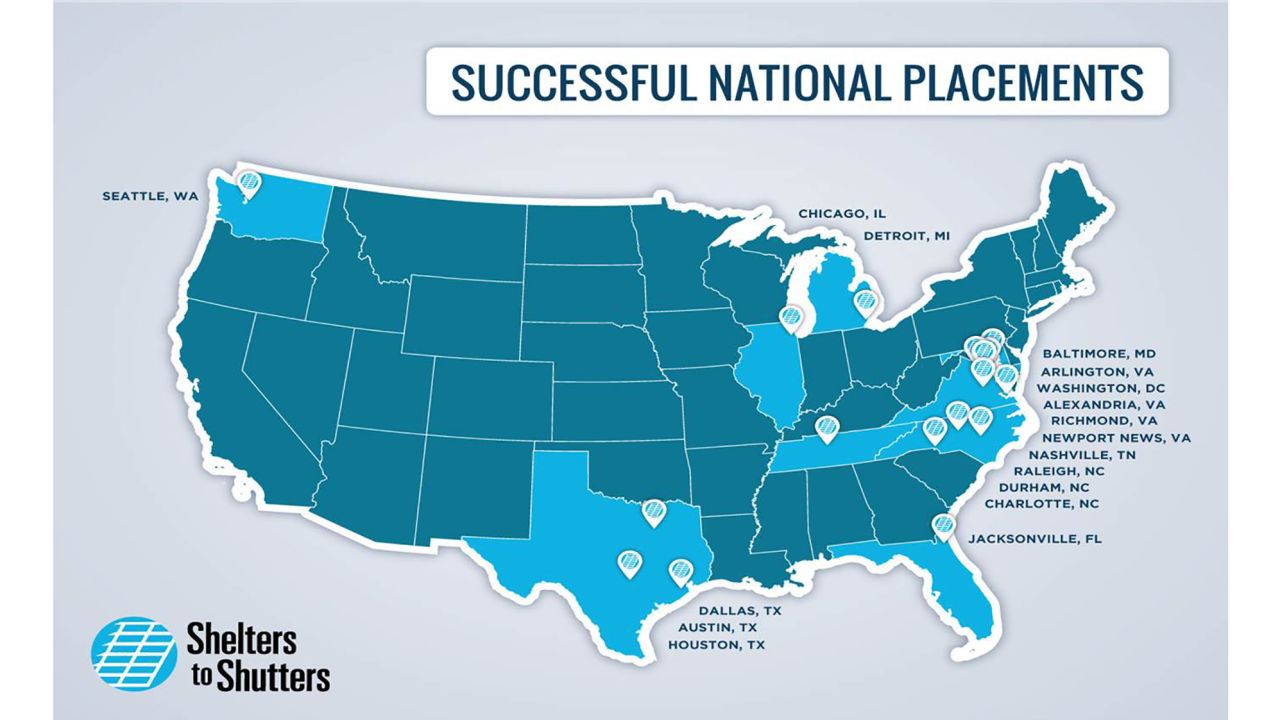 Now Moore is an assistant manager for another apartment complex and she has her own place. "It's better than where I had been before," she said.
Moore said her kids are now in a better school district.
"My kids got me a toy Wonder Woman. She stays with me all the time so that I can just remember who I am," she said.
"They tell me 'momma, I'm so proud of you' and 'you're doing awesome.'"
"It just does something to me and it fires me up."