The week is ending the way it started – with lots of confusion about the policy that resulted in separating immigrant children from their parents.
In recent days, we've heard the cries of preschoolers, howling for their moms and dads after being separated at the US-Mexico border. We've seen images of boys on metal benches in chain-link enclosures at US government-run facilities. And we've listened to politicians demand answers, shift blame and fail to agree on how to change the laws that bred this chaos.
It all began with a new Trump administration policy, enacted in mid-April, to refer every person caught crossing the border illegally for federal prosecution, including those who arrive with children. The change reflected a more aggressive stance than previous administrations ever took and meant children would be taken away – and put in federal shelters or foster care around the country – as their parents' criminal cases progressed.
Here's how the policy's remarkable consequences continued unfolding this week:
Monday: 'We will not apologize'
Homeland Security Secretary Kirstjen Nielsen started the week by defending the administration's highly scrutinized policy and putting the onus on Congress to change the laws that the administration has complained restrict how it detains and processes undocumented immigrants and especially asylum seekers.
"We will not apologize for the job we do or for the job law enforcement does, for doing the job that the American people expect us to do," she said Monday. "Illegal actions have and must have consequences: no more free passes, no more get out-of-jail-free cards."
Nielsen's hastily planned news conference at the White House that same day drew swift criticism, including that she offered only facts and figures in response to a deeply emotional issue.
Also on Monday, Attorney General Jeff Sessions defended the separation policy, saying, "We're doing the right thing. We're taking care of these children." Sessions also dismissed comparisons of federal child-detention facilities to Nazi concentration camps, arguing that Nazis "were keeping the Jews from leaving the country."
The White House, facing mounting outcry and making contradictory statements, entered damage control mode.
Tuesday: Immigrants poised to 'infest our Country'
Trump dug in, saying Tuesday in a series of tweets that the separation policy was vital to keeping Americans safe.
He also falsely blamed Democrats, maintaining he couldn't do anything about his administration's policy shift, and amplified his already-heated immigration rhetoric.
"Democrats are the problem," he wrote Tuesday. "They don't care about crime and want illegal immigrants, no matter how bad they may be, to pour into and infest our Country, like MS-13. They can't win on their terrible policies, so they view them as potential voters!"
That same day, congressional Republicans, keen to secure an end to the separation policy as they worked on separate immigration legislation, got vague marching orders from Trump during a meeting on Capitol Hill.
Wednesday: 'We're signing an executive order'
Trump abruptly reversed his debunked argument that he lacked authority to stop family separations and signed an executive order to keep parents and kids together in detention.
"We're signing an executive order. I consider it to be a very important executive order. It's about keeping families together, while at the same time being sure we have a very powerful, very strong border," Trump said.
The President maintained he wasn't backing down.
"The border is just as tough. But we do want to keep families together," he said.
But the executive order, a Health and Human Services official said, doesn't at all address reuniting families already separated. Existing policies place the burden on parents to find their children in Department of Health and Human Services custody and seek to reunite with them.
Parents have been told to call hotlines to find their children, and the government said it would work to schedule regular phone calls. But the programs are hard to navigate, immigrant advocates told CNN, and parents in immigration officials' custody or jail can't get phone calls.
At an evening rally in Minnesota, Trump defended his executive order, but unlike previous events in front of friendly crowds, he devoted only a small portion of his speech to immigration.
Thursday: Jacket gets in the way
First lady Melania Trump made a surprise trip to Texas to get a firsthand look at the crisis affecting children. But the jacket she wore on the plane upended the official narrative. On the back, it read, "I really don't care. Do U?"
At a briefing in the US border town of McAllen, she thanked doctors, social workers and other experts "for your hard work, your compassion and your kindness."
Meantime, the Justice Department sought to modify a federal court order that limits US officials' ability to detain immigrant children longer than 20 days.
And Donald Trump continued to issue misleading information on the border crisis, blaming political opponents for what he described as the world's weakest immigration laws.
The administration also outwardly maintained that it was continuing its "zero tolerance" border policy. But emails obtained by CNN show that the policy effectively had been curtailed – the latest sign of confusion and disarray over how to implement the executive order.
Friday: 'No intention of doing anything'
By Friday, a few hundred children had been reunited so far – including a boy whose mother was among the first parents to sue the federal government to get him back. For thousands of others, though, there's no end in sight to the separations.
On Capitol Hill, Republicans were still debating what's being cast as a GOP compromise immigration bill. A vote on that bill was pushed to next week after a conservative measure failed and lawmakers sought changes to the somewhat more moderate measure.
Trump also reminded us, again, that he blames the Democrats. And he may have slammed the door on a legislative fix with a single tweet.
"Republicans should stop wasting their time on immigration until after we elect more Senators and Congressmen/women in November," the President tweeted. "Dems are just playing games, have no intention of doing anything to solves this decades old problem. We can pass great legislation after the Red Wave!"
Saturday: A plan comes together
After days of confusion, the Trump administration released its plan for reuniting the 2,053 children still in the custody of Health and Human Services.
However, families will not be reunited quickly. Children will be kept in custody and returned to family members only after the parents' deportation proceedings are completed. The families will be reunited before they are deported, or if the parent is released from detention, after the parent applies to serve as the child's sponsor.
As part of the effort, the administration also plans to build better databases linking the parents and the children's whereabouts to better facilitate their communication, a fact sheet said. The Department of Homeland Security said 522 children have been reunited since Trump reversed course on Wednesday, and 16 more reunions are in process.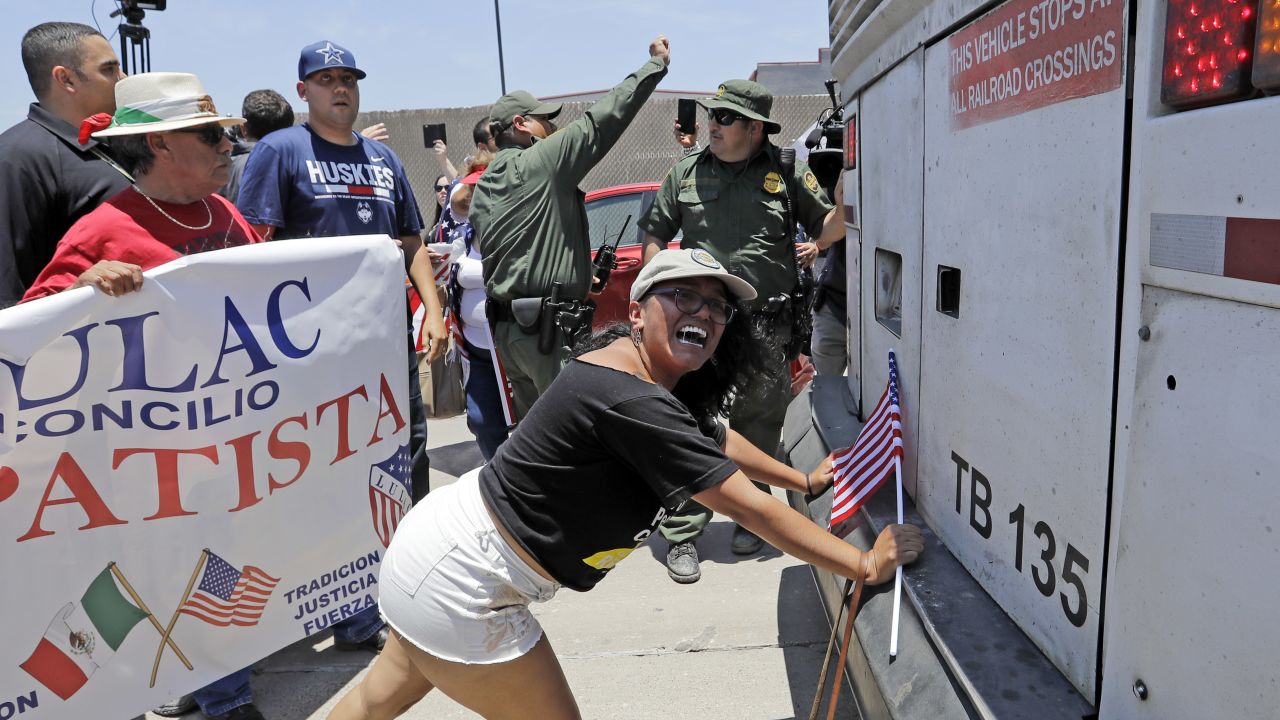 Still, protests and outrage continue. Earlier in the day, chanting protesters in McAllen, Texas, briefly blocked a bus leaving a migrant detention center as they yelled "set the children free" and "shame on you" at Border Patrol officers.
CNN's Emily Smith and Eric Levenson contributed to this report.