Story highlights
This Fourth of July, bring along only the best pool and boating accessories
Here's everything you need for pool parties and boating excursions
CNN —
Planning a pool party or a boating excursion on the Fourth of July weekend? Don't wait until the last minute to shop for the stuff you'll need. It isn't that easy to stumble onto pool and boating gear in your neighborhood store if you don't live near the beach. We'd highly recommend doing your research and ordering your holiday necessities ahead. That way, you won't arrive at the boathouse or pool equipped with too few life jackets or with pool floaties that don't hold air properly.
Each festive summer item in the lineup below is a best-selling product from its retailer or has an innovative feature that upgrades its functionality. Once these arrive on your doorstep, your Independence Day party can officially begin.
1. Tuvizo Microfiber Compact Beach and Travel Towel ($23.99; amazon.com)
Why buy it? These compact towels are bacteria resistant and super absorbent. Sand brushes right off, and they have quick-dry capabilities so you can use them all day long.
2. Keter Pacific Cool Bar Cooler Table ($53.19, originally $89.97; walmart.com)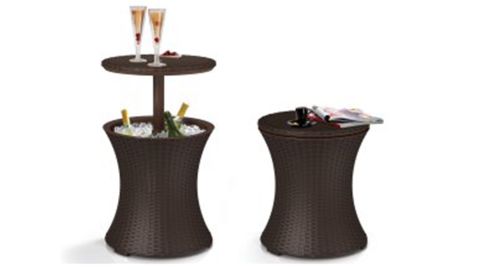 Why buy it? Super affordable (and now on sale), the Keter Pacific Cool Bar 3-in-1 cooler, coffee table and cocktail table offers a versatile (and stylish) way to store ice cold drinks. If you're already loading up on goods from Amazon for your holiday weekend, this patio table (in four different colors) is also available for purchase there, so you can easily add it to your cart before checking out.
3. Blue Sky Basics Waterproof Pouches ($17.97; amazon.com)
Why buy it? When boating, the last thing you want is a soaked phone. These fan-favorite Blue Sky Basics Waterproof Pouches protect against splashes and complete dunking, up to 32 feet under water. They have a waist strap so that you can participate in the fun without having to hold on to your valuables.
4. Chillbo Baggins 2.0 Best Inflatable Lounger Hammock ($44.90; amazon.com)
Why buy it? This giant floaty hammock is a best-selling product on Amazon with over 1,200 reviews from customers who gave it an average 4 out of 5 stars. One reviewer wrote, "This product is awesome" and noted how well it functioned both in and out of the pool. They even "floated up and down the river for over an hour" and said, "It never deflated." Another reviewer wrote that the "Chillbo Baggins is easily the best bang for your buck on the market."
5. Onyx MoveVent Dynamic Paddle Sports Life Vest (starting at $41.21; amazon.com)
Why buy it? The sporty fit of the Onyx MoveVent Dynamic Paddle Sports Life Vest makes it perfect for tubing and other water sports. On Amazon, it's the top-selling life jacket for adults, with over 800 reviews from satisfied customers who rated it 4.7 out of 5 stars on average.
6. Steams Puddle Jumper Basic Life Jacket ($9.40, originally $19.99; amazon.com)
Why buy it? The Steams Puddle Jumper Basic Life Jacket is the No. 1 best-selling life jacket for kids on Amazon. Over 3,000 people rated it 4.7 out of 5 stars, so parents can feel confident that this product has been tried and tested.
7. Intex Explorer 2-Person Inflatable Boat ($16.30, originally $32.99; amazon.com)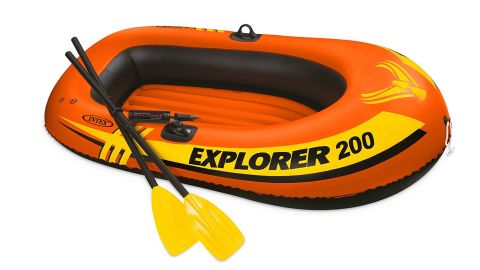 Why buy it? Now available for just $16.30, this two-person inflatable boat is a fun option for pools and calm waters. It's received high praise from Amazon customers, who left reviews with comments like "Amazed with this thing!" and "earned my five star rating!" When assembling, the mini air pump makes it easy to inflate, and the boat comes with a repair patch just in case.
8. Intex Rockin' Inflatable Lounge ($21.78; amazon.com)
Amazon
Why buy it? This comfy inflatable lounge was named as Amazon's Choice for adult pool floats. With over 300 customer reviews and an average 4.6- out of 5-star rating, this raft has been put to the test.
9. Sharkk Waterproof Bluetooth Speaker ($37.99; amazon.com)
Amazon
Why buy it? To go along with your floating lounge, we have a waterproof Bluetooth speaker that's the perfect pairing for your pool or beach party. Sharkk says its speaker has the "the longest Bluetooth range on the market" with up to 60+ feet of music streaming and 100+ feet of connectivity. Since more than 800 people have reviewed this product, giving it 4.2 out of 5 stars, we'd say it's living up to the hype.
10. Estilo 4 Section Condiment on Ice ($15.99; amazon.com)
Amazon
Why buy it? Keeping food cool is a breeze with this cleverly designed dish. Line the bottom with ice and your fruits, veggies and dips will stay fresh for hours. And the hinged lid closes to keep bugs out of your food.
Note: The prices above reflect the retailer's listed price at the time of publication.