(CNN) —
We owe Senegal an apology!
Whilst we were busy fawning over Nigeria and their stunning World Cup jersey, we overlooked Senegal, who were quietly waiting in the wings to show the world what they are made of.
Without hype or fanfare, they stepped on to the pitch and thrilled fans, scoring two goals against Poland in their first match.
But it's not just their sporting skills that has made our hearts flutter.
Here are some of the reasons we have fallen hard for the Senegalese 'Lions of Teranga.'
They are Africa's best hope
Egypt crashed out of the tournament with three defeats under their belt, Morocco left the World Cup after a draw with Spain, Tunisia lost 5-2 to Belgium, and Nigeria was eliminated after a 2-1 loss to Argentina.
Senegal is currently Africa's best chance after a draw against Japan. They are carrying the hopes of a continent on their shoulders. No pressure guys!
And who can forget their cool celebration dance after they scored against Poland. Hopefully we will see much more of this dance as the World Cup in their next game against Columbia at the Samara Arena today.
They have the coolest coach
Aliou Cissé is quite possibly the coolest coach in the tournament. He is unmissable pitch-side with dreadlocks and oversize spectacles.
At 42, he's the youngest coach in the World Cup and has now been immortalized in a meme.
Cisse was the former captain of his national side and is blazing a trail for other African coaches – crucial in a continent that tends to favor the expertise of foreign coaches over homegrown talent.
"I represent a new generation that would like to have its place in African and world football," he told reporters in Russia recently.
"Indeed I am the only black coach in this tournament. It's a painful reality that annoys me. I believe that football is universal. I believe that skin color has little importance in the game."
The have the best fans
Senegal's supporters are just adorable. They are energetic, colorful, fun AND they stayed behind after the game to clean up their section of the stadium.
They've become absolute legends and the show of respect to their host country has won them a legion of fans.
Their president is their number one fan
President Macky Sall has been tweeting his support for the team and arrived in Russia ahead of their first game to cheer the team on.
He also took part in an inspirational video message encouraging 'Les Lions' and showing them that the whole country is behind them.
In the video, Sall can be heard saying: "I am very pleased to see you on the occasion of the qualification of our national team to the World Cup. Sixteen years has been a long wait…. unity is our country. This is why my hope is that everybody unites in their support of the national team."
Their cuisine
Senegal's national dish is the Thieboudienne, a delicious one-pot rice and fish dish which is often called jollof rice in other parts of West Africa.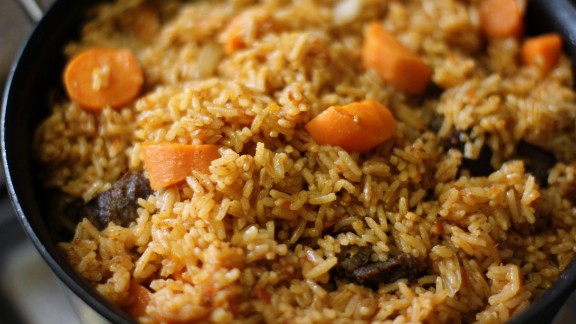 Courtesy Tuleka Prah/My African Food Map
Tongue-in-cheek jollof wars are common, particularly among Nigerians and Ghanaians who have been locked in a never-ending battle of which country has the best version.
But even Nigeria's culture minister Lai Mohammed agrees that Senegal's version is the best.
Damilola Odutayo contributed to this story.