Story highlights
This will be Ryan's second World Cup for Australia
The 26-year-old is arguably in the finest form of his career -- playing every single minute for Brighton in the English Premier League
Australia paired with France, Denmark and Peru in Group C
(CNN) —
Mat Ryan's first World Cup memory came 12 years ago, when the Australian was in the infancy of his now blossoming goalkeeping career.
When Australia scored three late goals to beat Japan 3-1 in the group stage in Germany, he – and his neighbors – couldn't hide their jubilation despite the time.
"I just remembered four, five in the morning celebrating with my family, opening up the front door, screaming out on the street and not giving a care if I was going to wake anyone up," a relaxed Ryan told CNN.
"But it was surprising to hear other people yelling out on the street as well."
INTERACTIVE: World Cup in numbers
SCHEDULE: Matches and kickoff times
Football in Australia has grown in popularity since then, with the 2006 team that reached the knockout stage under Guus Hiddink helping significantly.
This year, Ryan is expected to be between the posts Saturday, when the Socceroos begin their 2018 World Cup campaign in Russia against Group C favorites France.
READ: How Australia used wearable technology to negotiate 250,000 kilometer World Cup journey
The 26-year-old is hoping for a different outcome than in Brazil in 2014, when both he and Australia leaked a combined nine goals against Chile, the Netherlands and Spain in the group of death.
They were eliminated, with Ryan admitting he could have done better on a few of the goals. He had only recently replaced standout Mark Schwarzer – the starting keeper in 2006 – who announced his international retirement about seven months earlier.
READ: Spain sacks coach after he takes Real Madrid job
READ: US-Mexico-Canada win 2026 World Cup bid
In another difficult moment – outside of the World Cup and at club level – Ryan found himself in goal when a Barcelona side featuring Lionel Messi, Luis Suarez and Neymar crushed his former team, Valencia, 7-0 in a cup game in 2016.
'Lowest moments'
"No doubt one of my lowest moments in football resulted that day," he said. "You prepare for a match like that and you want to be that exception to playing the grand Barcelona. You wanted to stop them and if you are able to, it would be a lifelong memory.
"It was unfortunate it didn't pan out that way."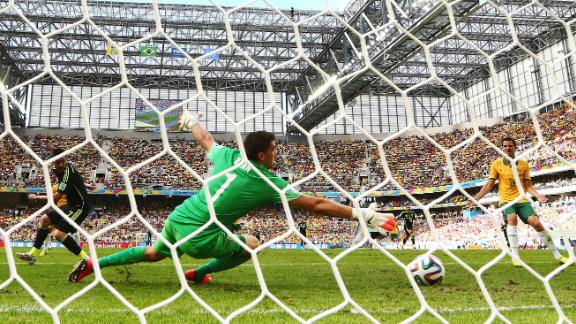 But now, Ryan is likely in the finest form of his career – playing every single minute for Brighton in the English Premier League last season and helping the Seagulls post the ninth best defensive record in their return to the top flight after a roughly 25-year absence.
The 6-foot stopper finished third in player of the year voting by fans, with highlights including saving a penalty from Everton's Wayne Rooney in March and shining against Manchester United both home and away.
"He's a really enthusiastic player," Brighton manager Chris Hughton told reporters last season.
"He's different. We know he is not as big as some keepers but he is very athletic and really hungry to do well."
READ: Your Country Needs You! What nationality means to the modern-day footballer
READ: And the winner of the 2018 World Cup will be …
Ryan's mindset entering this World Cup is markedly different than four years ago.
"I think I went in with the mindset of thinking I had to produce something special and out of this world," in Brazil, said the Sydney native.
"I sort of view that as a mistake. I should have approached these sorts of games with the mindset of being confident and believing in what I'd done to get myself in that position in the first place, being the No. 1 for the national team.
"I just feel like I've grown as a player and a person through my experiences on and off the field. It's brought me to the type of keeper I am today and the type of person, through those experiences, successful experiences against big opposition."
Those experiences on the pitch include facing stars Christian Eriksen and Olivier Giroud in the Premier League.
READ: The secrets to Germany's World Cup success
This weekend, Ryan comes up again France's Giroud, while Eriksen's Denmark meets Australia on June 21.
Familiar foes
"Telling someone not to fear the opposition, saying you have a real chance to win is one thing, but it's another thing going through the experience of having done that and it just makes you believe that much more is possible and you can do it again," said Ryan.
"The project at Brighton at the start of the year, I had one eye on the World Cup and in terms of preparing for a World Cup, it'd be no better way than having a full season under my belt in one of the best and strongest leagues in the world.
READ: Goals, tears and earthquake alerts on the road to Russia
"I've had plenty of those moments where I've been successful with these likes of guys. I found the balance of being respectful but not too respectful."
If Australia has success in Russia – a place in the knockout stage would do nicely – the Socceroos will have done it the hard way.
For one thing, the current edition isn't as strong as the 2006 team that featured the likes of Schwarzer, Mark Viduka, Harry Kewell, Lucas Neill, Brett Emerton and Tim Cahill – now 38, who'll pass Schwarzer for the all-time lead in appearances with four caps. That year, Australia controversially lost to eventual champions Italy 1-0 in the round of 16 thanks to an injury-time penalty.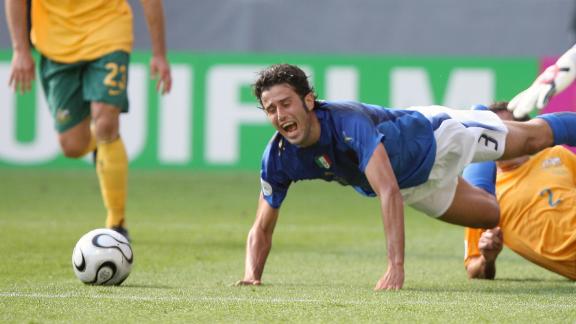 The path to qualification
To get qualification, Australia needed to overcome underdogs Syria in a two-leg playoff for the right to battle Honduras. They did – and advanced 3-1 on aggregate over Honduras after a grueling road trip to become the second-last nation to seal a place in Russia.
Peru, the other team in Group C, was the final one.
And after that, manager Ange Postecoglou resigned and was replaced by the no-nonsense Bert van Marwijk, Hiddink's countryman. He was at the helm when an atypically physical Dutch side made the 2010 final, losing to Spain. Once the World Cup ends, Van Marwijk will be replaced by Graham Arnold.
Who will advance from Group C? Have your say on our Facebook page or by tweeting @CNNSport
"(Marwijk's) very competitive, very direct, very clear about his objectives and what he wants from us," Ryan said.
"Clear that there is no fear factor through his experiences of coaching in football, that any team can be successful with the right approach and right strategy."
And the right keeper – with Ryan's performances last season suggesting Australia have one.