For Miguel Alves, it doesn't feel like it was a year ago that a fire gutted his London home and reduced much of it to ashes – it feels a lot longer than that.
Time has passed at a painfully slow pace for the 50-year-old chauffeur, who moved to London from Portugal. And he isn't looking forward to Thursday, the first anniversary of the Grenfell Tower fire, which killed 72 people and left a community homeless and heartbroken.
"That year it was so emotional all year round, but now is the worst time, because we have to remember everything," Alves told CNN in a temporary flat, where he lives with his wife, son and daughter.
"In one year, there's been such a lot of things to deal with. It looks like two or three years."
Time is supposed to heal wounds, but for many Grenfell survivors and victims' relatives, the anniversary is a reminder of just how little has been put right over the past year.
Alves, who spoke to CNN last year soon after the fire, is still trying to process what happened, though he knows he is one of the luckier ones. He and his wife were returning home from dinner in the early hours of June 14 last year, and as they pushed number 13 in the elevator to get to their apartment, someone else ran in as the doors were closing and pushed the button for the fourth floor.
It was there, low down in the 24-story building, that the fire had broken out, and it was during that quick stop that Alves and his wife saw and smelled the early signs of the blaze.
Alves raced upstairs to get his daughter out of bed, and knocked on his neighbors' doors to warn them.
He thinks constantly about what might have happened if he and his wife had gone straight up to their apartment and to bed, unaware of the fire below.
"Maybe I am not here to tell you the story," he said. "We are religious, but my wife is very religious, and she believes it was a miracle."
'I will not have peace until I have the truth'
There are many stories of near misses like Alves', but there are also those of the 72 people who didn't make it.
The public inquiry into the fire opened in earnest in late May with a week of testimony from family and friends to commemorate the dead. Each day began with 72 seconds of silence, and what ensued was a roller coaster of emotions – grief, anger, and pride in the lives lived and then lost.
Many victims came from abroad, moving to London in search of a better life. Among them was 23-year-old Syrian refugee Mohammad Al-Haj Ali, whose fiancée, Amal, said in a video tribute: "Right now when I think about my future, I don't really see anything."
Mohammed Hakim lost all five members of his immediate family – his mother, Rabia Begum, his father, Komru Miah, and his siblings, Husna Begum, Mohammed Hanif and Mohammed Hamid. His parents had immigrated to London from Bangladesh.
Hakim: "You'll never be forgotten"
His siblings remained with their parents, who had mobility issues, as the fire engulfed their home.
"I can say with my hand on my heart that I am extremely proud of my family remaining close to each other in their last moments before passing away," Mohammed Hakim told the inquiry.
"I am even more proud as a brother that my siblings did not leave my parents behind, even though they might have had the chance to escape."
As the hearings went by, more and more families spoke of their fury and frustration – much of it directed at those responsible for the combustible cladding used on the tower's facade, which appeared to have helped the blaze tear up the building's 24 stories so rapidly from the outside.
But the London Fire Brigade's advice to residents to stay put for nearly two hours after the fire broke out has also come under scrutiny.
Paulos Tekle, who moved to London from Ethiopia, was in his 18th floor apartment with his family during the fire. After being told by firefighters to stay in his apartment, he finally left almost two hours later when the fire brigade changed that advice and ordered an evacuation. He lost his 5-year-old son, Isaac, in the commotion.
Tekle: "My son was beautiful"
He recalled the calmness with which Isaac had looked at him, trusting him to lead them to safety.
"But I didn't, because I listened to the authorities. And that makes me angry. Are we not human? I have to live with the guilt of not protecting my son every day. I am broken. And now the only thing that can make me whole again is to fight for truth and justice in Isaac's name," he told the inquiry, breaking down in tears.
"I will not have peace until I have the truth. I want to know why I was physically stopped from leaving the flat at about 2 a.m. Why were we kept inside for so long? What was responsible for such a decision? I want answers. If I had not listened to the fire brigade my son would have been likely alive today."
Laying blame
The inquiry quickly turned from the passionate commemorative hearings to defensive statements by lawyers representing those accused of wrongdoing. Expert testimony is beginning to also shine a light on how the fire was able to take so many lives.
As the chair of the inquiry, retired judge Sir Martin Moore-Bick, said at the opening, the proceedings aim to "provide answers to the pressing questions of how a disaster of this kind could occur in 21st century London."
Fire safety expert Barbara Lane submitted a damning report detailing several breaches of building regulations at almost every level.
Among her findings was that cladding around the building was combustible and "non-compliant" with building regulations, producing toxic smoke that impeded firefighters in reaching residents. The front doors of apartments that were supposed to keep fire and smoke out failed. All were non-compliant with fire-safety regulations, including more than 100 that had been replaced in 2011, Lane found. The stairway fire doors were also below standard.
A fire lift did not operate as it should have, and the building was not fitted with a water source, as required under UK safety standards, to aid firefighters responding to higher floors.
Britain typically uses a passive approach to fire response, which means residents often "stay put" in their apartments as firefighters try to compartmentalize a blaze.
Lane also raised concerns as to why it took nearly two hours for the fire brigade to drop its stay put advice and call for an evacuation, when, she said, the initial advice had "effectively failed" within around half an hour. Police are also investigating this procedure.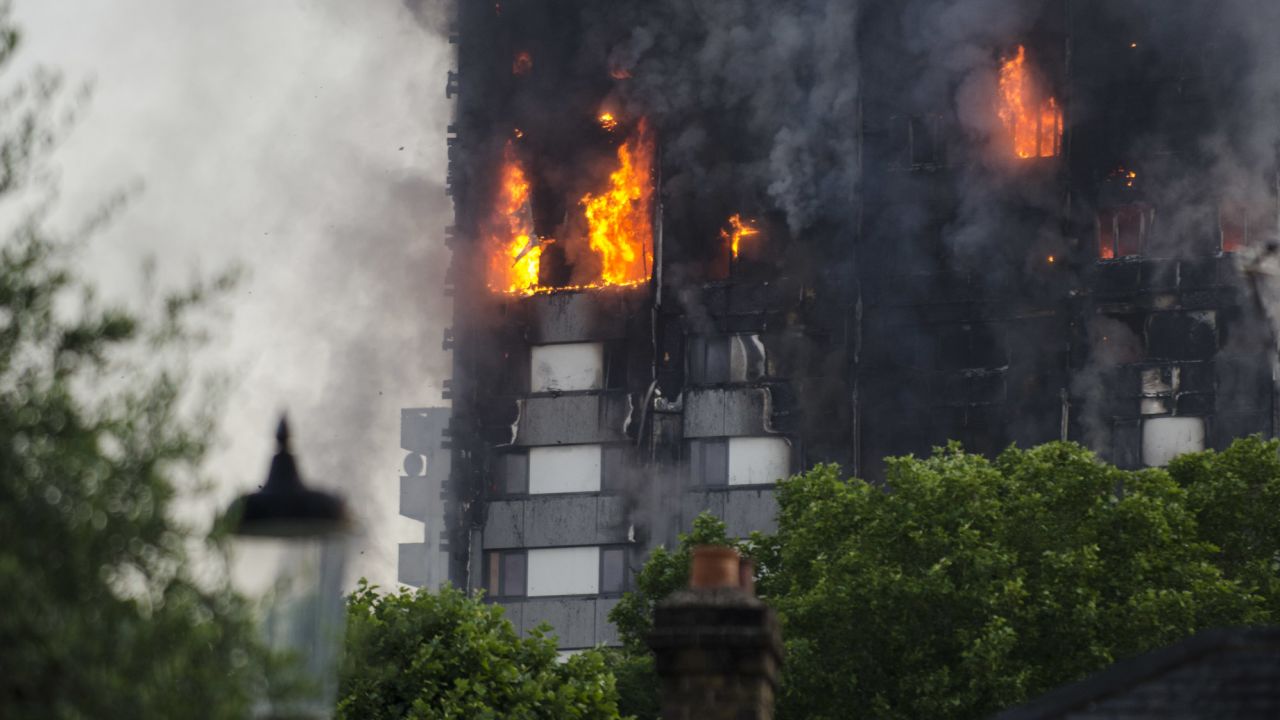 But Lane conceded that changing the response strategy was no easy decision, and the London Fire Brigade has defended its decisions in the inquiry.
A lawyer for the fire service, Stephen Walsh, said that the firefighters "will have been wholly unaware of defects in the fabric of the building from a fire safety perspective."
The union's Martin Seaward said while there was concern over the stay put policy, there was "no obvious and safe alternative strategy" to deal with the fire, and he asked the inquiry not to be swayed by the "benefit of hindsight."
But most of the anger has been directed to the Kensington and Chelsea Council and the borough's Tenant Management Organization (TMO). Former Grenfell residents say their complaints about safety and conditions in the tower were repeatedly ignored by the organization and council.
The TMO told the inquiry that it acknowledged its central role in Grenfell Tower's refurbishment, as well as the management of fire safety issues there.
"It accepts its involvement will, and should, come under great scrutiny," it said. But it added that it had relied on contractors with expertise of building practices to ensure safety.
"While (the TMO) is a specialist in the management of social housing stock, it is not a specialist construction company and so, when it commissioned the large-scale refurbishment project at Grenfell Tower in 2012, it had to engage specialist contractors to carry out the work, and consultants to advise on regulatory and building compliance, including fire safety issues."
A place called home
Grenfell Tower now stands in Kensington as a relic, covered in scaffolding and white sheets like a bandage over broken bones. On it is a banner of green heart and the words "GRENFELL, FOREVER IN OUR HEARTS."
Replacing those homes has been a frustratingly long process. British Prime Minister Theresa May said after the fire that every resident would be rehoused in three weeks. A year on, the majority of people are still not in a permanent home.
The council says 203 were needed in total, and that while almost all residents have agreed to some type of new accommodation, it admits that only 82 new permanent homes are now in use.
That leaves the rest of the residents still in temporary accommodation, including 69 emergency homes.
Yvette Williams from the group Justice4Grenfell said the fact that so many people are still in emergency housing a year on was a sign that things have moved far too slowly. She said new housing had been offered to many of the displaced in boroughs that are too far away, and some have complained that the accommodation offered to them is unsuitable.
"It's a year on, and what are the local authorities doing? They did no needs-analysis on what the survivors actually wanted, they just bought properties for them to live in ad hoc. There are large numbers of people with mobility and disability issues who are living a ridiculous number of floors up," she said.
"When you look at Grenfell, you see everything that's wrong with society – people being treated like second-class citizens, cost-cutting, inequality, greed. The government has to put in legislation that makes sure people are not treated that way ever again. Social housing isn't a privilege, it's a right."
Council leader Elizabeth Campbell denied that a large number of homes were not ready for people to move into, saying 90% of the homes offered could be used now.
"The families involved are not statistics that need to be moved around a balance sheet. So, we will no longer set deadlines. They are not required. What is required is understanding, support, and above all a willingness to do everything we can to help. No matter how large or small the task," Campbell said in a statement to CNN.
"We continue to look at the barriers to moving into a new home, but we all have to accept that one of the barriers is trust in the council itself – that is something we understand, and accept, and it will take time to rebuild."
Theresa Griffin agrees that trust has been well and truly broken. She and her daughter live in Bramley House, in Grenfell Tower's shadow, and both lost friends in the fire.
Griffin has been maintaining a small memorial near the tower at the Latymer Christian Center, a place of support and donations to victims. A year on, the teddy bears and toy bunny rabbits have faded in color, but people continue to bring fresh flowers and candles to remember those lost.
Asked about what justice for Grenfell means, Griffin said that money was the cause of what happened at Grenfell and that money was not what will heal wounds. Like many people affected by the fire, she is not convinced the public inquiry will make things right. Plenty of inquiries in the UK have taken years on end, and have concluded with little action taken.
"It would mean something if they admitted everything that went wrong," she said. "But the corporate ones who had a foot in Grenfell will never spend a day in jail."
CNN's Leke Alabi, Joseph Ataman and Hannah Ritchie contributed to this report.