Story highlights
Halep beats Stephens 3-6 6-4 6-1
Wins first major title after three losses in grand slam finals
Stephens lost her first final
Seeing her opponents come back against her in grand slam finals, this time Simona Halep turned the tables to end her drought.
The Romanian rallied from a set and break deficit to beat Sloane Stephens 3-6 6-4 6-1 and win the French Open on Saturday along with her first grand slam title following three near misses.
With chants of "Si-mo-na, Si-mo-na" reverberating around Philippe-Chatrier court and Romanian flags in abundance, the majority of fans in attendance in Paris – including Romania's gymnastic trailblazer Nadia Comaneci – certainly approved.
They, along with Stephens, knew of the 26-year-old's past heartbreak.
Twelve months ago at Roland Garros, the world No. 1 relinquished a set and 3-0 lead against Jelena Ostapenko in the final. That was the most painful memory.
And then this January, Caroline Wozniacki overturned a break hole at 3-4 in the final set at the Australian Open.
If that wasn't enough, in her other grand slam final in 2014 at the French Open, Halep succumbed in a three-set battle to Maria Sharapova.
That angst, though, will be largely forgotten now. If there were tears for Halep, they were tears of joy.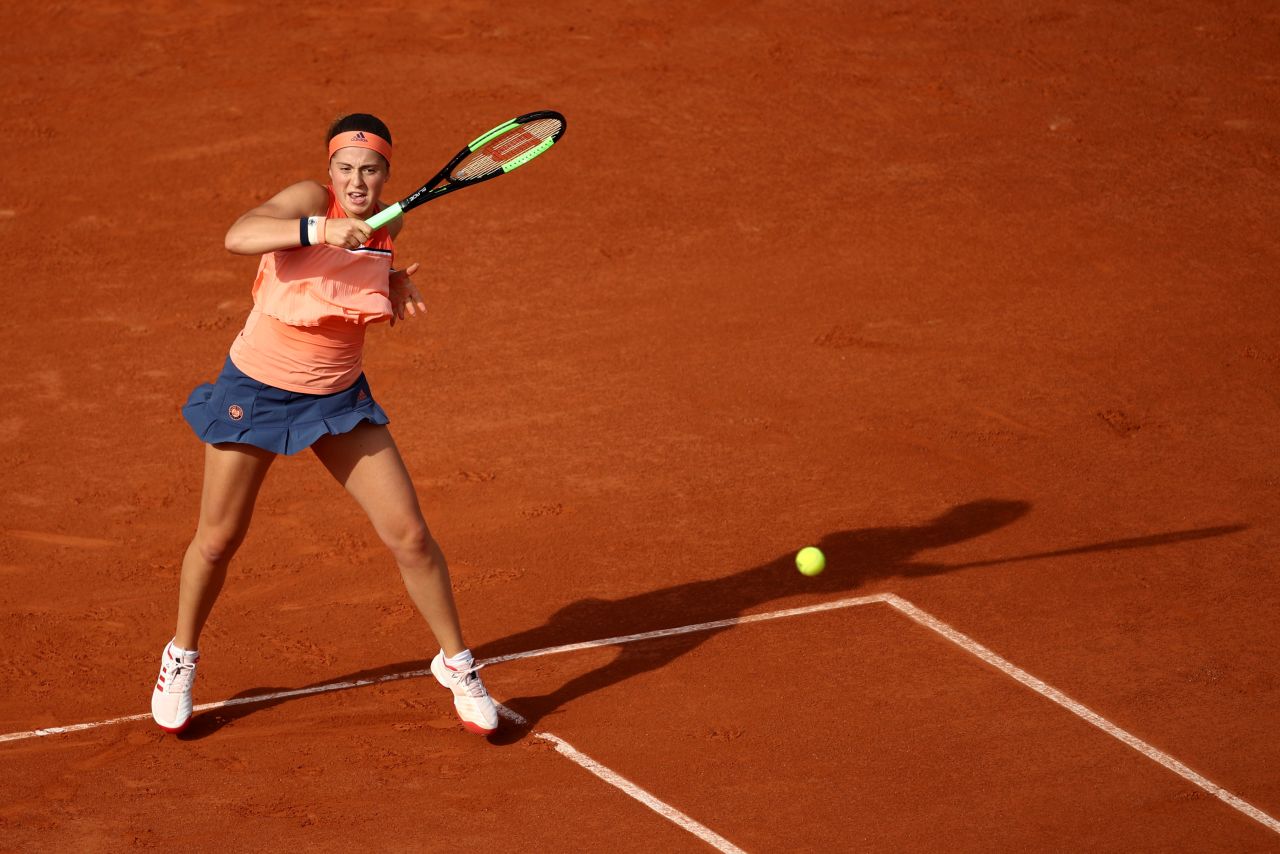 "Well, it's an amazing moment," she told reporters. "I was dreaming for this moment since actually I started to play tennis. It's my favorite grand slam. I always said that if I'm going to win one, I want it to be here."
READ: Nadal, Thiem battle in men's final
READ: Cecchinato stuns Djokovic
READ: Lucky loser's long journey
READ: Injured Serena pulls out
The diminutive Halep pummeled a serve on match point. She raised her arms in delight before going into the stands to embrace hugs with her entourage in a now customary scene for grand slam winners.
Halep doubt
When Stephens led by a set and 2-0, though, few probably envisaged a comeback, Halep included.
"I said, 'It's not going to happen again, but it's okay. I have just to play,'" she said. "And then when I started to win games, I said that last year it happened to me, same thing, I was set and a break up and I lost the match.
"So I said there is a chance to come back and win it. So I believed in that, and my game was more relaxed. I could make more things on court, and that's why I could win."
The reversal was all the more impressive considering Stephens had never lost any of her six finals. In her lone prior grand slam final, the 25-year-old eased past friend Madison Keys last September at the US Open.
Her disappointment didn't stop Stephens from expressing happiness for her older peer. Fellow players including twice Wimbledon champion Petra Kvitova congratulated Halep, too.
"I think she's had a tough journey," said Stephens. 'I think winning here is very special for her and I'm glad she finally got her first slam. It's a beautiful thing.
"No matter how hard the adversity that you go through, there is always light at the end of the tunnel, and I'm glad she finally got her light," added Stephens, who won in New York after undergoing foot surgery.
Halep's influential coach Darren Cahill said all those difficult defeats contributed to Halep's victory Saturday.
"I think she's grown up a lot in the last 12 months," Cahill told a group of reporters. "Sometimes the losses make you mature pretty quickly. You can go one way with your career and go downwards or you can suck it up, work a little bit harder and try to do it again – and that's the way she went."
Halep entered the final as the favorite given her clay-court prowess, higher ranking and holding a 5-2 head-to-head record against her rival.
But in the contest of two of the best movers in tennis, Halep had to work hard for her first hold, prevailing in a 25-shot rally for 1-1. It was an indication of things to come – in the first set.
Better start for Stephens
A composed looking Stephens was indeed the first to break through, gaining a 3-1 advantage.
Stephens regularly threatened the Halep serve, though finally faced a break point at 5-3. To Halep's dismay, she sent a backhand into the net.
A rattled Halep was broken to start the second and Stephens built on the lead by digging out of a 0-30 hole. On the last point of the second game, Stephens scampered and put up a superb lob that prompted a Halep smash error.
The final threatened to be over in quick time.
"Well, we were very, very worried," Virginia Ruzici, Halep's Romanian manager who won the title 40 years ago, told a group of reporters. "Sloane was playing really well. I think Sloane also got a little bit tired at one point and she started to miss a few. And so Simona could immediately get back into the match."
Halep reeled off nine straight points to lead 3-2 on serve, then broke for 4-2. Stephens got back to 4-4 but that was the end of her resistance.
Momentum change
She was broken to end the set, making a pair of unforced errors down the line on the second and last point of the game as she attempted to alter her patterns facing a now more aggressive opponent.
And a more efficient one. Whereas Halep hit four winners and 10 unforced errors in the first set, she totaled 14 and 16 in the last two.
They weren't bad numbers at all given the surface, occasion and how well Stephens patrols the court.
Both players went off for a toilet break yet it did little to derail Halep, although she did have to get out of a 0-30 hole in the first game.
As Halep scurried to chase a defensive swat that turned into a drop shot for Stephens and won the point for 4-0, Cahill leaped out of his chair and pumped his fist. After coaching Lleyton Hewitt and Andre Agassi, the Australian experienced more grand slam success with Halep.
The job was almost done and it became official when Halep crushed the serve on match point that drew an error.
"She is a big champion," said Ruzici. "She is huge, she has such qualities. She is the fastest player on the tour and other than that she has all the shots right now."
Halep forecast a "big party tonight" in Paris. "I'm waiting for it," she said.
Visit our tennis page for more news, videos and content
She won't have to wait any longer for a grand slam title.