Programming note: CNN will air "Remembering Anthony Bourdain," a special report on the life and legacy of the chef, storyteller and writer, tonight at 10 p.m. ET.
Anthony Bourdain's fans turned the restaurant where he shot to fame as a chef into a memorial, leaving roses and notes at New York's Brasserie Les Halles.
Bourdain's award-winning series, "Parts Unknown," brought the world home to CNN viewers. It showcased the extraordinary diversity of cultures and cuisines, and how much we all have in common – all through the simple act of sharing meals.
Tragically, he proved this again on Friday. Bourdain's death shook television viewers around the world. The most common sentiment: "I feel like I've lost a friend."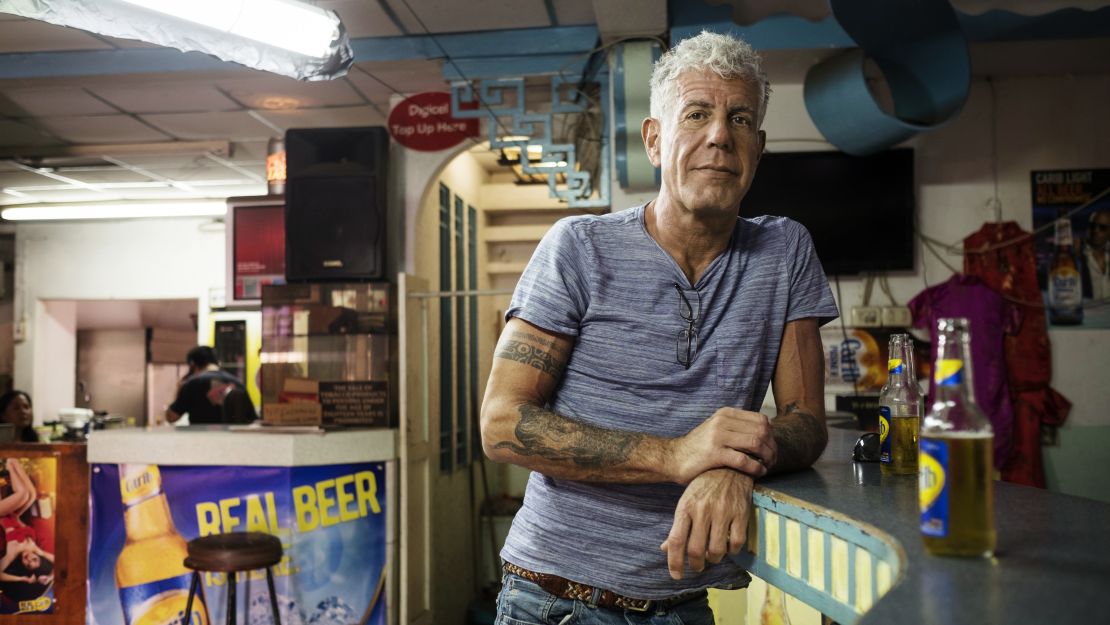 Asking for help
The suicide rate in the United States has seen sharp increases in recent years. Studies have shown that the risk of suicide declines sharply when people call the national suicide hotline: 1-800-273-TALK.
There is also a crisis text line. For crisis support in Spanish, call 1-888-628-9454.
The lines are staffed by a mix of paid professionals and unpaid volunteers trained in crisis and suicide intervention. The confidential environment, the 24-hour accessibility, a caller's ability to hang up at any time and the person-centered care have helped its success, advocates say.

The International Association for Suicide Prevention and Befrienders Worldwide also provide contact information for crisis centers around the world.
The gifted chef and storyteller used his books and later television shows to explore culture and cuisine. He spent years as a line cook and sous chef at restaurants in the Northeast before becoming executive chef at Brasserie Les Halles in Manhattan.
"Tony was a symphony," his friend and fellow chef Andrew Zimmern said Friday.
The news of Bourdain's death was met by profound sadness within CNN, where "Parts Unknown" has aired for the past five years. In an email to employees, the network's president, Jeff Zucker, remembered him as an "exceptional talent."
"Tony will be greatly missed not only for his work but also for the passion with which he did it," Zucker wrote.
CNN said Bourdain was in France working on an upcoming episode of his award-winning CNN series, "Parts Unknown." His close friend Eric Ripert, the French chef, found Bourdain unresponsive in his hotel room Friday morning. He was 61 and took his own life.
"Anthony was my best friend," Ripert tweeted. "An exceptional human being, so inspiring & generous. One of the great storytellers who connected w so many. I pray he is at peace from the bottom of my heart. My love and prayers are also w his family, friends and loved ones."
Viewers felt connected to Bourdain through his fearless travels, his restless spirit and his magical way with words.
"His talents never ceased to amaze us and we will miss him very much," CNN said in a statement. "Our thoughts and prayers are with his daughter and family at this incredibly difficult time."
CNN's chief international correspondent, Christiane Amanpour, called Bourdain a "giant talent."
"My heart breaks for Tony Bourdain," she wrote on Twitter. "May he rest in peace now."
President Donald Trump extended his condolences to Bourdain's family on Friday morning. "I enjoyed his show," Trump said. "He was quite a character."
Former President Barack Obama recalled a meal he shared with Bourdain in Vietnam while Obama was on a trip through Asia in 2016 – an encounter captured in a "Parts Unknown" episode that year.
"'Low plastic stool, cheap but delicious noodles, cold Hanoi beer.' This is how I'll remember Tony," Obama posted to Twitter on Friday. "He taught us about food – but more importantly, about its ability to bring us together. To make us a little less afraid of the unknown. We'll miss him."
For the past year, Bourdain had been dating Italian actress Asia Argento. She remembered Bourdain as someone who "gave all of himself in everything that he did."
Last year, he advocated for Argento as she went public with accusations against disgraced Hollywood producer Harvey Weinstein. "He was my love, my rock, my protector. I am beyond devastated."
After #MeToo, Anthony Bourdain stood 'unhesitatingly and unwaveringly' with women
Bourdain's death came days after fashion designer Kate Spade died in a suicide at her Manhattan apartment.
Suicide is a growing problem in the United States, where rates have increased by 25% nationwide over nearly two decades ending in 2016. Twenty-five states experienced a rise in suicides by more than 30%, according to a government report published this week.
'The Elvis of bad boy chefs'
Bourdain was a master of his crafts – first in the kitchen and then in the media. Through his TV shows and books, he helped audiences think differently about food, travel and themselves. He advocated for marginalized populations and campaigned for safer working conditions for restaurant staffs.
Anthony Bourdain shone a different light on the Middle East | Was a voice for the underdog
Along the way, he received practically every award the industry has to offer.
In 2013, Peabody Award judges honored Bourdain and "Parts Unknown" for "expanding our palates and horizons in equal measure."
"He's irreverent, honest, curious, never condescending, never obsequious," the judges said. "People open up to him and, in doing so, often reveal more about their hometowns or homelands than a traditional reporter could hope to document."
The Smithsonian once called him "the original rock star" of the culinary world, "the Elvis of bad boy chefs." His shows took him to more than 100 countries and three networks.
While accepting the Peabody award in 2013, Bourdain described how he approached his work.
Explore "Parts Unknown": Everywhere he traveled
"We ask very simple questions: What makes you happy? What do you eat? What do you like to cook? And everywhere in the world we go and ask these very simple questions," he said. "We tend to get some really astonishing answers."
Friends and acquaintances remembered Bourdain's curiosity for the world's variety of cultures and cuisine rubbing off on them.
His good friend Michael Ruhlman said he was stunned by news of the suicide.
"The last I knew, he was in love. He was happy," Ruhlman told CNN's "Anderson Cooper 360." "He said, 'Love abounds' – some of the last words he said to me."
Ruhlman said Bourdain was much more sensitive than people realized, but that sensitivity coupled with Bourdain's bravado made him a great storyteller.
Ruhlman and chef James Syhabout both said that when people found out they knew Bourdain, they would ask what he really was like.
Exactly like he was on camera, they said.
"And that's the beauty of him," Syhabout told CNN's "Erin Burnett OutFront." "He's unapologetically honest. … It all gives us courage to be ourselves and be individuals and that's what really radiates from him."
Chef and writer Edward Lee, who hosted a season of a show produced by Bourdain, looked back at their time working together and wrote that "Tony gave us a world that we didn't know we needed."
Others who fondly recalled their interactions with Bourdain included chef Gordon Ramsay, who said Bourdain "brought the world into our homes and inspired so many people to explore cultures and cities through their food."
From 'happy dishwasher' to addiction to fame
Bourdain grew up in Leonia, New Jersey, and started working in kitchens in his teens – including on Massachusetts' Cape Cod during the summer.