(CNN) —
Pardon-happy President Donald Trump is hungry for more, but his idea to posthumously pardon Muhammad Ali is awkward and confusing.
It's even more awkward and confusing than Trump's argument Friday that he's not above the law, but that he most certainly has the power to pardon himself. Square those two ideas.
Try also to square his focus on individual pardons and his ability to personally gift second chances with his administration's efforts to seek harsher sentences rather than ease sentencing rules, as some bipartisan proposals on Capitol Hill would have him do.
"The power to pardon is a beautiful thing," Trump said Friday on his way out the door at the White House. "You got to get it right and you got to get the right people. I am looking at Muhammad Ali," he said, before saying he wants to pardon people who aren't famous too.
His Ali idea is confusing because Ali needs no pardon. The Supreme Court reversed Ali's conviction in 1971.
"We appreciate President Trump's sentiment, but a pardon is unnecessary," said Ron Tweel, Ali's lawyer in a statement after Trump's comment. "The US Supreme Court overturned the conviction of Muhammad Ali in a unanimous decision in 1971. There is no conviction from which a pardon is needed."
It's awkward because it would create an uncomfortable comparison – Ali's conviction in his boxing prime for taking a moral stand against the draft contrasts with the multiple deferments, including one for heel spurs, that Trump received.
It's more than that. Ali didn't just reject the draft, he went to be drafted and made an incredible moral show of refusing to be called. He knew there would be consequences and he faced them on principle, seeking exemptions first as a conscientious objector and then because he was a minister.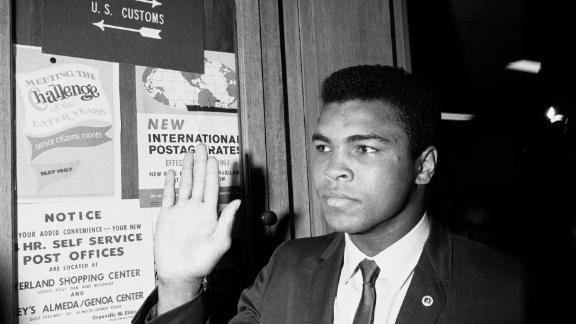 Bettmann Archive/Getty Images
"I'm not going 10,000 miles from home to help murder and burn another poor nation simply to continue the domination of white slave masters of the darker people the world over," Ali said, according to one historical account. "If I thought the war was going to bring freedom and equality to 22 million of my people, they wouldn't have to draft me, I'd join tomorrow."
There are plenty of videos on YouTube of Ali's comments about the draft.
Trump has been energized by his pardon power. He's settled political scores, helped political buddies, righted historical wrongs and doled out celebrity favors with clemencies.
It is not a stretch to see a direct line between Ali's activism and that of people like Colin Kaepernick, who did not face prosecution but has certainly faced consequences for his decision to kneel during the National Anthem before NFL games. Trump has declared rhetorical war on the NFL over the issue. The NFL recently enacted a new policy that allows players to stay in the locker room rather than stand for the anthem, but face fines if they kneel. That hasn't