"Finding Hope: Battling America's Suicide Crisis," a CNN Special Report hosted by Anderson Cooper, airs Sunday, June 24 at 7 p.m. ET. If you or someone you know needs help, call the national suicide hotline: 1-800-273-TALK.
Story highlights
A widow asks about suicide: "How do you prevent it if you don't have any signs?"
Saying suicide is preventable isn't always fair to suicide loss survivors, an expert says
He was the positive, glass-half-full one in their marriage. He was the problem-solver with boundless energy. He was the one who saw the good in life and, when she was down, lifted her up.
So when Uschi Stokes' 43-year-old husband, Aaron, went to a shooting range last year and took his own life, she was left to make sense of something that simply made no sense.
"If I would have killed myself, people wouldn't have been as surprised," she said from Long Beach, California, where she lives. "For him to do something like this is insane. … I don't know if I will ever be able to fully understand it."
It's not that she hasn't tried.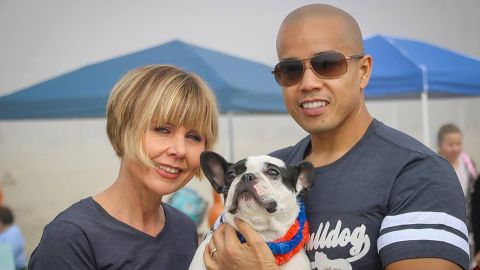 Stokes, 52, said she often goes "in circles, obsessing about what I could have missed." She knew that his IT job was stressful. She knew that ever since she suffered a back injury, he'd felt more pressure as the sole income-earner in their home. But the Aaron she fell in love with 16 years earlier, when the two bodybuilders met in a Los Angeles gym, had always embraced life and was no quitter.
News reports of fashion designer Kate Spade's death this week have left Stokes shaken. The worst part of it all are the repeated references to suicide being preventable.
"It really upsets me, because sometimes, it can't be prevented," she said. "I had no idea what was coming. … How do you prevent it if you don't have any signs?"
The notion that she could have seen what was coming and stopped Aaron's death only makes her feel worse than she already feels.
'There was no negativity'
Suicide rates in the United States have gone up more than 25% since 1999, according to new research by the US Centers for Disease Control and Prevention. In 2016 alone, about 45,000 people took their own lives.
What's more, said Dr. Anne Schuchat, principal deputy director of the CDC, more than half of those who died by suicide had not been diagnosed with a mental health condition – just like Aaron.
Organizations like the American Foundation for Suicide Prevention lay out warning signs to look for in individuals who may be considering suicide. Do they talk about feeling hopeless or wanting to die? Are they drinking and sleeping more, isolating or giving away their possessions? Have their moods changed, displaying depression, loss of interest or shame?
Though these signs may be helpful for some, Aaron never showed any of them, Stokes said.
When he was a teenager, he dreamed of becoming a Navy SEAL. It wasn't something he pursued, but it was representative of who he was. Aaron was the sort of man who pushed himself and wanted to be perfect. He gave 150% to his job, one Stokes now wishes she'd told him to quit.
She was a competitive bodybuilder who worked as a massage therapist. But five years ago, she lifted too much weight, injured her back and hasn't recovered. She went from being an athlete whose life was about working out to being in chronic pain – a reality that left her unable to do her massage work and battling depression.
This took a bit of a toll on their relationship, she said, but Aaron was there for her at a time when she depended on him most. And their love for and commitment to one another didn't falter.
"He was my man," she said, which is something she realized the day she met him. His kindness and consideration blew her away. His love for his family, especially the grandmother who raised him, melted her.
"There was no negativity. There was no complaining," she said. "He was a humble, grateful individual who was thankful for the little things in life."
They weren't rich, but they weren't poor. They had what they needed. It was the two of them and their little French bulldog, Bella. They were happy.
To make extra money, and for fun, Aaron began to study the game of poker. He spent two years learning about the game before he ever set foot in a casino. He gambled for about a year, sort of as a part-time job, she said. The day before he took his life, he lost $50,000. That, on top of some recent investments that had gone bad, may have been his breaking point, Stokes said. But still, she's sure they could have weathered that financial storm.
Some people, she said, are quick to explain away Aaron's suicide, saying he must have had a gambling addiction. That's why he did it, they tell her. But she doesn't believe it. She was aware of his casino visits. She was on this journey with him.
Aaron had always been a responsible husband, she insisted, and didn't have an addictive personality.
"He didn't even drink stupid coffee, because he didn't want to be addicted to coffee," Stokes said.
A 'possibility,' not a 'truth'
Bella, the dog, gives her a reason to get up each morning. A weekly support group she attends has also served as lifeline.
Another place Stokes regularly turns to is an online forum for suicide loss survivors. She is one of nearly 14,000 members of the Alliance of Hope for Suicide Loss Survivors who sign in from around the globe.
The group was founded by Ronnie Walker, a licensed clinical mental health counselor who lost a stepson to suicide 23 years ago and was horrified by the lack of resources for loved ones left behind to deal with this complicated sort of grief.
Walker, like Stokes, wishes people would stop tossing around phrases like "suicide is 100% preventable" as if that's a fact. She wrote a blog post about this issue, quoting a young survivor who heard this phrase in school and posted on the Alliance of Hope page.
"When my dad killed himself, I was told that 'nothing could have prevented it in any way,' " the survivor wrote. "My heart feels heavy and guilty, even though it has been five years."
Asking for help
The suicide rate in the United States has seen sharp increases in recent years. Studies have shown that the risk of suicide declines sharply when people call the national suicide hotline: 1-800-273-TALK.
There is also a crisis text line. For crisis support in Spanish, call 1-888-628-9454.
The lines are staffed by a mix of paid professionals and unpaid volunteers trained in crisis and suicide intervention. The confidential environment, the 24-hour accessibility, a caller's ability to hang up at any time and the person-centered care have helped its success, advocates say.

The International Association for Suicide Prevention and Befrienders Worldwide also provide contact information for crisis centers around the world.
This sort of reaction, and the weight Stokes feels when people talk about suicide being preventable, is something Walker understands as both a survivor and a clinician.
"I've heard similar thoughts expressed by many survivors who upon hearing the assertion, feel even more strongly that they have failed their loved one. Some feel stigmatized by such statements … as if others now look at them as having failed to do enough," Walker wrote in her blog post.
"I believe it's important to view the statement 'suicide is 100% preventable' as a theoretical statement, used to inspire action and awareness," she continued. "It is being presented as the 'truth,' but it really is a statement of a 'possibility' for which to strive."
Survivors of suicide attempts often say they concealed their plans and made efforts to not offer warnings, she wrote. And even when there are signs, sometimes love and intervention can't save a person's life, Walker said before quoting another member of her Alliance of Hope community.
"This doesn't mean we should give up trying to help people," she wrote. "It just means we really should stop letting ourselves feel so guilty for something that isn't our fault."
'I'm still here'
The day before he took his life, Aaron recorded for his wife some videos of himself on his phone. He spoke to her from the hotel room at the casino where he was staying. He chatted with her as he drove. He sat at a coffee shop and continued talking, reminiscing about their life full of adventures big and small.
He spoke about their beach wedding on St. John in the US Virgin Islands, their rafting trips down the Chattahoochee River outside Atlanta and the time they flew off a WaveRunner together off the coast of Destin, Florida. He reminded her of the time they drove around the small town in Germany where her family lived in the middle of the night so he could find a WiFi signal and work, while she sat in the car beside him. He recalled the time he left his phone in an airport shuttle and chased down the vehicle on a Manhattan street to retrieve it.
"That's Aaron," Stokes said. "He was so positive and would never give up."
When she first lost him, she wasn't sure how she could continue.
"I'm telling you, I didn't feel like I was going to make it," she said. "But I'm still here."
In his videos, Aaron told Stokes how much he loved her. He wanted her to use the money he left her to deal with her chronic pain. He acknowledged that she might be angry with him but encouraged her to live a full and positive life.
Sometimes, when she can handle it emotionally, she'll watch the videos he left behind. Seeing his face and hearing his voice helps her feel close to him. If he'd understood the impact of suicide, she is sure, he would have never taken his own life.
Her back is still problematic, and the pain – over the past year since Aaron died – is often worse than it was. But Stokes is determined to stay optimistic, just as her husband asked her to.
"I still haven't given up. I'm a fighter myself," she said. "I'm still hopeful that one day, I'll get better."
How to get help: In the US, call the National Suicide Prevention Lifeline at 1-800-273-8255. The International Association for Suicide Prevention and Befrienders Worldwide also provide contact information for crisis centers around the world.

CNN's Susan Scutti contributed to this report.