Editor's Note: Darren Martin is a former Obama White House legislative affairs aide and Capitol Hill staffer, working on issues affecting black men and boys. Follow him @MartinDarrenD. The views expressed in this commentary are his own.
(CNN) —
In recent weeks, Americans have read headline after headline chronicling near daily accounts of racism – from a public figure's racist tweet toward a former Obama administration official to the profiling of black Americans as they engage in ordinary activities like barbecuing and napping.
Since this American problem is once again part of the national discourse, Congress has a responsibility to convene a formal hearing about profiling by private citizens and their prolific use of public resources like 911 against black Americans. It must then consider legislation that produces real solutions.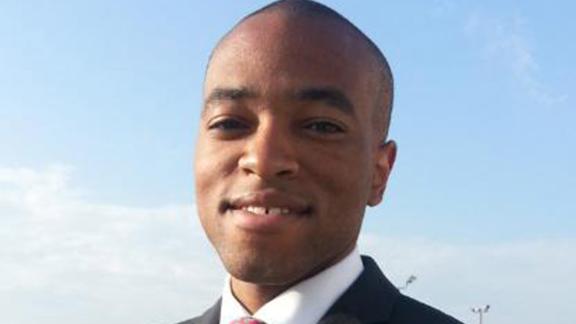 From Jean Roseme
As someone who has experienced this firsthand, I feel obligated to help lead that charge. I recently moved back to my hometown of New York after working in both the Obama White House and on Capitol Hill. Halfway through my move to the top of a fifth-floor walkup, I was confronted in the cramped lobby by half a dozen police officers searching for an armed burglar.
I, the "suspect," was interrogated and, unable to procure my license or lease on the spot, stood powerless – my agency and estate snatched away from me. Of course, I wasn't armed, nor was I a burglar. But something about my presence in that space moved the caller to suspicion and dangerously beyond, with the egregious assertion that I was armed.
My only crime, however, is being a black man in America.
But my story is not unique. At a Starbucks in April, two black men found themselves in the highly stressful situation of being arrested, simply for waiting for a colleague to arrive. At an Ivy League university, where black people have so long toiled for admission, a fellow student called police because there was a black woman – a graduate student – napping in the common room of her own dorm. Then there was the group of black artists moving their items out of an Airbnb; a white neighbor called the police, who responded – complete with helicopters whirring up above.
Throughout American history, the unfortunate reality for so many black people has been that at some point in their lives, they have been on the receiving end of a watchful eye, and for many others, they have then been the subject of a call to police.
And whether at the hands of police or private citizens, racial profiling has destructive effects on black lives, from degradation to wrongful incarceration to sometimes, tragically, death.
Now, thanks to technology and social media, we can share our truth, and white America can see it in real time. In recent years, this has led to increased awareness across the country and sparked protests and long-overdue calls for criminal justice reform.
As more people recognize the reality of being black in America, there is an opportunity for Congress to address it. In the late 1950s, congressional hearings were part of the legislative process that addressed the American problem of disenfranchisement and preceded passage of the Civil Rights Act of 1957.
In the 1960s, increased protests brought the issue of discrimination to the TV sets of white Americans and led to new hearings, legislative action and the Civil Rights Act of 1964. This new law expanded the scope of the '57 law, largely focused on discrimination at the polls, to include banning discrimination based on race, color, religion, sex and national origin – as well as outlawing racial segregation in public spaces and schools.
In 2012, following a spate of racially charged police shootings, the Senate Judiciary Committee held a hearing to consider racial profiling legislation that addressed policing practices. This generated the End Racial and Religious Profiling Act (ERPA), which has been introduced multiple times, but has yet to pass.
Just as further hearings and consideration of discrimination strengthened the Civil Rights Act, the same must be done here. In addition to police profiling, we must address private citizens' use of profiling and its destructive effects on black lives.
When an issue like this so jolts the national conscience, exposing it as an American problem, it is necessary to take swift advantage of the public's interest in solving it. That's why I and others – including Lolade Siyonbola and Donisha Prendergast, from the Yale and Airbnb incidents respectively – formally submitted a letter on Monday calling upon the House and Senate Judiciary committees to hold a hearing on the issue of racial profiling, particularly at the hands of private citizens.
Get our free weekly newsletter
At this hearing, experts from academia, law, civil rights and others can solicit proposals and prescribe solutions to this American problem. These solutions may range from mandated or incentivized internal bias training to punitive measures that hold accusers accountable for false 911 calls.
Regardless of the specific proposals that are generated, this hearing can and must build on the momentum of the current national discourse to effectively make tangible change.