Israeli soldiers on Friday killed one Palestinian and injured at least a hundred others protesting in Gaza along the fence that separates the territory from Israel, according to the Palestinian Ministry of Health.
The person killed was identified as medical nurse Razan Ashraf Al Najjar, 20, ministry officials said.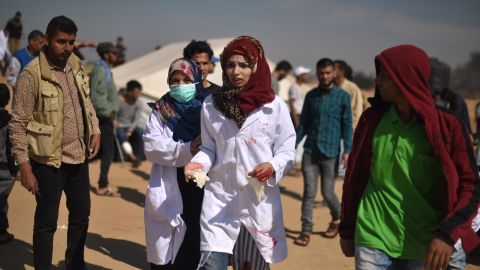 WAFA, the official Palestinian news agency, described Najjar as a "volunteering paramedic," and said she was killed by Israeli snipers while providing first aid to injured protesters at the fence east of Khan Younes, in southern Gaza.
Of those wounded, 40 were struck by live fire, according to WAFA.
Thousands of Palestinians gathered at several locations along the fence on Friday, calling for their right to return to lands in present-day Israel that their ancestors fled or were expelled from 70 years ago.
At Malaka camp, in northern Gaza, CNN reporters saw some protesters burning tires, throwing rocks and flying burning kites across the border. The Israeli military responded with live ammunition and tear gas.
Palestinian officials and rights groups have previously criticized the Israeli military for using deadly force against largely unarmed protesters.
In a statement, the Israel Defense Forces said it was "responding with riot dispersal means and are operating in accordance with the rules of engagement."
The military also said "an IDF vehicle was fired upon and a suspect was identified crossing the security fence in northern Gaza and planting a grenade which exploded as he returned to the strip."
Earlier this week, Israel carried out dozens of airstrikes on targets in Gaza in response to what it called the biggest barrage of rocket and mortar fire from the Strip since the 2014 war there.
The IDF said it counted more than 100 mortar and rocket launches from Hamas and Islamic Jihad, and it responded with more than 60 airstrikes on targets in the enclave.
The confrontations came after weeks of Palestinian protests, known as the Great March of Return, near the fence that separates Gaza and Israel, during which more than 100 Palestinian protesters were killed by Israeli fire.
Israel has accused Hamas of orchestrating the protests.