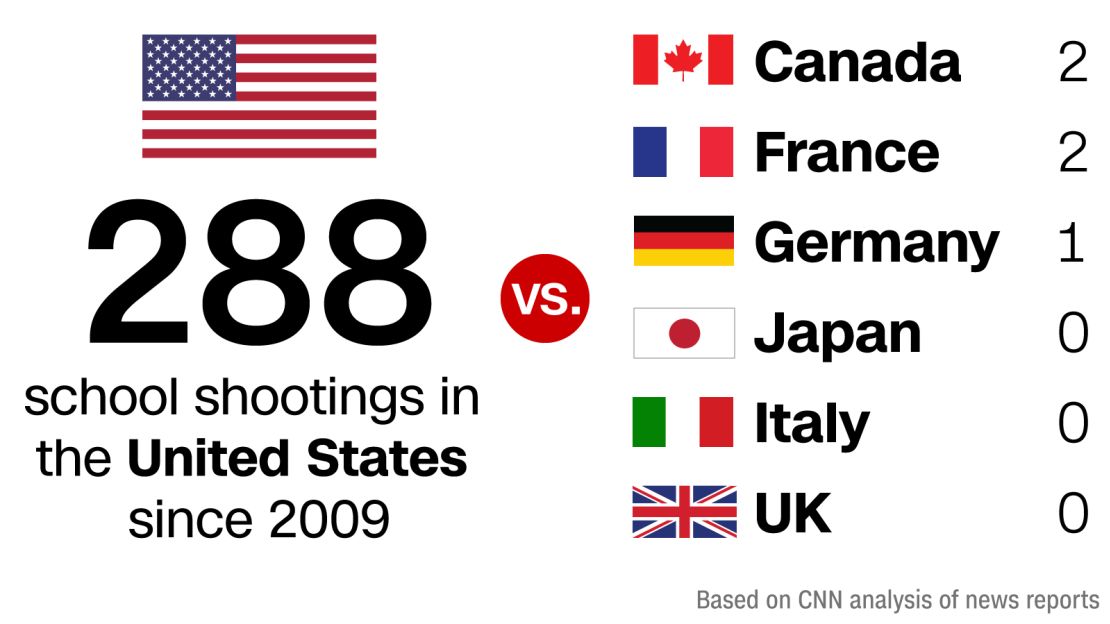 School shootings are a reality in America, an average of one a week just this year alone.
But how does the US compare with other countries in the world?
That's difficult to ascertain because very little research exists to quantify that.
For the purposes of this analysis, we followed the criteria below -
The scope: First, we looked at the G7 countries – the countries with the largest advanced economies in the world.
The countries are Canada, the US, Japan, Germany, Italy, France, the UK.
The time period: From January 1, 2009 to May 21, 2018.
The definition: The parameters we followed in this count are -
Shooting must involve at least one person being shot (not including the shooter)

Shooting must occur on school grounds

We included gang violence, fights and domestic violence (but our count is NOT limited to those categories)

We included grades Kindergarten through college/university level as well as vocational schools

We included accidental discharge of a firearm as long as the first two parameters are met
The analysis: For US stats, CNN reviewed media reports and a variety of databases including those from the Gun Violence Archive and Northwestern Institute on Complex Systems. For international stats, we looked at local and national media reports.
The caveat: Reporting on non-fatal school shootings is not always available. There may be additional school shootings with injuries that did not make it into the newspaper or digital publications, and therefore aren't counted in databases that rely on media reports. This is true for shootings in the US and elsewhere.
What we found:
There have been at least 288 school shootings in the United States since January 1, 2009.
That's 57 times as many shootings as the other six G7 countries combined.
Broadening out the list
Next, we wanted to broaden our list out to include some countries that were mentioned in a few of the viral posts that were going around this weekend.
In some of the incidents, the casualty count is very high (the Peshawar siege; the Kenya attack). But when it comes to the frequency of attacks, the US still leads by a wide margin.
CNN's Mirtha Donastorg, Travis Caldwell, Christina Walker, Samira Jafari and Kate Grise collaborated on this research.