When you've called a place home for over two decades, it can be hard to say goodbye.
Just ask Andres Iniesta, 34, who played the last of his 674 Barcelona matches Sunday, before remaining on the Camp Nou pitch long into the night.
The legendary midfielder was a picture of solitude as he sat barefoot in the area of the pitch he cast his spell, reflecting on his long and storied career one final time.
Iniesta first walked through the doors of the Spanish club's La Masia academy as a young boy, "crying rivers" as he left his parents behind.
In the 22 years since, he has won 32 trophies and the respect of even Barcelona's greatest rivals.
"It's been a pleasure and an honor to defend the badge," said Iniesta, as teammates lifted him high into the air and the stadium's 84,168 fans rose as one.
"I will miss you very much. I came here as a boy and I leave at 34 years of age a man. Thanks to everyone who asked me to stay, you will always be in my heart."
Barcelona manager Ernesto Valverde called Iniesta an "unrepeatable, historical player," insisting his legacy would live on "long into the future."
"We wanted to compete and win but today was Andrés's day and the crowd made it special," said Valverde, after a Philippe Coutinho goal gave his team a 1-0 win over Real Sociedad in La Liga's final fixture.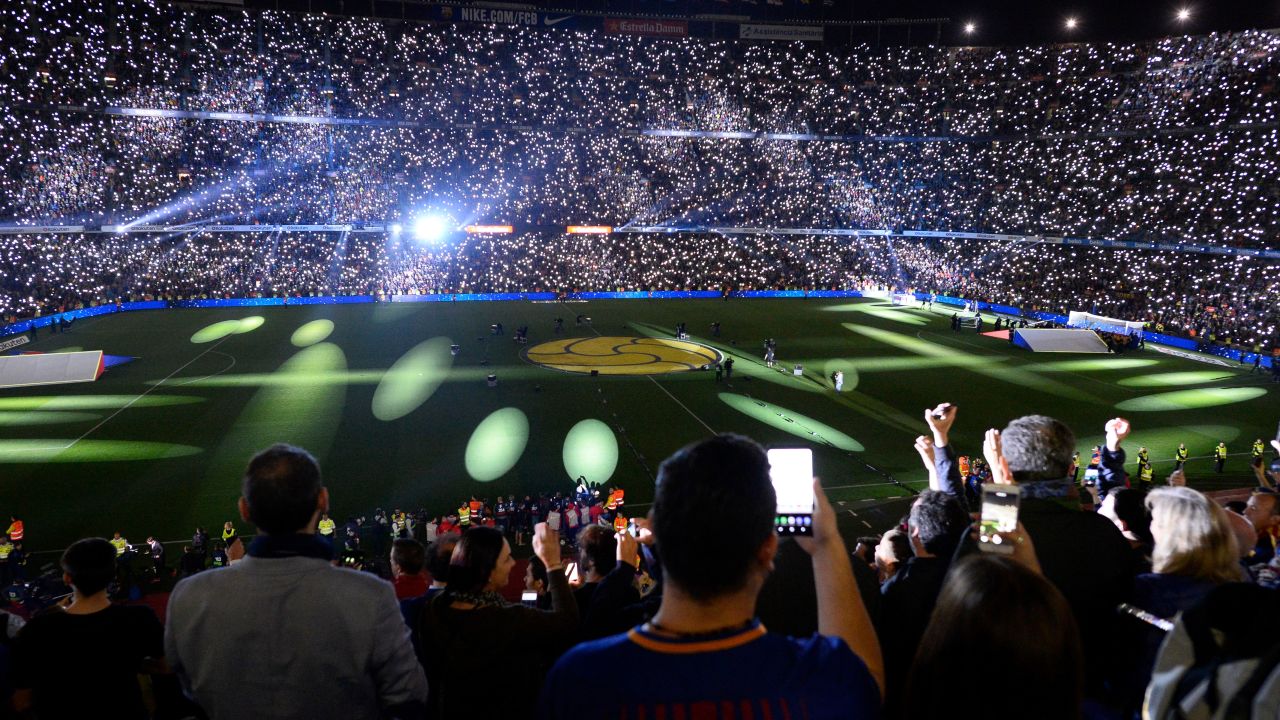 READ: Barcelona legend Xavi reveals his 'Ultimate Player'
From 'kid' to legend
Iniesta, scorer of the goal that won Spain the 2010 World Cup, wasn't the only player to depart their boyhood club Sunday.
Striker Fernando Torres, the first to congratulate him that famous night in Johannesburg, also bowed out in style, bagging a brace in the 2-2 draw with Eibar on his 404th and final appearance for Atlético Madrid.
Torres joined the club when he was 11 years old, making his first team debut at just 17 and accumulating a century of appearances before his 20th birthday.
Christened "El Nino" (The Kid) by adoring fans, he departed for Liverpool in the summer of 2007 but made a vow to one day come back.
And in January 2015 he did just that, with 45,000 crowding into the Vicente Calderón to welcome their returning hero.
With a total of 129 goals to his name, the 34-year-old departs this time never to represent Los Colchoneros again.
"I'm very proud to have been part of this group," Torres told the crowd, as he struggled to hold back the tears.
"I give thanks to all the Atletico family. It has been a privilege to wear this jersey more than 400 times [and] it is very hard to know this is the end.
"You've made me the happiest person in the world. I'm going to ask one more thing of you: to sing our club anthem, the loveliest song in the world."
Where do the departing players rank among the greatest ever? Have your say on CNN Sport's Facebook page
'An extraordinary journey'
Similarly bidding farewell was legendary goalkeeper Gianluigi Buffon, who played his last game for Juventus Saturday after 17 years at the Italian club.
A 2-1 win against relegated Verona courtesy of goals from Daniele Rugani and Miralem Pjanic put the gloss on a seventh successive Serie A title, but the match itself hardly seemed to matter.
The tears, after all, were falling before the first whistle, as Buffon called time on a historic Juventus career aged 40, with 300 clean sheets, 404 victories and 58,709 minutes to his name.
"This is a very emotional day for me and I'm here off the back of an extraordinary and wonderful journey, shared with so many people who have cared about me greatly," said Buffon, who is expected to join another club this summer. "As a way of reciprocating their faith in and affection for me, I have always tried to do my best.
"I'm proud to have played to the best of my ability right up until now, with performances which befit both myself and this club. I am making this decision in a calm and happy state of mind, which is not to be taken for granted for a sportsperson.
"If I feel as strong as I do at the age of 40, that is all thanks to Juventus and the mentality here. My own philosophy is built around that of the club and I shall continue to live my life in that way, as that's the only way I know to achieve results.
"I shall always be grateful to Juventus."
READ: Juventus keeper Gianluigi Buffon ventures into wine
Visit CNN.com/sport for more news and features
Of all the tributes to the departing trio, perhaps Real Madrid captain Sergio Ramos put it best.
"You have all made the battle more beautiful and football much bigger."