Abigail Disney and Rob Schenck never expected to be friends. They never even expected to like each other.
The unexpected friendship that developed between two partisan opposites called into question many of the assumptions they both had about politics – and their own beliefs.
"He was just really nice, and he listened, and he was thoughtful, and then I thought, shame on me for being surprised by any of those things. I mean, what a bigot," Disney, a progressive activist filmmaker, told CNN as she sat on a couch next to Schenck in his office.
"I had my own bigotry. Because, when I learn someone is a pro-choice activist, ardent liberal, left-leaning, politically … " Schenck, an evangelical pastor, trailed off as Disney raised her hand.
"Guilty!"
"I would never imagine that Abby was a mom of four children that she loved, and a relatively big family, and utterly committed," Schenck added. "This friendship was as much about defeating stereotypes and presuppositions and all those things that get in the way, that interfere with friendships, with building relationships."
The risk of friendship
Schenck and Disney's friendship inspired them to try to help others see past the traditional battle lines on issues ranging from gun violence to abortion.
The two met while Disney was making a documentary about a topic she knows is incredibly divisive: gun control.
Disney, who is the great-niece of Walt Disney, decided she needed to find somebody to work with "who was as far from me on the political spectrum as I could possibly find."
When Disney approached Schenck, who she knew to be an outspoken anti-abortion activist, he was just beginning to question the conservative position on guns.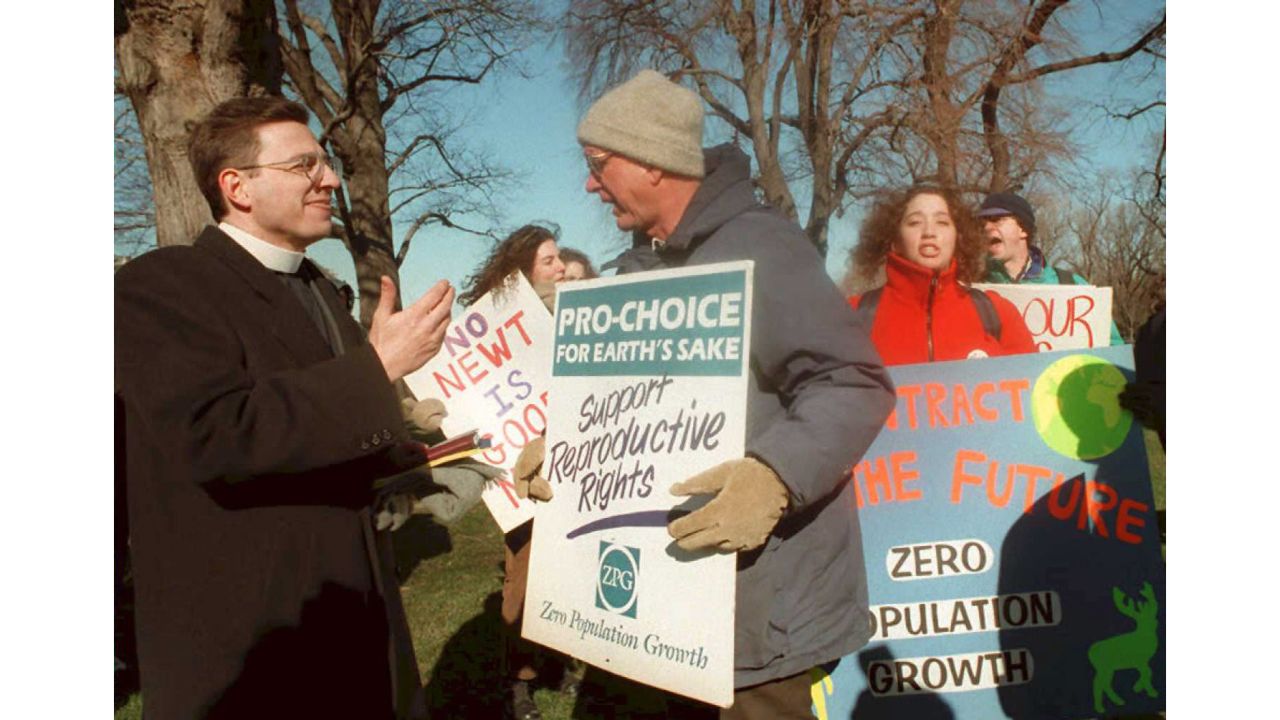 His decision to participate in the film was partially influenced by the 2013 Navy Yard shooting just a mile from his office in Washington, where 12 people were killed.
"To me, the pulpit is a place that delivers life, and that fosters and protects life," Schenck said of his beliefs. "[It] doesn't take life, or nullify the value of human life. So, for me, that was one of the reasons that it became imperative to take on the gun question."
The resulting documentary, "Armor of Light," focuses on Schenck and Lucy McBath, who lost her 17-year-old son, Jordan, after he was shot and killed in 2012 during an argument over loud music.
In one scene, McBath asks Schenck to use his pulpit to speak out about gun violence.
Ultimately, he decided to break with much of the evangelical and conservative community in deciding he couldn't be both "pro-life" and "pro-gun."
In the aftermath of the documentary, Schenck founded the Dietrich Bonhoeffer Institute with Disney's help. It is named for the German pastor, theologian and Nazi-resister Dietrich Bonhoeffer, who wrote extensively about the moral and ethical implications of Christianity in the secular world.
The organization doesn't push for specific policies, but it encourages people in faith-based communities to question long-held beliefs about political issues.
At one event CNN attended, called "The Gospel and a Sidearm," Disney and Schenck brought together people from across the political spectrum in the Christian community and screened scenes from the documentary.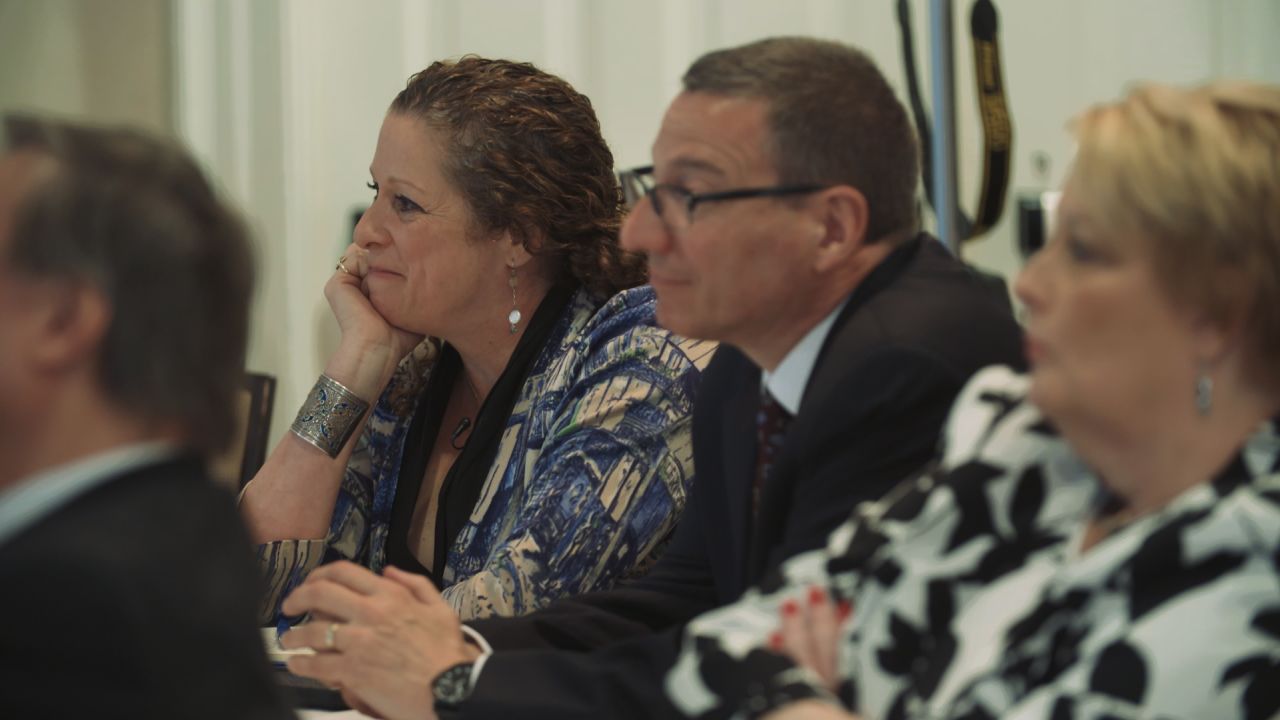 Before the screening, Disney described her decision to focus on Schenck in the film: "I had no idea that we would find somebody with the deep inner courage that Rob brought to this project."
"She was willing to take the risk of crossing over into my world," Schenck said, as the two discussed how to tackle explosive political issues after the event. "That was inspiring to me. I ended up taking considerable risk in stepping over to inhabit parts of your world."
"We're both like Columbus: We crossed the ocean expecting to find monsters on the other side, and it turned out there weren't any," Disney said.
Coming out of the trenches
Schenck and Disney say their friendship helped them realize that changing people's minds isn't the only way to move forward.
"When I first met Rob and we started working together, I had it in my head that the ultimate thing would be to change his mind on abortion," Disney said. "If I had actually changed his mind, I don't know how much I'd respect him. That desire to change his mind came from a lack of respect, and I'm glad I got rid of it. It taught me something really important."
"We have to come out of our trenches, meet in the middle and mingle, and know each other," she said. "From that place you work things through."
While the "pro-life" label is one Schenck said he still assumes, he prefers to see himself as politically independent and without labels.
He said he regretted the way in which he voiced his opposition to abortion in the past, largely thanks to his friendship with Disney.
"I violated my own principles by denigrating and devaluing and demeaning people and the momentous life decisions they've had to make in circumstances that I've never had to face ever in my life," he told CNN.
Schenck hopes he can help others view those they disagree with, no matter how vehemently, in a different light.
This focus on bipartisan dialogue could seem idealistic when you glance out Schenck's office window and see the silhouette of Capitol Hill, where legislation concerning gun violence has failed to gain much traction.
But as Disney and Schenck continue to work together they are hopeful that dialogue will prove more powerful than partisanship.
"There are no solutions; there's no promised land we're going to find ourselves at," Disney said of the discussion. "The dialogue is the solution."
"If we can talk about guns successfully, and we can get people at least to consider one another's viewpoints, to some degree, that's a whole lot of progress," Schenck said. "That's something that invites other contentious questions into the conversation.
"The question about guns is really just a starting point for a whole lot of other questions. It's just an example, really. It's a terribly important one. It's life and death," he said.