(CNN) —
For years, Eric Schneiderman, the former New York attorney general, portrayed himself as a strong advocate for women.
He praised the women who spoke out as part of the #MeToo movement. He helped write a brochure giving legal advice to domestic violence victims. He filed a civil rights suit against Harvey Weinstein.
He even, as a state lawmaker, sponsored a bill that made strangulation a felony crime.
But his personal life may have been a different story. Four women this week publicly accused Schneiderman of abusing and assaulting them. He contested the allegations but resigned just hours after The New Yorker published their accounts.
Given his alleged misdeeds in private, here's a close look at the legal work Schneiderman undertook – and the recognition he won – in the public arena of women's rights.
Strangulation prevention bill
As a state senator, Schneiderman in March 2010 sponsored the Strangulation Prevention Act, a bipartisan bill that made intentional strangulation and suffocation into unconsciousness a violent felony. The legislation passed later that year.
Schneiderman's news release promoting the bill highlighted how strangulation is one of the most common, and fatal, forms of abuse among domestic partners.
"New York must catch up with so many other states that make intentional strangulation into unconsciousness a violent felony. The time to criminalize this horrific form of abuse is now," he said in the statement.
Among the new allegations against Schneiderman is that he hit and choked Michelle Manning Barish, who was involved romantically with Schniederman at the time and who shared her recollection with The New Yorker.
"He then used his body weight to hold me down, and he began to choke me," she told the magazine. "The choking was very hard. It was really bad. I kicked. In every fibre, I felt I was being beaten by a man."
'Know Your Rights' brochure
In 2016, as New York's attorney general, Schneiderman released an updated "Victims of Domestic Violence: Know Your Rights!" brochure to mark Domestic Violence Awareness month.
The brochure describes key legal protections and services available to victims of domestic violence, particularly related to housing and employment, under New York law and the 1994 federal Violence Against Women Act.
The legal guide also includes a personal note from Schneiderman. "Upstate and downstate, in cities, suburbs and rural communities, domestic violence is a state-wide crisis," Schneiderman wrote.
Next to the blurb is a photo of Schneiderman smiling in front of the seal of his elective office. His signature closes that section of the pamphlet.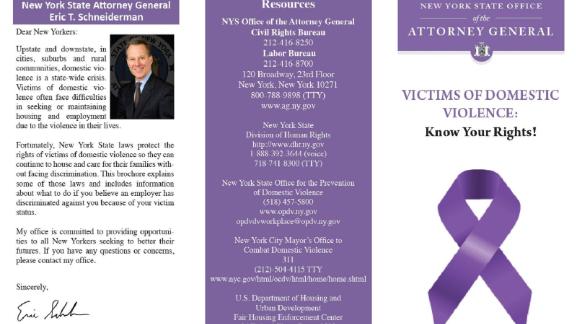 New York State Office of Attorney General
Statement on the Violence Against Women Act
On the 20th anniversary of the singing of the Violence Against Women Act, Schneiderman issued a news release commemorating the law as a "major milestone" in preventing violence against women and in helping victims of "such reprehensible acts."
"But two decades later, despite the significant protections established under VAWA, recent events have shone necessary light on the fact that violence against women remains a prevalent and dangerous problem across our nation," he said. "Basic safety is not a privilege: It is a fundamental right."
Lawsuit against Weinstein
Schneiderman in February filed a civil rights lawsuit against movie mogul Harvey Weinstein, his former company and his brother, Robert, citing a four-month investigation into sexual harassment which found "vicious and exploitative mistreatment of company employees."
The suit cites what it calls "egregious" violations of New York civil and human rights laws.
At the time, Weinstein attorney Benjamin Brafman said in a statement that "a fair investigation by Mr. Schneiderman will demonstrate that many of the allegations against Harvey Weinstein are without merit."
Weinstein was ousted from his role at The Weinstein Company after a number of women accused him of sexual misconduct.
Schneiderman's lawsuit accuses Weinstein of "personally creating a hostile work environment … by demanding that women engage in sexual or demeaning conduct."
Tweet congratulating #MeToo Pulitzer winners
In April, Schneiderman praised the New York media outlets – The New York Times and The New Yorker – that earned Pulitzer Prizes for their reporting on sexual harassment, which helped spur the #MeToo movement.
"Without the reporting of the @nytimes and the @newyorker—and the brave women and men who spoke up about the sexual harassment they endured at the hands of powerful men—there would not be the critical national reckoning underway. A well-deserved honor," he posted to his official Twitter account, which this week was changed to feature the picture of his successor.
The Pulitzer committee honored work by New Yorker reporter Ronan Farrow – the same reporter who, a month later, exposed the allegations against Schneiderman in the same magazine.
National Institute for Reproductive Health honor
Schneiderman was honored in May with the Champion of Choice award in recognition of his commitment to reproductive freedom, according to a news release from the National Institute for Reproductive Health.
The "brave champions we're honoring today have been leaders in this fight," Andrea Miller, NIRH president said in a statement at the time. "They understand that this issue is about more than medical procedures. It's about freedom, autonomy, and opportunity,"
Schneiderman in a statement at the time said: "The resistance has now become the next great affirmative movement for justice and equality in America, and that makes the work of NIRH more important than ever."
"The federal government has been taken over by anti-choice and anti-women extremists," he added. "We need to reimagine the pro-choice movement and build a stronger, louder movement for women's freedom and equality than we've ever seen. Movement politics is not the politics of accommodation, it is the politics of perseverance."
In the wake of Schneiderman's resignation, the NIRH revoked and rescinded the honor.
"We firmly believe that no amount of public support for women's rights can ever excuse private abuse against women," the group said in a statement. "Domestic violence and restricting reproductive rights have the same root cause: the desire to control women and their bodies. We will never stand for that."
Other New York Senate bills
Schneiderman served in the New York State Senate from 1999 until 2010. In his last session, as he was approaching a run for attorney general, Schneiderman sponsored or introduced several bills that dealt with domestic violence victims and women's health. The bills did not make it out of committee.
For example, Senate Bill S6767 proposed the use of closed-circuit TV for hearing testimony from domestic violence victims in criminal proceedings. Another proposal, Senate Bill S1410A, would have provided for the dispensing of emergency contraception under certain conditions in the state.
Senate Bill S5187 would have required domestic violence awareness in school curriculum and established a domestic violence awareness trust fund.