Story highlights
The Marriott Rewards program has a lot of noteworthy perks
They include VIP access to events and complimentary room upgrades
(CNN) —
Jet-setters know just how powerful rewards programs can be. With them, you can get everything from free flight upgrades to completely comped room stays. But many rewards programs offer more than just your traditional freebies.
Take the Marriott Rewards program, for example, which offers pretty awesome perks for members. Recently, Marriott International's loyalty programm Marriott Rewards, The Ritz-Carlton Rewards and the Starwood Preferred Guest (SPG) programs combined to form a single program with more than 6,700 hotels across 29 brands worldwide. This means you can cash in on serious savings no matter where you stay, whether it's a Residence Inn or a Moxy Hotel.
Like other hotel rewards programs, this one operates on a tier level. There are four statuses: Rewards Member, Silver Elite (if you stay 10 nights or more), Gold Elite (25 nights or more), Platinum Elite (50 nights or more), Platinum Premier Elite (more than 75 nights). The higher the tier, the better automatic perks you receive when staying at a Marriott property. These can be arrival gifts, food and beverage amenities, guaranteed late checkout or complimentary room upgrades. Every member, however, has access to the lowest rates when booking direct, the choice of earning frequent flyer miles or Marriott Rewards points, complimentary Wi-Fi access and no blackout dates.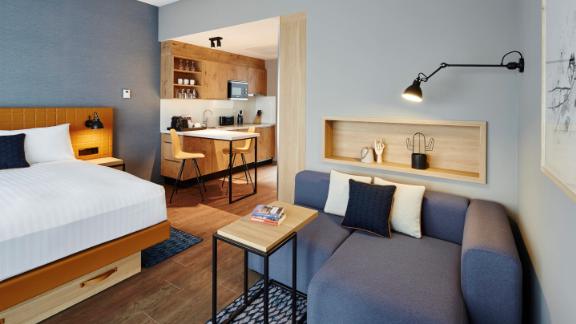 Rewards members can earn points by staying at a Marriott hotel or booking from one of its travel partners, which range from cruise companies to car rentals. Marriott's recent global expansion (most notably Europe), makes it easy to find a hotel in the rewards program. Plus, these locations also offer their own unique perks. For instance, its newly opened Residence Inn Houthavens in Amsterdam gives guests a fully equipped kitchen fitted with a coffee maker, pots and pans, and silverware. The hotel also offers free delivery services, where they can leave their grocery list in their room and come back to find their fridge stocked with their desired food and beverages. Guests at this location also have access to the hotel gym's personal trainers for weekly fitness events, the MapMyFitness app, which can give guests running routes in partnership with Under Armour that showcase Amsterdam's must-see sites, as well as more traditional amenities you'd expect at your hotel, such as free WiFi, free daily breakfast and complimentary toiletries. Think of it as the perfect mix between the space and functionality of an Airbnb, with all the perks of staying in a hotel.
You can also earn points by buying tickets to various experiences around the globe, from concerts to sightseeing tours. That means you can cash in on events you were already planning to attend, like Lollapalooza or a Chicago Cubs game.
But the really stellar perks with the Marriott Rewards program are the many ways you can spend your points and the access you get. With the program, you can get VIP access to a number of local events, such as concerts and sporting events. Currently, you can use your points to bid on a private, interactive dinner with renowned chef Daniel Boulud, get suite-level seats for MLB games, take a photography master class or get a VIP experience at Kleinfeld Bridal in New York. You can find a full list of Marriott's travel experiences here and its members-only VIP experiences here.
Marriott also lets members use their points to shop major retailers like Nordstrom and buy AMC movie tickets, Uber rides and meals at a number of chain restaurants. Members can also pay it forward with their points, donating to a variety of nonprofits, or help communities that are affected by natural disasters.
With seemingly endless ways to spend your points, the Marriott Rewards program is a no-brainer for people who travel often for business or pleasure. And with a new crop of hotels opening up around the world, this is the perfect time to become a member.