The Connecticut Supreme Court has vacated Michael Skakel's conviction in a decades-old murder case and ordered a new trial.
Skakel, the 57-year-old nephew of Robert and Ethel Kennedy, served about half of a 20-year sentence in the 1975 killing of teenager Martha Moxley. He's been out of prison since 2013, when the courts first ordered a new trial.
The court ruled Friday that Skakel's attorney, Michael Sherman, "rendered ineffective assistance" by failing to identify an alibi witness for his client, and that as a result, Skakel was deprived of a fair trial.
Prosecutors can choose to retry Skakel, according to the decision, but the defense would now have the benefit of that alibi testimony. The prosecutor's office was not immediately available for comment.
"We've been fighting for this for a long time," Skakel's current attorney, Hugh Santos, said. "We're happy that the habeas court was vindicated and Michael is similarly elated."
Skakel's first cousin, Robert Kennedy, Jr. – who wrote a book insisting Skakel was innocent – told CNN he was skeptical the case would be retried because of a new witness.
"It would be pretty hard to pass the threshold of reasonable doubt," Kennedy said.
Bludgeoned and stabbed
Prosecutors said Skakel was 15 when he killed his neighbor Martha Moxley, also 15.
Her body was found in October 1975 after a night of partying with Skakel, his older brother Tommy and other teenagers in an affluent gated community in Greenwich, Connecticut. Authorities said she was bludgeoned and stabbed to death; a broken golf club was found near her body.
Skadel has always said he was innocent.
Though Skakel had been a suspect for years, he did not go to trial until 2002, when he was convicted and sentenced to 20 years to life in prison. One of Skakel's three previous appeals went to the US Supreme Court but in 2006 the justices declined to hear that petition.
In October 2012 he was denied parole, but a year later a state appellate judge determined that the case presented by his defense attorney Sherman was "constitutionally deficient" and ordered a new trial.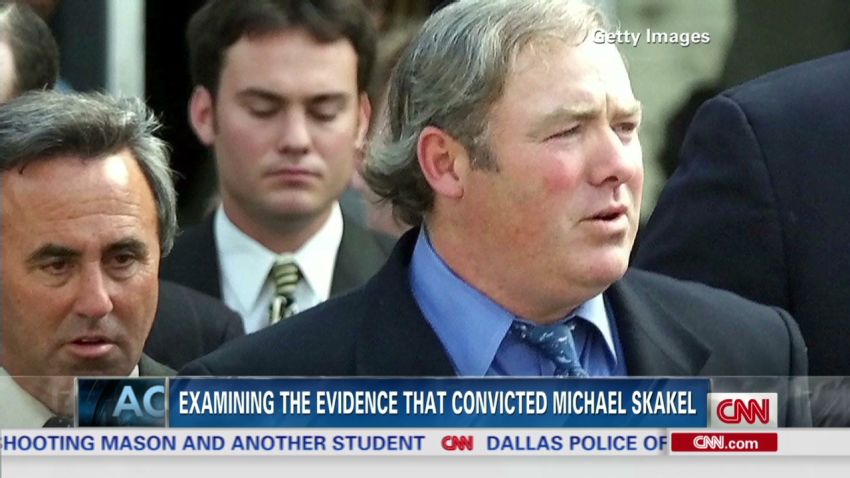 What evidence incriminated Skakel?
Skakel was released from prison on bond in November 2013.
In December 2016, the Connecticut Supreme Court reinstated the 2002 murder conviction, but Skakel's lawyers appealed.
On Friday, the state Supreme Court reversed its own decision.
Kennedy: 'We were optimistic'
Mark Dupuis, communications and legislative specialist at Connecticut's Division of Criminal Justice, told CNN: "We are reviewing the court's opinions and have no comment at this time."
Moxley's mother, Dorthy, told CNN on Friday that she didn't expect the decision.
"It is what it is and we just have to go from here," she said. "I'm willing to do whatever the state of Connecticut wants me to do."
"I was 43 when she was murdered and I'll be 86 next month," she said. "This has been going on for half my life."
Robert Kennedy, Jr. said he talked to Skakel earlier Friday.
"We were expecting the decision today," Kennedy said. "He was optimistic."
Kennedy wrote a 2016 book titled, "Framed: Why Michael Skakel Spent over a Decade in Prison for a Murder He Didn't Commit."
When asked if he thinks this is finally over for his cousin, Kennedy responded, "The prosecution now has the option of re-trying Michael. But they are sitting on an hour-long confession from Tony Bryant that's come to light."
He was referring to a statement by Gitano "Tony" Bryant, a cousin of former Los Angeles Lakers guard Kobe Bryant, in which he implicates two friends in Moxley's murder.
Correction: A previous version of this article incorrectly spelled the name of Martha Moxley's mother.
CNN's Kwegyirba Croffie, Sheena Jones, Dave Alsup, Ellie Kaufman and Steve Almasy contributed to this report.