CNN —
Your Amazon Alexa devices like the Echo and Echo Dot are no doubt highly functional on their own. But Alexa-enabled products can also function as a verbal remote control for a number of cool devices, robotic vacuum cleaners and booming speaker systems among them. Thanks to these products' ability to be connected through Alexa voice integration, you can start your sprinkler system, clean your floors or turn off your lights – all by simply saying so.
If you're just starting to deck out your home with smart tech, consider these 10 cool devices. Once you've got an Alexa-enabled device, you can hook up these gadgets to basically turn your home into one giant, smart ecosystem. (Pro tip: The Amazon Echo and Echo Dot go on sale often, if you don't already own one.)
Ahead, shop these cool devices you can control via your Amazon Alexa.
iRobot Roomba 980 ($899.99; amazon.com)
Amazon
Deep cleaning doesn't get much easier than using the Roomba 980. This robotic cleaner helps rid your floors of dirt, pet hair and more, all on its own. It uses Dirt Detect Technology, which flags more concentrated areas of dirt to the robot, to give problem areas of your home an even deeper clean. Other impressive features of the Roomba 980 include the device's ability to navigate throughout the home (even the harder-to-reach areas like under the couch and bed), as well as customized cleaning schedules via the integrated app. And with added Alexa integration, you can start cleaning simply by asking Alexa to fire up your Roomba.
Rachio Smart Sprinkler Controller ($198.98; amazon.com)
Amazon
Another household chore you may never have to do again, thanks to smart tech, is watering your lawn and plants. Just as the Roomba has changed the way you vacuum, Rachio will revolutionize your household sprinkler system. This device tailors the sprinkler's water schedule based on a number of factors – your soil and plant type, sun exposure and local weather among them. The idea is that this will help you save money in the long run. By monitoring local weather, for instance, the device can intelligently skip a scheduled watering if rain is in the forecast, ultimately saving you water, energy and money. Rachio says you can save more than 50% off your outdoor watering bill. But what we love more than just the stellar savings is its easy-to-use control capabilities both on the app and through your Alexa device. We'll let its nearly perfect rating from over 2,400 customers speak for itself.
Amazon
Even though you'll get great speaker capabilities with an Amazon Echo, and commendable quality with an Echo Dot, if you're a true audiophile hoping to give your home a much more comprehensive smart speaker situation, consider the Sonos One. This is the latest version of the Sonos speaker, boasting the same rich, room-filling sounds you've come to expect from Sonos, with added voice integration to make it that much more capable. Amazon Alexa is built right into the device, so you can ask it to play your favorite tracks, read the news and stream music from Spotify or Pandora. It means you can technically use all of Alexa's functionality without an Echo or Dot. But if you do own one, know that you can connect your Sonos to an Echo to give you speaker capabilities that much more powerful in every room of your home.
Ultimate Ears BLAST Portable Wi-Fi Bluetooth Speaker ($99.99; amazon.com)
Amazon
Say you want a speaker that's a little cheaper, smaller and more portable than Sonos, but still has the Alexa capabilities. For that, we turn to Ultimate Ears' BLAST Portable Wi-Fi Bluetooth Speaker. The waterproof gadget delivers 360-degree sound and up to 12 hours of battery life, so you can listen to your tracks no matter where you are in your home – even the backyard or in the pool. It's almost indestructible and can be submerged in water for up to 30 minutes, so you don't have to worry if it takes a fall or a dip in the pool. And with Alexa hands-free control, you can play DJ without ever having to set a finger on the device itself. It was practically made for your outdoor parties this spring and summer.
Ecobee3 Smart Thermostat ($144; amazon.com)
Amazon
A simple money-saving hack is investing in a smart thermostat. These devices ultimately make you more aware of your energy consumption, both when you're at home and when you're not, and let you adjust your thermostat from virtually anywhere. This means that you'll be expending less energy heating or cooling your home, which can lead to huge savings on your utility bills. For example, Ecobee3 Smart Thermostat can potentially save you upward of 23% on your heating and cooling costs, according to Amazon, because you can adjust the temperature and comfort settings from your Android or iOs devices, as well as your Amazon Alexa devices. In addition, the device uses information such as your local weather, schedule and comfort settings to determine the levels set in your home when you're away.
Philips Hue White Starter Kit ($67.99; amazon.com)
Amazon
Imagine this: You're comfortably in bed when it dawns on you that you might have left the basement lights on. But if you have a smart light bulb installed and an Amazon Alexa device in the room, there's no longer any need to get out of bed and trek downstairs to turn off the lights. Take Philips Hue White Starter Kit, for example. This pack comes with two bulbs and a bridge to help you set up your new smart lights. From there, you can control the lights remotely using the Philips Hue iOS and Android app or through your Amazon Alexa device. You'll be able to turn lights on and off, dim the brightness and even change colors of the lights without ever lifting a finger.
Fitbit Charge 2 (starting at $147.91; amazon.com)
Amazon
Even your fitness tracker has received an Amazon Alexa upgrade. Fitbit, a leader in the fitness tracking space, makes many of its devices, including the Fitbit Charge 2, able to sync up with Amazon Alexa. You can ask Alexa to check in on your daily progress, based on the stats that mean the most to your fitness regime. On top of that, the Fitbit Charge 2 will track your heart rate, calorie burn, overall distance moved and sleep activity. The Charge 2 also goes above and beyond your typical tracker, by sending you reminders to stay active, giving you guided breathing sessions based on your heart rate, and even sending you text, phone call and calendar alerts.
Wemo Wi-Fi Smart Dimmer ($49.99; amazon.com)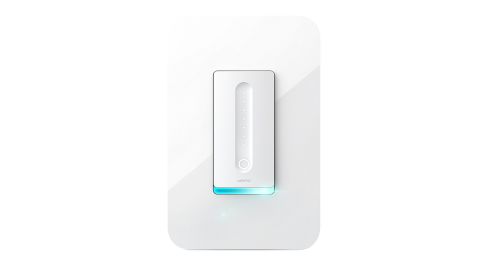 Amazon
Just as the Ecobee3 smart thermostat can save you money when you're not home, so can Wemo's Wi-Fi Smart Dimmer. With the device, you can set an automatic schedule for any of your lights, helping ensure energy is not wasted while you're away. You can also pair the dimmer with Amazon Alexa for hands-free voice control over your bedroom lights, dining room chandelier and more. You can even set the lights to "night mode," if you're going to wake up while it's still dark, so that you're not jolted by bright fluorescents. Hey, life is all about the little things.
Ring Wi-Fi Enabled Video Doorbell ($129.99; amazon.com)
Amazon
Over 25,000 Amazon customers have weighed in: The Ring Wi-Fi Enabled Video Doorbell is a smarter way to identify who's outside your door before you turn the knob. This device allows you to see, hear and speak to your visitors, and to watch footage of your doorstep from the convenience of your mobile device. Think of it as an even higher-tech version of a virtual doorman. With it, you can also get alerts when someone pushes your doorbell or sets off the motion detector. And it can be hooked up with Amazon Alexa for even more hands-free control.
Behmor Connected Coffee Maker ($169.99; amazon.com)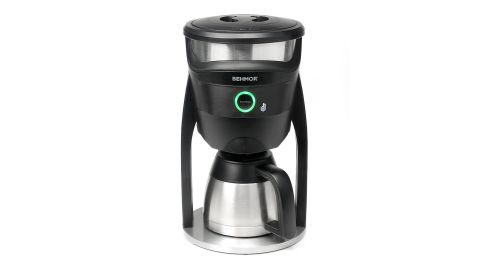 Amazon
If you're not a morning person, waking up can be hard (and sometimes impossible). That's where the Behmor Connected Coffee Maker comes in. This coffee maker can connect to your Amazon Alexa, so you can start brewing your morning cup of joe while you're still in bed by just saying the word. The brewer also works with Amazon Dash Replenishment Service to reorder beans when your supplies are running low. It takes away the hassles of restocking coffee beans and actually making your brew in the morning. And that sounds like a good reason to hit the snooze button one more time.