Editor's Note: Mike Litt is the consumer campaign director for U.S. PIRG, a public interest research group. The opinions expressed in this commentary are his.
(CNN) —
After doing nothing for the first eight months since news of the massive Equifax data breach, Congress is considering making data security and credit scoring market competition worse for American consumers. The House is next to consider a bill passed by the Senate last month that benefits the three national credit bureaus – Equifax, Experian and TransUnion – at the expense of consumers.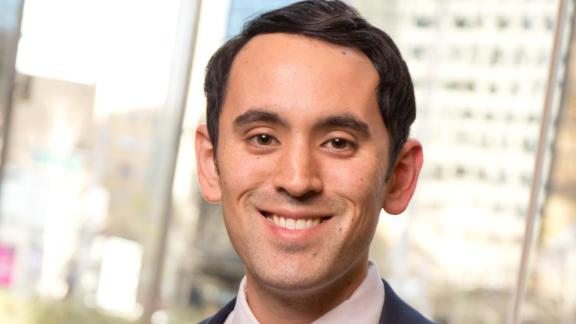 PHOTO: Kimball Nelson
If the bill becomes a law, it will offer weaker protections against identity theft, replacing stronger ones currently dictated by individual states. And, as if that were not enough, it would also provide service members an inadequate right to credit monitoring, while paving the way for Equifax and the other national credit bureaus to take over the credit scoring marketplace.
Overriding state credit freeze laws
In the aftermath of the Equifax breach, many individuals whose information may have been compromised froze their credit reports. This prevented identity thieves from using their personal information to open accounts that required verification of a credit score, like a credit card.
As it stands, state laws dictate the extent to which a credit freeze restricts access to an individual's credit report. In most states, it costs $3 to $10 to get a freeze at each bureau, and about the same amount every time you want to temporarily lift a freeze to apply for credit, or in some cases, a job.
Consumers shouldn't have to pay to control or protect their financial information now that trust in credit bureaus and the safekeeping of their information has been jeopardized. To this point, the bill rightfully eliminates fees for placing and lifting a credit freeze. But it comes with a new cost.
With this new legislation, the breadth of protection offered through a credit freeze in many states would become more limited, and individual states wouldn't be able to take action to improve the freeze for their own residents. Credit freezes would pertain solely to checks for credit applications, such as a credit card, yet would not protect against checks for employment and insurance, where identity theft can be a problem.
New right without legal recourse for service members
Free credit monitoring is almost always offered for a limited time after a publicized data breach. Credit monitoring is also currently available to any consumer for a monthly fee as part of various paid ID theft detection and resolution services or for free from companies that show consumers ads and paid product promotions.
Unlike credit freezes, which prevent identity theft and are a right by law in every state, credit monitoring services only help you detect and deal with identity theft after it has occurred. They are not, however, a consumer right by either state or federal law for any consumer, including service members.
By contrast, the Senate bill makes free credit monitoring a legal right for active duty military service members (but not the general public). This may seem like at least a small step in the right direction, but there's a catch. The bill explicitly prohibits private lawsuits as a means to enforce the new right.
Since 1970, any violation by a credit bureau under the federal Fair Credit Reporting Act, or FCRA, can be subject to a private right of action. For the first time, consumers – in this case, victimized service members – would need to rely solely on agency enforcement actions. This means that if the credit bureaus fail to comply with that new right, for example, by not providing the service or not providing notification of scams, our troops will be denied their fundamental American right to a day in court.
This not only harms our service families and military personnel, but also sets a bad precedent for how future amendments to the FCRA will treat the general public. In the marketplace, consumer laws work best when consumers have the right to enforce them.
Paving the way for a market takeover
The bill also includes a provision that appears designed to help Equifax, Experian and TransUnion take over – not merely compete in – the credit scoring market. These credit bureaus already control our credit reports. Now they want to control our credit scores.
When you apply for credit, the lender pays one or more of the three national credit bureaus to see your credit report, which shows your credit history. The lender usually also pays the credit bureau for a credit score, which is a numerical value of your report that determines your creditworthiness, interest rate, fees and terms.
Although Equifax, Experian and TransUnion dominate the marketplace for supplying credit reports, most of the credit scores that are used by lenders are calculated by FICO, a separate company that has generated scores based on credit report data since 1990. In 2006, the three national credit bureaus formed a joint venture called VantageScore to compete with FICO's various scoring models used for different types of loans, including mortgages.
Because the FICO credit scoring model is over a decade old, the Federal Housing Finance Agency, the FHFA, is reviewing options for implementing an updated model. Under consideration are the use of newer models from either FICO or VantageScore, the use of both newer models, or simply keeping the old FICO model.
This review is an important step toward establishing competition in the credit scoring marketplace. We were pleased to see the start of this review after writing FHFA Director Mel Watt, along with many other consumer advocacy groups, in support of credit scoring competition in 2014. But Congress, it seems, does not share our concern. Suspiciously, when the bill was brought up for a vote in the Senate, it contained a section that would force FHFA to start a new review from scratch, which would disrupt the current ongoing review.
It's hard to understand how stopping a review that took years to get started makes any sense. But it's easy to imagine how starting over opens the door for the credit bureaus to gain control over a new process and its results.
Get our free weekly newsletter
Of course, these problems are in addition to those posed by the bill's core provisions, which, despite supporters' claims, are likely to increase mortgage fraud, racial discrimination and risky banking practices.
The big three credit bureaus have too much control over our financial information as it is. And due to the nature of modern-day life, consumers have little opportunity to avoid giving these companies their personal information.
This bill helps credit bureaus restrict consumer rights and protect their power in the market. But it's the people who trust these credit bureaus with their personal information – not the bureaus themselves – that Congress should be protecting.