Programming note: "United Shades of America with W. Kamau Bell" visits a support facility for recent Mexican deportees in the Season 3 premiere, Sunday at 10 p.m. ET/PT.
Gabriela Hernandez and her two boys joined the "migrant caravan" of travelers across Mexico toward the United States, some hoping to cross the border. This is her story of the journey, compiled from multiple visits and interviews.
March 25: Tapachula
She is late.
Gabriela Hernandez has missed the caravan marching north.
As she realizes her mistake, she also knows she can't let it go.
She scrounges up enough coins to pay for a taxi. Not knowing exactly where the group is, they simply head north, asking along the way in the hope they will catch up with the group.
The pregnant mother of two has never before left Honduras. Now, she has fled her country, crossed Guatemala and found herself in the southern Mexican border city of Tapachula.
"I was very scared. I didn't even have a dollar for a hotel," she says later.
When she arrived with her two little boys, she didn't know whom to trust.
She went to the church, where a priest told her about an upcoming caravan of migrants, a march with religious roots organized by Pueblo Sin Fronteras since 2010. It could provide the guidance she needed, he told her.
Gabriela, 27, admits she had no idea what she was getting into, but when she saw more than 1,000 migrants, including many Hondurans, uniting for the annual pilgrimage, it felt like the best option.
The journey north is dangerous. Migrants are often robbed, assaulted or kidnapped. The caravan, Gabriela thought, could offer more than guidance, it could offer her family safety in numbers.
The taxi catches up with the march and lets them out.
She gathers up her sons, Omar, 6, and Jonathan, 2, and they start to walk.
And walk.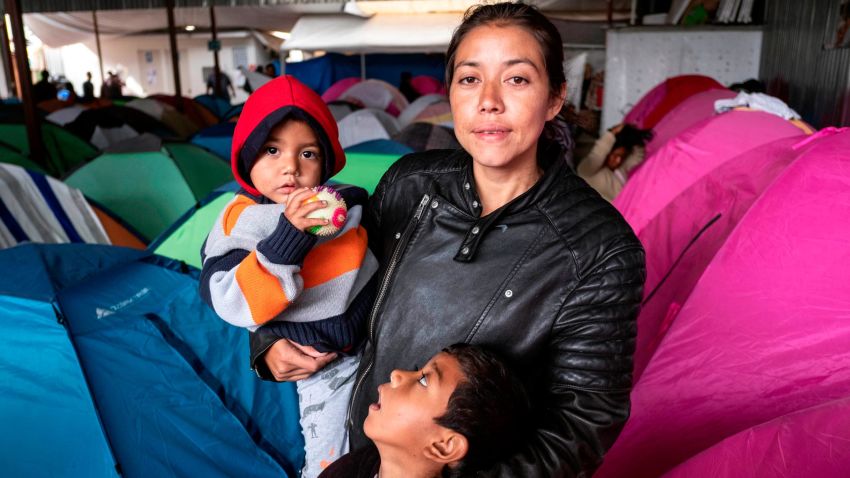 This pregnant mom is the first migrant in line for asylum
April 1: On the road in Oaxaca
"Trump is mad at the caravan," Gabriela says.
The US President has tweeted following news reports of the migration.
She is struck by the word he used to describe the group – dangerous.
"He talks about us like we are the plague," she says.
Gabriela laughs in disbelief. It's hard for her to understand how someone could look at her two little boys and think they are dangerous.
The family has been walking for days. Sometimes they are helped by a friend from her old neighborhood, but often they are on their own. She is out of money. The boys are always hungry.
For the first time in her life, she is forced to turn to strangers for help, asking for spare change.
"Excuse me, do you think you could help me with something for my kids?" she will ask.
The first person gave her two pesos, about 10 cents. The most came from a woman who looked at the two boys, and handed over 50 pesos (about $2.70.)
"There were people who would give me money. There were people who would tell me 'I don't have money, but I can give you some fruit,' and I would say 'OK.' Fruit is very helpful," she says.
April 3: Matias Romero
The caravan's journey has become more political than Gabriela ever imagined.
For the first time, the Mexican government has reached out to the group, agreeing to grant many temporary permission to stay in the country as they travel through. Gabriela's case is approved.
She receives an official piece of paper with the Mexican government's seal granting her 20 days to be in the country. For now, she doesn't have to worry about an arrest or deportation. She snaps a picture and sends it to her family in Honduras. It's part celebration, part backup plan.
"If something were to happen to those papers, my mom will now have a copy," she says.
The relief is short-lived. Jonathan, her 2-year-old, is sick, and getting worse.
"He started to convulse," she explains.
A volunteer doctor helping the caravan tells her the child should be hospitalized. Jonathan, Gabriela learns, has pneumonia.
"I told him I can't, I have to keeping moving north. I can't let this caravan leave me behind again," she remembers saying.
The doctor pulls out a nebulizer for respiratory treatment. He also gives Jonathan a shot, although Gabriela doesn't know what is in it.
"Wherever you go, make sure you cover his mouth," he advises.
Gabriela is grateful for his understanding and help, but feels ashamed. She wants to be able to do more for her child.
April 6: Puebla
Buses filled with dozens of migrants arrive at a church. Gabriela is the first mother to step off the bus with her sick toddler in hand. He's fidgety. She looks exhausted. Her other son, 6-year-old Omar, follows closely behind her.
In a live interview with CNN, she explains she is fleeing violence in Honduras, and questions how they could be dangerous.
"A child like this, how? My child has pneumonia," she said.
CNN reporter follows migrant caravan to US border
Church members welcome the caravan with a warm meal. They give children toys and board games. Within a matter of minutes, organizations set up booths and mobile units, including a clinic with medical volunteers.
"They have been so good to us," Gabriela says. "You can always feel when something is given to you with love."
The group is too big for one shelter. They split up into three for housing. Gabriela is assigned to the shelter at the church. They sleep on the floor with only a mat to shield them from the cold floor.
Related: These are the Central American migrants crossing Mexico in a caravan
April 7: Puebla
Just before noon, the migrants line up under a striped, circus-like tent in front of the church. During a head count, organizers make announcements over a bullhorn, including the schedule for the day's information sessions to discuss US immigration policies. They also set a few rules: Familiarize yourself with the exits of the church in case of an earthquake, and clean up after yourself.
Volunteers tally about 500 migrants.
Gabriela attends a workshop about migrants' rights in the United States.. Advocates explain US immigration laws, including asylum.
When a volunteer attorney offers her one-on-one time, she sits down and tells the attorney her life story, why she had to leave Honduras.
"She says I have a good case," Gabriela explains. "I may be granted asylum up north."
April 8: Puebla
Jonathan finds himself munching on a mini-pack of M&Ms while eyeing a massive, winding slide at the playground across from the church. He is feeling better. Omar made friends with some of the kids in the caravan. They take turns racing up and down the slide.
Gabriela watches, keeping an eye on both while worrying about her other child. She's three months pregnant. She visited the free clinic, and the doctor told her she is not drinking enough water.
For lunch, volunteers serve roasted chicken, tortillas and rice. Omar is wide-eyed as he looks at the chicken on the paper plate in front of him. Jonathan skips the utensils and grabs the chicken with both hands for his first bite, smiling before he even finishes chewing.
"It's the first time they've eaten meat since leaving Honduras," Gabriela explains.
As the family eats on the floor, a volunteer flips on a speaker. Reggaeton, some Ricky Martin and other music blast as couples pair off to dance.
"Listen, that's punta," Gabriela yells, battling the speaker. "We dance that a lot in Honduras."
For a moment, thoughts of the journey's hardships fade away as the family laughs and cheers on the dancers.
April 9: Mexico City
The travelers gather outside the church at 7 a.m. Jonathan is still asleep and Omar is struggling to stay awake. They're shivering, and waiting for instructions to get on the buses headed to Mexico City. Volunteers hand out bags filled with snacks. A sign on the gate of the church reads, "We appreciate your donations but for the moment we are covered. God bless your generosity." The migrants have felt welcomed here.
"We ate a lot there. We got new clothes there, shoes. We got sweaters, pants, lots of diapers and milk, things that I needed for the boys and a mountain of toys," Gabriela says.
Organizers ask everyone to make as much room possible to get everyone on board the 17 buses that have turned up. As their bus heads off, Jonathan's face is glued to the window as he waves goodbye. A migrant yells out the window, "Gracias Puebla!"
The two boys pile into Gabriela's lap and fall asleep. Nearly four hours later, the caravan arrives in Mexico City, where police stop traffic and escort the convoy through town.
As they pull into a shelter's parking lot, other migrants and supporters are cheering, holding signs that read, "The fight continues," "No Trump" and "Viva Honduras."
April 10: Mexico City
Gabriela is exhausted after the night in the new shelter, in what is considered one of the most dangerous neighborhoods in Mexico City. The boys don't seem tired at all.
A bounce house has been set up, and volunteers are painting faces. Omar insists he wants a Spider-Man face. He gets it.
Gabriela is annoyed.
"It's not easy getting that face paint off," she says.
Caravan organizers ask the migrants to make copies of their IDs and official documents from Mexico. Gabriela hoists Jonathan onto her shoulders and grabs Omar. They walk to a print shop and join the long line of Central Americans.
As they wait, Jonathan, dressed in a Spider-Man onesie, amuses himself with a bell on a parked bike. He giggles, running back and forth between his mother and brother, and the bike.
"Stop that," Gabriela says scolding him. She is struggling to focus, and wants to make sure she gets the right amount of copies.
Omar sits alone, ignoring his brother as he explains he is going to the United States of America. In the United States, he says, they won't have to deal with the violence and could make more money.
And he's looking forward to something else.
"A good education," he says.
April 11: Mexico City
Gabriela doesn't like the food at the shelter, and nausea from the pregnancy doesn't help.
"It's hard for me to keep anything down," she says.
She orders a smoothie at a stand set up near the shelter. The boys order a plate of fries each and douse them in ketchup. A glass bottle of Coke is passed back, something they can barely afford at 75 pesos, about $4.
As Gabriela pulls coins out of her pocket to pay, Omar spots an arcade game and begs for a coin to play. She hesitates. She doesn't have many coins left. Omar continues to plead. She caves and he runs off to play.
"Sometimes, they don't understand when you say, 'I don't have money.' It hurts my heart every time I have to say that," Gabriela says.
As they share the smoothie, she talks about her family. She misses her mom and grandmother most.
"My mom and I are close. But I am really close to my grandma. I have only been able to talk to her once (since I left)."
Gabriela got out of Honduras very quickly. It's one of the most dangerous countries in the world, and gang violence is rife.
She'd suffered domestic abuse from her husband and left him. But then gang members found her one day, demanding to know where her ex was. They gave her 12 hours to give him up or said they would kill her 6-year-old.
She left that night, with her sons and the clothes they wore.
It's hard for her to accept, but she says she understands leaving her family is part of the sacrifice she must make to give her children a better life, a safer life.
"There are people who think I just woke up and said, 'Oh,I want to just go to the United States.' It's not that easy," she says.
In hearing talk about the United States, Omar reveals he knows a little bit of English.
"One, two, three, four …"
He stumbles on the number five, but continues counting until he reaches 10, his face beaming with a great sense of accomplishment.
April 12: Mexico City
The family joins the caravan as it visits the United Nations High Commissioner for Refugees, then heads to the U.S. Embassy in Mexico City. Gabriela doesn't know whether their presence will actually make a difference, but she wants to support the group.
The mother and sons spend the day in the city until large, blue police buses with barred windows arrive to take them back to the shelter on the far side of town.
There aren't enough buses for the entire group. Most of the men while have to walk six miles back to the shelter.
By the time Gabriela reaches the door of the bus, it is packed with women. She hands Jonathan to another woman who pulls him onto the bus as if he were crowd surfing. Gabriela holds Omar tightly next to her and squeezes onto the bus. It doesn't seem odd or scary to the children. By now, they're used to it.
April 13: Tultitlán
The municipality is providing buses to move the group north, closer to a train station. With Jonathan dangling from a baby carrier, the family marches with the caravan. They chant, "We are not criminals."
As they wait for transportation, the heat takes its toll on a child nearby. She faints, and is rushed to a doctor. Organizers say she was dehydrated.
"I can't even imagine what I would do if that happened to Omar or Jonathan," Gabriela says.
She isn't feeling well either. When they arrive in Tultitlán, she lies down in the plaza.
Not everyone welcomes them.
Seeing the buses, a local worker says, "They make me nervous."
Groups of migrants often come to this area to clamber onto freight trains that stop nearby, he explains. He believes it is the cause of a rise in crime.
The boys are hungry after the 12-hour bus journey that included traffic jams and wrong turns. They buy potato chips at a stand, one bag per child. The boys lean up against Gabriela on the ground, until they hear a train whistle in the distance.
The migrants jump up and cheer. Gabriela says she is afraid of the train, but Omar quickly corrects her and uses his hands to open her mouth like a puppet as he says in the deepest voice he can muster, "We are not afraid of the train."
April 14: Tultitlán
At 7 a.m., the family is sitting in the already hot sun, trying to keep cool. They have been waiting for the train for four hours. It will take another four hours to hear the train whistle again.
This is not a scheduled service. There are no tickets. It is not even a passenger train. Migrants are waiting for La Bestia, "the Beast," a name given to any northbound freight train that can be boarded.
It is chaos as hundreds of people try to climb up the train, not knowing how much time they have before it starts off again.
Gabriela pushes the boys, and others help pull them up. But the pregnant Gabriela struggles.
Panicked, a woman scolds her. The backpack being carried by the man climbing ahead of her slams into her face. When she finds the strength to pull herself up, she finds her children sitting atop a mound of scrap metal and trash filling the train's car. Omar has a cut on his hand. And she is feeling dizzy.