Fayrouz Saad, a 34-year-old Muslim American, said her mom, a Lebanese immigrant, is "not a sign-waving sort of person."
But when President Donald Trump implemented the first iteration of his travel ban in January 2017 – which temporarily kept immigrants from seven predominantly Muslim nations from entering the US – Saad said her mom was adamant about trekking to the Detroit Metropolitan Airport, where one of many anti-ban protests erupted across the US.
As Saad stood alongside her mother, sister and thousands of her fellow Michigan residents, she said, she felt inspired. "It was just clear, despite the election, that Michigan was just not going to stand for discrimination," she told CNN.
Now, motivated in part by that experience, Saad is running as a Democrat to represent Michigan's 11th Congressional District, which the Democratic Congressional Campaign Committee has identified as a key target to flip in November.
She is one of more than 90 Muslim American candidates who are running for office across the country, most of them as Democrats.
As they campaign, the fate of many Muslims with hopes of coming to the US lies in the hands of the Supreme Court, which will hear oral arguments concerning the legality of the latest version of Trump's travel ban Wednesday.
"My parents came here in search of the American dream," said Saad, who worked at the Department of Homeland Security under the Obama administration. "I got into public service to protect that."
Some candidates – like Saad and Deedra Abboud, of Arizona – hope to make it to Capitol Hill to join Democratic Reps. Keith Ellison of Minnesota and André Carson of Indiana, the only two Muslim members of Congress. Others, like Fayaz Nawabi, whose family came to the US from Afghanistan as refugees, and Abdul El-Sayed, an Egyptian-American doctor, are vying for positions at the state and local level. (Nawabi is a candidate for the San Diego City Council and El-Sayed is seeking the Democratic nomination for governor of Michigan.)
Battling Islamophobia
In 2017, a political action group called Jetpac launched a campaign to encourage more Muslims to run for office, offering guidance on how they can get started. The organization offers interested candidates a "playbook," with a curriculum that helps teach list building, how to formulate a campaign message, social media outreach and fundraising.
"We have to elevate Muslim American voices," Jetpac Executive Director Shaun Kennedy told CNN. "American Muslims are fed up of not being included in conversation that is about them … and they are being made targets."
Kennedy said the program they offer candidates currently has a wait list of about 100 people.
The organization is among a handful of others – including the Arab American Institute – that offer assistance to aspiring Muslim American politicians.
Running for office is challenging for most who decide to enter politics. But for many Muslim Americans, Islamophobia has become an additional obstacle.
According to a Pew Research Center analysis released in November 2017, "the number of assaults against Muslims in the United States rose significantly between 2015 and 2016, easily surpassing the modern peak reached in 2001, the year of the September 11 terrorist attacks. Half of U.S. Muslim adults (50%) say that in recent years it has become more difficult to be a Muslim in the U.S."
Kennedy said trainees in Jetpac's program often ask how they should deal with racism publicly. "Frequently our advice to them is to be very candid with the media and say, 'Look, don't cover the guy saying hateful things and instead talk about the positive stuff I'm saying and doing instead,' " Kennedy said.
Even with guidance, some Muslim American candidates have said it's tough avoiding anti-Muslim sentiments while campaigning given the current political climate.
Abboud, who is running for Republican Sen. Jeff Flake's open seat in Arizona, has experienced online harassment since announcing her campaign last year.
For example, one person commented on her Facebook page in July 2017, "Your religion doesn't allow equal rights to women so why are you running for senate?? Your religion teaches woman are worth less than livestock and are treated like animals! You don't have any business holding office in the USA. You should go back to your own country of origin and run for office over there!!"
Flake came to Abboud's defense after the backlash toward her made national headlines. "Hang in there @deedra2018," Flake tweeted. "Sorry you have to put up with this. Lots of wonderful people across AZ. You'll find them."
El-Sayed has also faced his fair share of discrimination.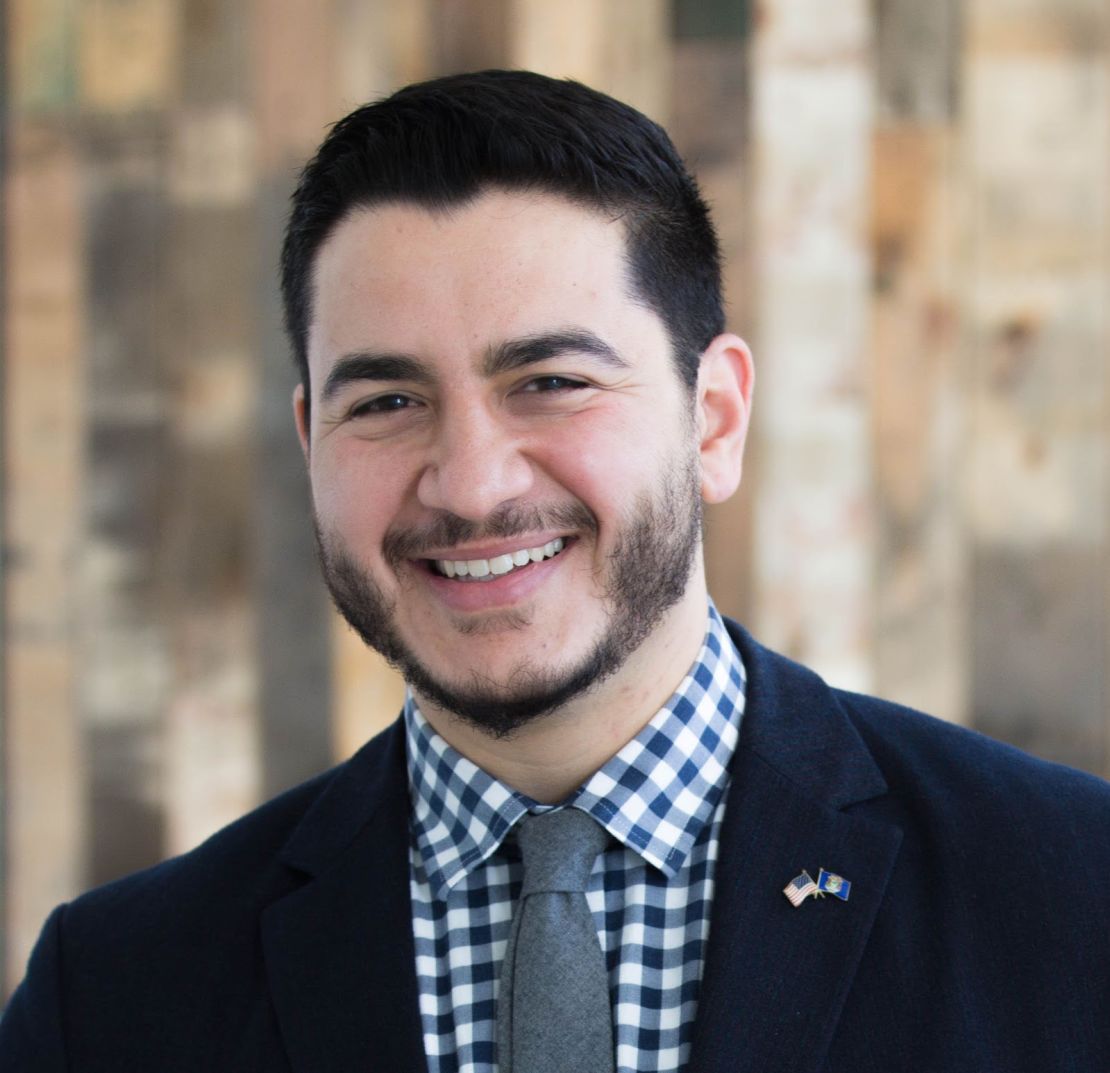 "I think right now there's just a moment where the challenges that come with being Muslim American have hit a fever pitch," El-Sayed told CNN. "We're in a moment where we either slink into the background and wait for permission to come out or we stand up and say we belong here every bit as much as everybody else, and we add to the social fabric of who we are as Americans."
If elected, El-Sayed would be the nation's first Muslim governor.
But, he emphasized, "As a Muslim American, my work is not just about advocating for Muslim Americans."
"I have a beard. My wife wears a hijab," he added. "I don't think that should matter at all."
Why now?
Ellison believes the rise in Muslims running for office stems from what he described as "the Americanization of the American Muslim community."
"The 1965 Voting Rights Act passed within my lifetime," Ellison told CNN in a recent interview. "I was 2 years old when it passed. Before that you didn't see African-Americans being sheriffs or mayors. So the Muslim community is made up of new Americans, many of whom don't come from a democratic tradition, and African-Americans, who come from a democratic country but were excluded from that democracy. That sort of explains why you have this new crop of Muslim candidates and elected officials."
Like other underrepresented groups, including women, many Muslim Americans were inspired to run for office after the 2016 election.
"There does seem to be an increase in Muslim Americans running for office," Evelyn Alsultany, director of the University of Michigan's Arab and Muslim American Studies Department, told CNN. "The Trump presidency has been a catalyst of sorts for Muslims – and other communities – to be more politically active."
Still, a handful of Muslim American candidates have emphasized in their campaigns that they are indeed proud Muslims but they are running because they are also proud Americans.
"They love this country, they believe in it, they believe in ideals that animate it," Ellison said.
CNN's Gregory Krieg and AJ Willingham contributed to this report