The day after Travis Reinking allegedly shot and killed four people at a Nashville-area Waffle House and ran off, sparking a massive manhunt, Lydia French felt uneasy as she and her husband drove to their construction site in Antioch, Tennessee.
The 40-acre site is right behind the apartment complex where Reinking had been living – and where he had last been seen.
"I had told my husband, I wasn't comfortable in the beginning and that I started feeling sick at my stomach," French told CNN Tuesday.
They knew about the manhunt, but when they arrived at the site Monday, it seemed like it was just going to be a normal day.
"We had planned to come in for a few hours and then we were going to go home," she said.
They did notice several police vehicles going up and down the access road that cuts across the construction site, a future housing development.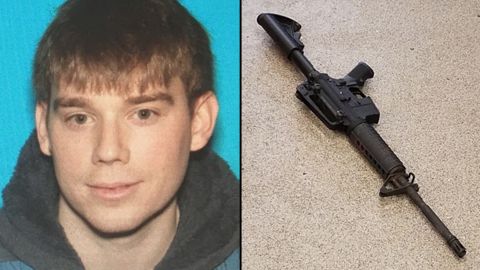 TBI/Metropolitan Nashville Police Department
Then they went to the other end of the job site to check on a subcontractor, to make sure he wasn't by himself and was safe.
"I was at my truck and I was going to get something out and my husband and two guys hollered at me, 'I think that's him.' We were quite a bit away, but we could just see what he was wearing," French said.
"The reason we thought it was odd, he was in the middle of the job site and it was nothing but mud. For as long as we've been out there, we've never had anybody walk through the job. And one of the other guys asked if he was one of ours and we said, 'we don't have any guys here,' and then we knew, so I got my phone and I called 911. I gave the description of the guy, wearing dark colored pants and maroon shirt with a black backpack on his back. They asked which direction he was going and we said he was headed towards the elementary school and we lost sight of him in the woods," French said.
At that point, French estimates that Reinking was about 100 yards away from them. Police told her they were on their way.
Five or six minutes passed, and suddenly Reinking came out of the woods, less than 50 yards away.
"When he came out of the tree line and when he saw us, he was shocked, a little disoriented and he turned around and went right back into the woods," said French, who called 911 again.
"It's him!" she told the dispatcher.
French said words can't even describe how she felt when she realized it was the alleged shooter.
"Nervous, but you can't really answer that question. There are so many emotions and 'what ifs' in your head."
When asked if it was possible that the alleged gunman spent the night at the construction site, French said yes.
"We have a lot of equipment and there is a piece of equipment broken down in the middle of the job. He could have been in there and nobody would have seen him unless you looked in."
As for her role in Reinking's capture, "we were just in the right spot at the right time," French said.