(CNN) —
When President Donald Trump and first lady Melania Trump arrived on the White House South Lawn Tuesday morning to formally welcome French President Emmanuel Macron and his wife, Brigitte, one thing was clear: The first lady commanded attention.
Without speaking a word, dressed in a white Michael Kors Collection asymmetrical blazer and skirt – and an eye-catching, custom-made Hervé Pierre hat – Melania Trump spoke volumes. This was her house, her dinner and her terms.
It has truly been a spotlight week for the first lady, kicking off with her attendance at Barbara Bush's funeral, the sole White House representation joining other first ladies and former presidents and culminating with her first state dinner. In many ways, the events showcased Melania Trump's contrasts with her husband – where he is impulsive, she is meticulous; where he is combative, she is compassionate.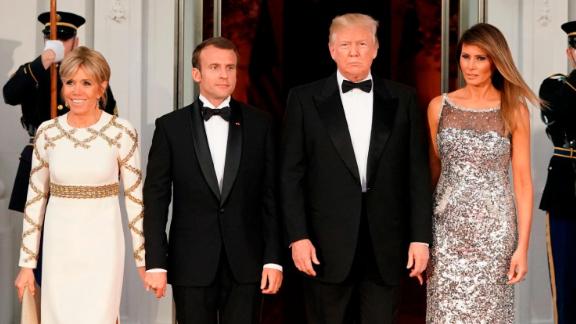 Andrew Harnik/AP
The first lady paid homage to France with a Chanel Haute Couture gown, hand-painted with silver and embroidered with crystals and sequins. Dresses for state level events are allowed to be gifted by the designer to be worn at the occasion and then are the property of the National Archives.
READ: The complete guest list for Trump's first state dinner
The President gave his wife a warm thank you for all her efforts on the dinner during his toast Tuesday night.
"To America's absolutely incredible first lady, thank you for making this an evening we will always cherish and remember. Thank you, Melania," he said to applause.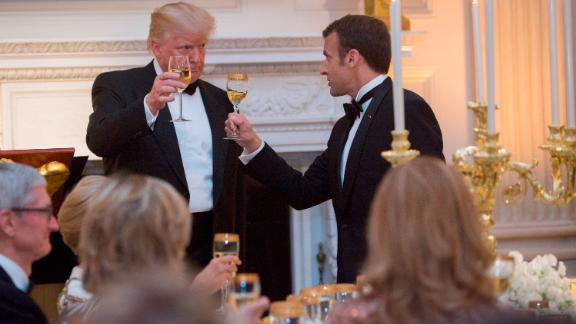 Pool/Getty Images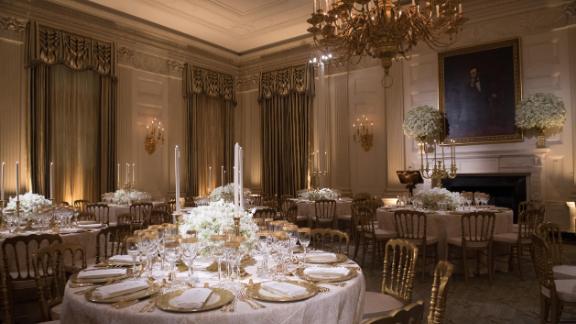 SAUL LOEB/AFP/Getty Images
Leading up to the state dinner, Trump spent weeks educating herself about the protocol and history of special White House occasions. The tradition of the state dinner dates back to the Grant administration in 1874, and this will be the 14th time the White House has hosted France for a state dinner, per the White House Historical Association.
Every last detail for Tuesday evening's state dinner has been thoughtfully and carefully overseen by the first lady, who, unlike some of her predecessors, did not hire an event planner or other outside consultants for the event.
"Mrs. Trump selected every item and every detail for the dinner," White House social secretary Rickie Niceta told CNN.
Relying solely on her own research and aesthetic instincts, Trump crafted a cream and gold color scheme, with details spanning the patterns on the chair cushions to the honey with dessert made by bees in the White House hive.
Each of her selections for the Macrons' visit was chosen with meaning behind it, down to the china (from the Clinton presidential era), flowers (white sweet peas and 1,200 branches of cherry blossoms), and menu (rack of lamb with accompanying Cajun-spiced jambalaya, with herbs from the White House Kitchen Garden).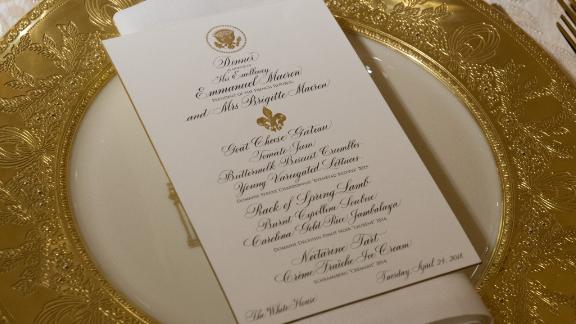 SAUL LOEB/AFP/Getty Images
Quelle surprise?
It shouldn't be a surprise that Trump wanted to take ownership of planning the dinner; her design background and experience in New York's social circles and entertaining at her multiple homes make her well-suited to set the stage for a diplomatic dinner party on a grand scale. Here, she clearly felt empowered by her personal expertise, something that has been relatively absent in most of her role to date as first lady.
Prior to her husband taking office, Trump was an unfamiliar political spouse, a very private woman who had spent several years being a full-time mother. But with the state dinner, she had the chance to set the tone for one new thing in her husband's somewhat tumultuous administration.