Travis Reinking, the suspect in the Nashville-area Waffle House shooting that left four people dead, was arrested Monday afternoon after a massive manhunt.
He was carrying a backpack that contained a firearm, ammunition and a flashlight.
Reinking, 29, owns at least four firearms, and he's had his guns taken away from him at least twice.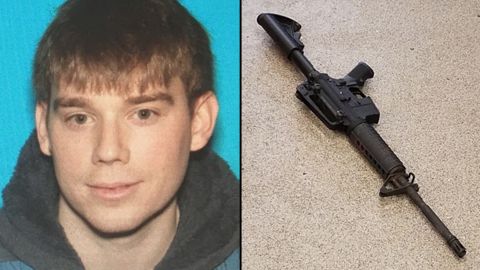 The swimming pool incident
The first time, Reinking's guns were apparently taken away by his own father. Reinking was living in an apartment above his father's business, a crane-rental company in Tremont, Illinois. An employee at the business called the Tazewell County Sheriff's Office in June 2017 to report that Reinking came down from his apartment wearing a pink dress and holding a rifle, an incident report states.
The employee told police that Reinking yelled, "Is this what you f—ing want?" before he threw his rifle in his vehicle's trunk and left.
Later that day, the Tremont Police Department responded to a call at a public pool, according to another incident report. The pool director told the responding officer that a man in his 20s barged into the pool wearing a pink women's housecoat, the report states. The man dove into the pool, took off the coat and swam around in his underwear. When he got out of the pool, he shouted at lifeguards that he was a man and exposed his genitals to them, the report states.
The rifle stayed in the vehicle and no one at the pool asked to press charges, the officer said in the report. "This is an informational report showing the state of mind of Travis Reinking," the report said.
Meanwhile, several members of the Tazewell County Sheriff's Office went to the crane-rental business to speak with Reinking. An officer also called Reinking's father, who was out of state. Jeffrey Reinking told the officer he had taken three rifles and a handgun away from his son before and locked them up "when Travis was having problems," the report states.
Later in the day, the officer said in his report, "I called back Jeff Reinking and advised him of what happened and when he gets back home he might want to lock the guns back up until Travis gets mental help, which he stated he would."
The White House incident
Reinking's guns were taken away again a few months later. He was arrested in early July 2017 in Washington, DC, after he breached a White House security barrier and told the US Secret Service he wanted to meet with President Trump.
After his arrest, the FBI and the Secret Service coordinated with local law enforcement to investigate Reinking and remove firearms from his possession, said Matthew Espenshade, Assistant Special Agent in Charge of FBI's Nashville office.
In August, the Tazewell County Sheriff's Office seized four firearms and ammunition from Reinking's apartment along with his state firearm owners identification, according to an incident report. Officers gave the firearms and ammo to Reinking's father, who said he would keep them away from his son, the report states.
"The officers did not believe they had any legal authority to withhold the weapons," said Tazewell County Sheriff Robert Huston on Sunday. "We need to be on solid legal ground in order to seize someone's property."
Investigators now believe that Jeffrey Reinking returned the guns to his son. Jeffrey Reinking has not responded to a request for comment. Marcus Watson, ATF special agent, said during a news conference Monday that giving weapons knowingly to a person that is prohibited from having them "could potentially be a violation of federal law," meaning Jeffrey Reinking could face charges.
Of those four weapons, one was the Bushmaster AR-15-style rifle recovered from the shooting scene at the Waffle House.
Another firearm was recovered Sunday from Travis Reinking's one-bedroom apartment. Before his arrest Monday, authorities had said they were concerned that the two other guns could still be in Reinking's possession.
CNN's Sheena Jones contributed to this story.