"Get down!" commands the Toronto police officer, his gun raised, his voice firm.
"Kill me!" the man yells in return. His arm is fully extended toward the officer in an aggressive stance.
The officer had a life-or-death decision to make.
Moments earlier, a man allegedly drove a van into multiple pedestrians in a suburb of the Canadian metropolis. Ten people died.
But in this moment, the stakes were clear.
"No! Get down! Get down!" the officer continues.
"I have a gun in my pocket!"
"I don't care, get down!"
"Get down! Get down or get shot!" the officer yelled.
"Shoot me in the head!"
He refused.
The video of that confrontation between a Toronto police officer and the man was captured on a bystander's cellphone video that was obtained by CNN partner CTV.
Remarkably, the moment ended peacefully. After the minute-long standoff, the officer finally persuaded the man to lie down on the ground and put his arms behind his back.
The officer's remarkable restraint in the back-and-forth left some American law enforcement analysts shocked.
The officer exercised patience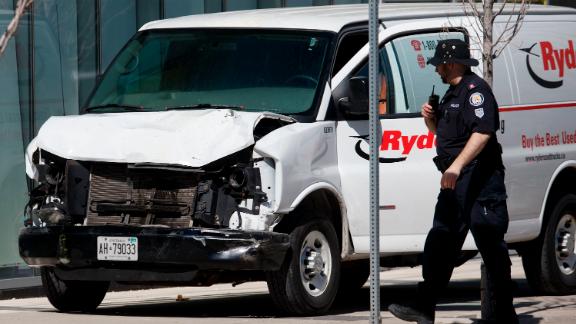 Cole Burston/Getty Images
"I've got to tell you that was dramatic, sitting there watching that video," said CNN law enforcement analyst and former FBI agent Josh Campbell.
"I can tell you that law enforcement officer was probably a lot more patient than some would have been in the situation where you have someone who is pointing a gun at law enforcement."
Matthew Hogg, retired chief deputy of the US Marshals Service, was similarly amazed.
"I was just shocked the officer didn't fire back at that point in time," he said. "You certainly – our rules of engagement say, we could have engaged him with gunfire a long time before that."
It's part of the training
For Toronto Police Chief Mark Saunders, the officer's resolution skills were all part of the plan.
"I can tell you it's directly related to the high-caliber training that takes place. The officers here are taught to use as little force as possible in any given situation," Saunders said.
Police said earlier Monday that Alek Minassian, 25, was arrested in a white rental van in connection with the incident. Police have not explicitly said whether the person in the cellphone video was Minassian.