Eric Garcetti isn't exactly a natural fit in Iowa.
The mayor of Los Angeles, a diverse and liberal city, recently traveled to the overwhelmingly white and politically much more conservative state, where political activists are already gearing up for the first-in-the-nation caucuses that will unfold less than two years from now.
He introduced himself to Democratic activists at Cooney's Tavern as the grandson of a Mexican immigrant who became a citizen "because this country said there was a place in it for him." He joked about his heritage as "just your average Mexican-American-Jewish-Italian," reviving a line from his speech at the 2016 Democratic National Convention.
Garcetti's complex identity is what sets him apart in what will likely become the largest and most diverse field of Democratic presidential candidates in generations.
He's a Jewish-Mexican-American with blue-collar roots who tries to connect by describing his childhood neighborhood as "middle America in LA." He's also a Rhodes Scholar with undergraduate and master's degrees from Columbia University who studied at the London School of Economics and went on to become mayor of a city that is home to the wealthy, famous and liberal elite. His father was the Los Angeles district attorney who unsuccessfully prosecuted OJ Simpson.
On his first tour of Iowa as a potential 2020 contender, Garcetti attempted to link his background to the experience of Iowans, who will drive the early race for Democratic presidential nomination. He insists that Angelenos share the same aspirations and concerns as Iowans — noting that he is grappling with crumbling infrastructure, traffic, and a severe homelessness crisis in his own city as mayor.
He is unquestionably a long shot. No mayor has ever gone straight from City Hall to the White House. And the 47-year-old mayor is not yet igniting rooms with his unique personal story the way the young Barack Obama did.
But in interviews with dozens of voters while traveling with Garcetti across the early presidential contest states of New Hampshire, South Carolina and Iowa, his potential to become a major contender was apparent. Voters often said they liked how Garcetti used the story of his grandfather, the Mexican immigrant to the US who fought in World War II and opened his own barbershop, as a touchstone to explain his family's values and their American story.
"Now I'm here today, the grandson of that man, as mayor of the largest city in the largest state in this country," Garcetti told the crowd Cooney's Tavern. "The next grandpa Sal — whether they're coming from Mexico, or they are coming from the Midwest — deserves to make sure that their future is as bright as his was, and ours can be once again."
From the Valley to the White House
The context is clear: Garcetti doesn't think America has lived up to that promise with Donald Trump in the White House. Though Trump won over middle-class voters who liked his authenticity, the Los Angeles mayor argues that the President's assurances that he would help those voters have proved hollow.
"We've got somebody who is playing with our lives in the White House — who doesn't care what the price of soybeans are; who doesn't care if that steel is more expensive for our carpenters," Garcetti said, alluding to Trump's tariffs and impact that China's retaliatory measures could have on Iowa. "He's disconnected and he's divisive. We, on the other hand, are people who care."
It's a message that Garcetti is using for the 2018 midterm elections, and it's perhaps the outline of a broader message for a 2020 presidential run.
He tried it out in South Carolina in February, where longtime Democratic organizer Bernice G. Scott — a stalwart of Democratic politics in the Palmetto State — helped wrangle voters to a barbecue buffet dinner to hear him speak. Scott wasn't sure what to expect. After his talk at a community center outside of Columbia, she invited him to lunch at her house on his next visit to lower Richland County.
"It's not where you come from," she says when asked whether Garcetti's Los Angeles background would be a hurdle for him. "It's how you can use your background and your experience to help other people who don't have that."
"There's an understanding that where he came from, there are the same roots and values that we have; the value of helping someone — don't care if you're rich, poor, black, white, Hispanic," Scott said.
She paused for a minute: "I felt like I knew him a long time, and this is the first time I met him."
From the Valley to the White House
The joke about Garcetti's background at City Hall is that the mayor is "1/8 everything." He grew up eating menudo, a traditional Mexican soup, on weekends in his grandmother's kitchen. On the Jewish side, it was bagels on Saturday and hanging out with his cousins. He said: "That just seemed normal."
While Salvador Garcetti was trained as a union barber, Garcetti's grandmother worked as a meatpacker. His maternal grandparents fled persecution as Jews in Eastern Europe. His grandfather on his mother's side became a tailor, who ended up cutting suits for Jack Valenti and later President Lyndon B. Johnson.
Garcetti's father, Gil Garcetti, did not run for county district attorney until Garcetti was in college. The elder Garcetti noted that the family moved from their 3-bedroom house in a middle-class section of Encino to the tony neighborhood of Brentwood when Garcetti was in high school. (Gil Garcetti ultimately switched careers to become a photographer).
"I think everyone has the impression that LA is Hollywood and fast lives," the Los Angeles mayor said in an interview in March while giving CNN a driving tour of his childhood hang outs. "That couldn't be further from the truth. … Nobody knew who we were."
Garcetti is highlighting that notion, as well his grandparents' blue-collar story, in part to untangle himself from the image of Los Angeles as the glittering mecca of wealth and celebrity life. He draws laughter with what has become his signature line: LA is just like the rest of America, with a few more Kardashians in the mix.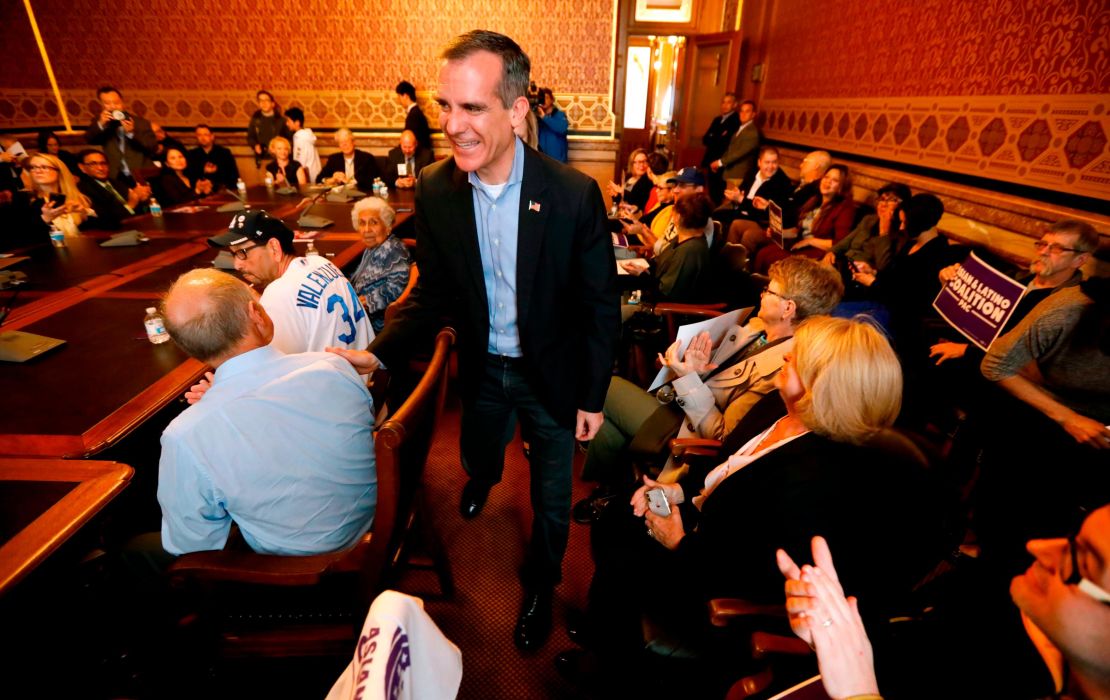 Garcetti acknowledges the opportunities that he had as a child, including attending what is now known as Harvard-Westlake, one of the best private high schools in Los Angeles. But he argues that his values are rooted in his early experiences as a kid from a middle-class neighborhood in the San Fernando Valley who loved baseball and playing Galaga at the arcade.
Over a chili cheeseburger at Tommy's Burgers, one of his boyhood haunts, Garcetti described his family's neighborhood nearby as "middle America in LA" – a place once dotted with orange groves and factories, where you could get a "decent home for a reasonable price."
"It was literally where 'The Brady Bunch' was filmed. So it kind of felt like everywhere and nowhere. It was anonymous America," he said. "It just kind of shaped who I was – that you could walk to your Little League. It was small-town America in what wound up, as I grew up realizing, was a really big city."
Music was also an integral part of Eric Garcetti's childhood, with three pianos in the family's home. Gil Garcetti encouraged his son to pursue a career as a jazz pianist after Oxford. Garcetti didn't, but he still composes music on the Knight upright piano in his City Hall office.
"It takes him to a different place. It clears his mind," Gil Garcetti said during an interview with CNN on a recent afternoon outside LA's Museum of Natural History, where he was photographing the antiquities in the King Tut exhibition for a new book.
A zen approach to Trump
Democrats are still wrestling with the lessons of their loss in 2016, and many are concerned about not repeating the same mistakes when they choose their nominee.
Garcetti vs. Trump would be a striking contrast. The progressive LA mayor quotes Dostoyevsky and Eleanor Roosevelt on the campaign trail and transitions smoothly from English to Spanish in his speeches.
Over his career in LA city politics, he has developed a loyal following among California Democrats as a deep thinker, a feminist, an environmentalist and a fierce advocate for LGBT rights, who pushed to raise the minimum wage in Los Angeles to $15 an hour and make community college free.
He enlisted in the US Naval Reserve in 2005 while serving on the Los Angeles City Council and served as an intelligence officer for 12 years.
At Columbia, his longtime friend Ben Jealous, the former head of the National Association for the Advancement of Colored People (who is running for governor of Maryland), recalled in an interview how Garcetti helped start a group called Black Men for Anita Hill with one of their professors.
The two friends organized a local boycott in the neighborhood surrounding Columbia to force local store owners to accept cans from homeless people. They also started a group aimed toward creating a safe space for gay and bi-sexual men to have discussions – "this was 25 years ago," Jealous noted.
"Eric's secret power is humility," Jealous said in a recent telephone interview. "You expect him to be arrogant."
During his student years, Garcetti did humanitarian work in Ethiopia and organized dissidents in Burma. He later taught human rights and political science at Occidental College and has visited more than 80 countries across the world. He and his wife, Amy Elaine Wakeland, a fellow Rhodes Scholar and activist, who he met on the plane to Oxford, are competing over who can visit all of them first.
When Garcetti was campaigning to bring the Olympics to LA in 2028, he won over International Olympic Committee members by greeting them in their native languages, including a few lines of Amharic to the member from Ethiopia.
As mayor, Garcetti has used his family history to connect with the city's huge population of undocumented immigrants. He has actively opposed the Trump administration's expedited deportations, pointing out the public policy consequences of the families that have been broken up in LA. He directed his Office of Immigrant Affairs to help connect undocumented immigrants with non-profit groups that offer legal aid.
While other 2020 contenders are quick to show their rage at the President, Garcetti has taken a more zen approach, urging his fellow Democrats not to waste time responding to each provocative tweet.
In places like South Carolina, he urges his listeners not to take Trump's bait.
"In this moment, when the President is defining himself by how he can divide us and scare us, we have to stop yelling at the television and stop screaming at the Facebook feed and get to work and win some elections," he told the crowd who listened to him speak over a plated dinner of barbecue and greens in lower Richland County.
He rejects the n