Investigators don't yet know what caused the engine failure that forced Southwest Airlines Flight 1380 to an emergency landing in Philadelphia on Tuesday, but it has similarities to an incident with the same airline in 2016.
Both involved an engine fan blade that had detached. And in both cases, the National Transportation Safety Board says, there appear to be signs of metal fatigue at the detachment point.
"In aviation, there should be inspection techniques and procedures in place to detect something like (metal fatigue)," NTSB Chairman Robert Sumwalt said Wednesday.
"What we want to find out is why was this not detected ahead of time."
Tuesday's deadly incident
On Tuesday morning, Southwest Flight 1380 departed New York for Dallas with 149 people aboard. But about 20 minutes in, what sounded like explosions boomed from the plane's left side, starting a sequence that ended with one woman dead, seven people injured and an emergency landing at Philadelphia International Airport.
NTSB
Something in the engine broke apart midair and burst through the Boeing 737-700's window, passengers said. The shattered window partially sucked a woman out of the plane as passengers struggled to pull her back in.
Although a man eventually pulled her back in and someone tried to revive her, the woman died of her injuries.
A preliminary look at the damaged CFM International 56-7B turbofan engine revealed one of 24 fan blades was missing, Sumwalt told reporters Tuesday.
The engine's cowling was found about 70 miles from where the plane landed, Sumwalt said.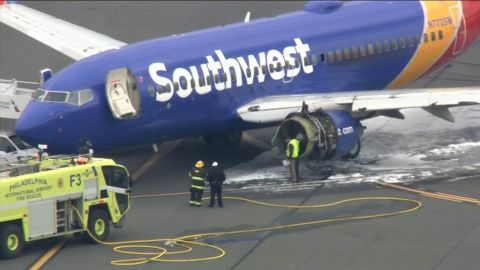 KYW
Sumwalt said there was evidence of metal fatigue where the blade attached to a hub.
Similar conditions were reported in 2016, when an engine failed on a different Southwest flight.
The 2016 incident
In August 2016, Southwest Airlines Flight 3472, a Boeing 737-700 flying from New Orleans to Orlando, was forced to make an emergency landing in Pensacola, Florida, when an engine failed.