A New York nanny accused of murdering two children she was trusted to care for has learned her fate in a Manhattan courtroom.
Yoselyn Ortega was found guilty on two counts of first-degree murder and two counts of second-degree murder for stabbing Lucia Krim, 6, and Leo Krim, 2, to death in their Upper West Side home in Manhattan in October 2012.
Ortega showed little emotion when the counts were read. She kept her head up and looked straight ahead as a legion of court officers stood behind her and kept watch.
Before the verdict was read, Kevin Krim, Lucia and Leo's father, entered the courtroom and sat in the front row next to two of the six alternate jurors who attended court every day. Chloe Beck and Brittany Yee hugged Krim as he sat down and the three began to cry.
Krim started to calm down and a smile came over his face as he showed Beck and Yee photos of his family and how much they've grown since the tragedy.
Krim and his wife had two more boys after the deaths of Lucia and Leo. "Just letting us see them in happier times and explaining who the boys were now, he's just a phenomenal man," Beck said.
Krim sent a series of text messages as he waited for the verdict. The children's mother, Marina Krim, was not present.
As the jury foreman replied "guilty" as each of the four counts Ortega faced was read, Krim put his head down, grabbed the hand of Beck and began weeping silently.
As the jury was excused from the courtroom, Krim nodded his head up and down toward the jurors.
Once the jury left the courtroom, lead prosecutor Stuart Silberg shared a hug with Krim.
District Attorney Cyrus Vance was one of the many people inside the packed courtroom to hear the verdict.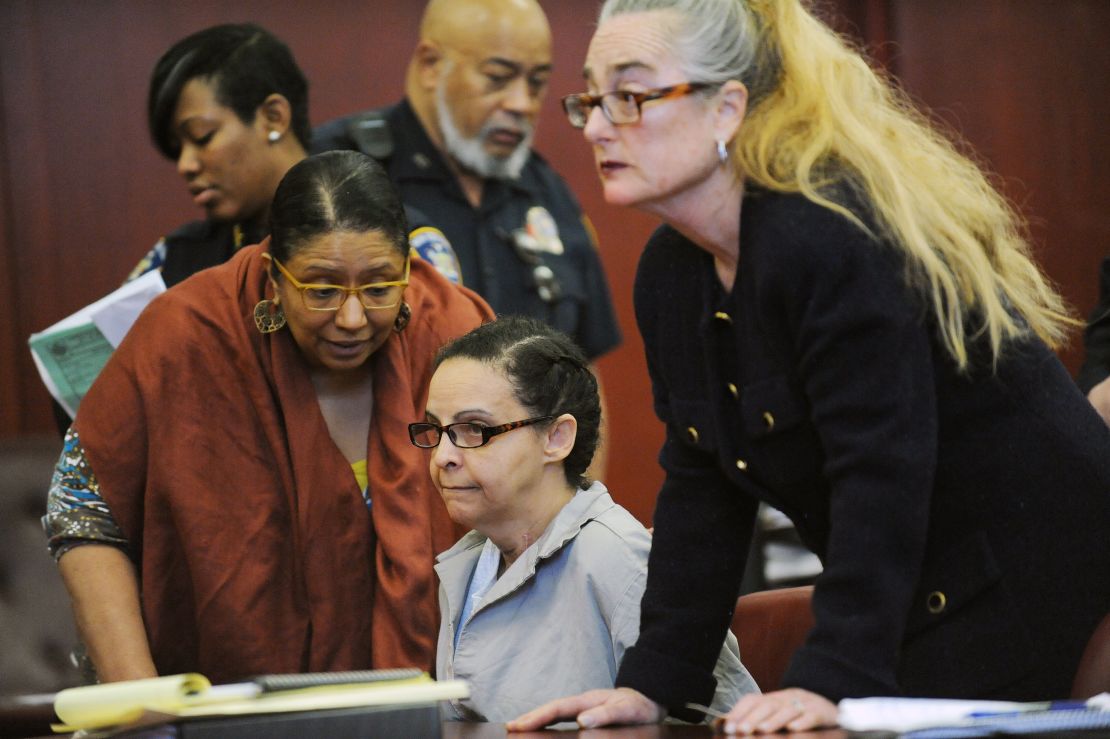 The Krim family issued a statement on Thursday announcing their support for legislation that would make it a crime if someone submits an application related to child care that includes falsified credentials and references.
"We were deceived and betrayed by the defendant's family, who remain wholly unaccountable for their role in the murders of our children," the statement said.
"Every child deserves a caregiver who is honest and responsible. And no one should think they can lie when it comes to the care and safety of our children," the statement added.
"Since October of 2012, Marina and Kevin Krim have lived through the worst nightmare any parent could endure," Vance said during a news conference after the verdict was read. "And today a jury rightly and finally held Yoselyn Ortega accountable for the horrific slayings of Leo and Lulu Krim."
David Curtis, one of the jurors, became emotional during his remarks. "This was a very difficult decision for all of us. While the basic facts were very clear from the beginning, we also wanted to be sure that we were giving everybody a fair opportunity," said Curtis, a father of two. "It was not a decision we reached lightly or easily. There were some raised voices and a lot of tears. But I think we all feel good that we addressed all of the issues and fairly weighed everything that was presented to us."
The loud voices could be heard from the neighboring courtroom from time to time as the jury deliberated on Wednesday.
"There were some raised voices and some frustration but I think we all were able to, every one of us, able to step back and take a breath and recognize that we were all in this together." Curtis said adding "We were divided until the moment we made the decision. But again, I think we really worked hard on not being adversaries with each other but in truly trying to understand what everyone in the room was saying."
The trial, which started on March 1, lasted nearly seven weeks.
Ortega faces life in prison at her sentencing hearing, which is scheduled for May 14.
Mother discovers a nightmarish scene
The case began in 2012, when Marina Krim left Lucia and Leo in Ortega's care while she took her third child, then 3-year-old Nessie, to a swimming lesson at a nearby YMCA, police said.
Krim had made plans to meet Ortega, who her children affectionately called Josie, at a dance class for Lucia at 5:30 p.m. When Ortega didn't arrive on time Krim grew concerned and returned to her home to check on the children.
When she arrived she discovered the lights were off in the home, which puzzled her. She returned to the lobby and asked the doorman if he had seen her children leave. He hadn't.
"There comes a time when she goes looking for her children and enters the bathroom and finds her 6-year-old daughter and son stabbed to death in the tub," former NYPD Police Commissioner Ray Kelly said.