Editor's Note: Issac Bailey is an interim member of The Charlotte Observer editorial board and the 2016 James K. Batten Professor of Public Policy at Davidson College. He was a 2014 Harvard University Nieman fellow and is the author of the forthcoming book "My Brother Moochie: Regaining Dignity in the Midst of Crime, Poverty, and Racism in the American South" (Other Press). Follow him on Twitter: @ijbailey. The views expressed are his own.
(CNN) —
Robert Kraft, one of the most powerful owners in the National Football League, took the unusual step of visiting a rapper named Meek Mill in a state prison in Pennsylvania. The symbolism of the extremely wealthy white owner of the New England Patriots taking time to check on a young black man serving time for no good reason, because of minor parole violations, can be intoxicating.
Kraft said the right things while discussing Mill's predicament, but it's odd to see him come to the defense of a rapper he can do little for while refusing to use his status to speak on behalf of someone he can help: Colin Kaepernick.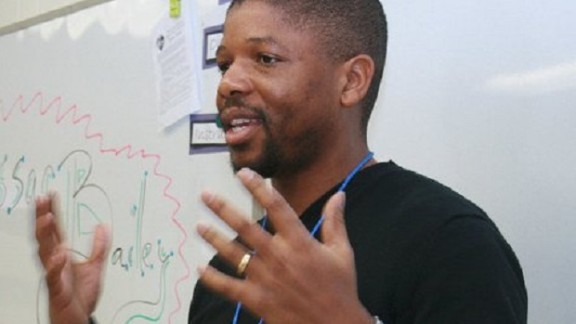 "It makes it clear to me we have to do something with criminal justice reform," Kraft said outside the prison.
He called Mill, whose real name is Robert Rihmeek Williams, "an amazing young man" who is "very intelligent."
"It's just sad," he said. "This guy is a great guy. Shouldn't be here."
He's right, Mill shouldn't be in prison for what amounts to technical violations of a parole that stretched more than a decade, an uncommonly long time. He got into a fight and was caught popping wheelies on his motorcycle and sentenced to two to four years in prison by a judge who has been accused of being "enamored" with the rapper.
But no one should be fooled. As long as Kraft and other NFL owners continue blackballing players like Kaepernick – who missed all of last season and has yet to be signed by a team despite being more talented and accomplished than many quarterbacks who are collecting NFL checks – Kraft's trek to that Pennsylvania prison won't mean much. That message was underscored by the Seattle Seahawks' decision to sign a quarterback with no experience instead of keeping a scheduled meeting with Kaepernick after he reportedly didn't declare he would no longer protest.
The former 49ers quarterback, who led the team to the Super Bowl and came within a play of winning the title, has not been in trouble with the law. He was a strong player with a strong arm who did not get in trouble on or off the field.
Instead, he used his platform to raise awareness about injustice, first by quietly sitting through the singing of the National Anthem, then taking a knee after consulting with a military veteran who told him that pose showed reverence for the flag and country.
Kaepernick is a "very intelligent," "amazing young man" like Mill.
He has made the country aware of the need for criminal justice reform in a way no one else managed to do, something Kraft said he wants. Kaepernick is among the nation's most influential voices on the subject, but his treatment by the NFL is one of the league's great recent shames. After President Donald Trump called protesting NFL players a vulgar name, Kraft, who was recently deposed in Kaepernick's grievance case, said he supported the players' "right to peacefully affect social change and raise awareness in a manner that they feel is most impactful" – words that ring hollower by the day.
"I know some of our players in the NFL have talked about this, and I see it firsthand; it's just wrong and we have to find a way to correct it," Kraft said about the justice system after visiting Mill.
If he was serious, he'd do more than talk and highlight a single injustice. Kraft would use his position to make it clear that no one who decides to peacefully protest to bring about the reform Kraft says he desires will be punished harshly under his watch. Given that he owns a team led by a 40-year-old quarterback and traded away the seeming heir apparent, Kraft should sign Kaepernick, which would help his football team. And it would help push for equality in the criminal justice system that Kraft seems to agree is urgently needed.
Get our free weekly newsletter
Without meaningful action, Kraft appears to be just a powerful white man who makes public gestures to befriend some members of an oppressed group while doing nothing to help them. It's not enough for a man like Kraft to visit a popular rapper in prison and say a few pretty words about the need for equality and reform. He can do more, much more. And he must.