The United Nations and Bangladesh have questioned Myanmar's claim of repatriating the first Rohingya refugees as concerns mount for the safety of returnees.
More than 670,000 Rohingya Muslim refugees have fled Buddhist-majority Myanmar into neighboring Bangladesh since August 2017, bringing with them stories of murder, rape and the destruction of villages at the hands of the military.
Under an agreement signed by Yangon and Dhaka, Rohingya refugees should have started to return to Myanmar in January. But the UN and rights groups say the move is dangerously premature.
In a statement on Saturday, Myanmar said it had repatriated the first Rohingya family from refugees who have fled to Bangladesh. However, the UNHCR, the UN's refugee agency, said in a statement on Sunday that it had no direct knowledge of the case and was not consulted or involved in this reported return.
Bangladesh's Refugee Relief and Repatriation Commissioner, Abul Kalam, also disputed the claim.
"The family who went to Myanmar is part of around 6,000 Rohingya living in the no-man's land camp, on the Myanmar side of the zero line," he told CNN.
"Since the family never entered the Bangladesh territory, this is not a repatriation. By definition, this is not an official repatriation," he added.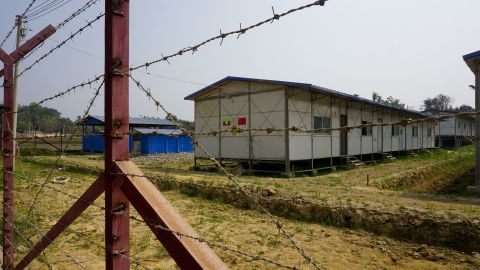 JOE FREEMAN/AFP/AFP/Getty Images
Zaw Htay, a spokesman for Myanmar's government, said its claim "is not propaganda" and that the family decided to come back of their own volition. "We are taking care of them," he added.
When Facebook becomes 'the beast': Myanmar activists say social media aids genocide
Ethnic cleansing
The UN and the US say they believe the violence against the Rohingya constitutes ethnic cleansing. Myanmar denies most of the charges, saying its military has only targeted suspected terrorists that killed 12 security officials in late August.
However, in January the military admitted involvement in the killing of 10 Rohingya buried in a mass grave. Seven soldiers were sentenced to 10-year prison terms with hard labor last week over the killings.
The Rohingya have long faced persecution in Buddhist-majority Myanmar, which describes them as illegal immigrants from Bangladesh – effectively denying them citizenship – despite the fact that many families can trace their roots back hundreds of years.
Last week, UNHCR released a statement saying "conditions in Myanmar are not yet conducive for returns to be safe, dignified, and sustainable".
Rohingya continue to flee Myanmar. Last week, according to Matthew Smith, co-founder of Fortify Rights, some 70 of them left on a boat heading for Malaysia.
"Rohingya refugees on the move: Boat with 70 on board is likely arrive in Thai or Malaysian waters in a matter of days, assuming they don't capsize or face other problems at sea," Smith tweeted.
Between 2012 and 2015, more than 112,000 Rohingya fled, largely by boat, to Malaysia. In May 2015, the world watched in horror as human traffickers stranded thousands of mainly Rohingya in the Bay of Bengal on rickety boats with scant supplies of food and water.