North Haven, Connecticut
CNN
—
When Andy Fierlit's wife suffered a brain aneurysm 27 years ago, doctors urged him to admit her to a nursing home. But Fierlit wanted to make their life ordinary again – or even extraordinary – so he embarked on a mission to show her the world.
Since then, Andy and Donna Fierlit have visited all seven continents – more than 20 countries, so far – with Andy doing the pushing while Donna, who is partially paralyzed, rides in a wheelchair.
"I made a promise to her that we would go on to work out as best a life as possible," Andy tells CNN.
Today, Donna struggles with short-term memory loss. She relies on her husband to complete daily tasks and remains in her wheelchair. Still, the couple rolls on, committed to each other and to their vow to stay together "in sickness and in health."
Humble beginnings
The high school sweethearts met 58 years ago at a church dance. Andy asked Donna for a stick of gum. "Get lost," she said.
"I told her I wanted to marry her, and she said, 'No, you're not,'" Andy recalls.
He persevered, treating her "like a princess," and after only a couple dates, she came around.
Five years later, they got married.
Early on, Andy's employer went bankrupt, and to provide for his wife and their four children, Andy took odd jobs, such as peddling fruit. Now, as then, the Fierlits rely on one another and their shared sense of humor to thrive in the face of hard times.
Donna even named her purple wheelchair after the Tina Turner song, "Proud Mary," because it keeps on rolling. But rolling around the world hasn't always been so simple.
"The challenges are there," Andy admits. "But if you think ahead and preplan, you can overcome them."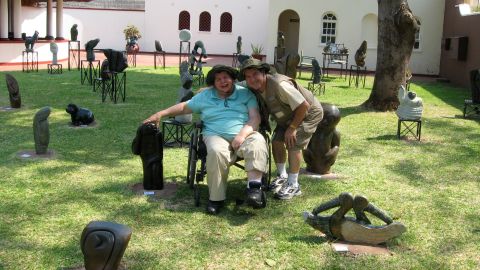 On the road with 'Proud Mary'
Handicap accessibility varies around the world, and the Fierlits have encountered a host of obstacles during their travels.
Trains in Europe couldn't always accommodate Donna's wheelchair, so she once rode in the cargo area. In rural Australia, the airport did not have ramps, and Donna had to disembark the plane on a forklift. Their hotel room in Ireland was handicap-accessible, but the entry door was too small for Donna's wheelchair.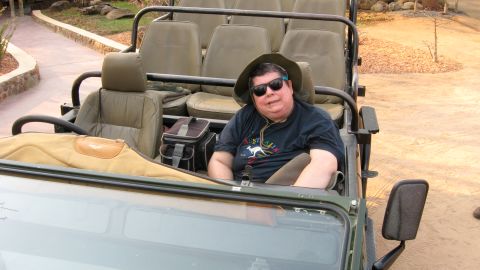 Rolling on, together
"You know, it takes a lot of things to make love," Andy said. "It takes patience, it takes understanding, it takes kindness."
As for the future, the Fierlits have paid for their trips through private savings, though their stash is dwindling. They remain hopeful that with a bit of generosity, they will one day reach Scandinavia.
"One step at a time," Andy says. "That was the goal: to live on, enjoy life."