Story highlights
These five products help alleviate or prevent allergy flare-ups
Top picks include a hypoallergenic comforter and a neti pot
CNN —
April showers bring May flowers. And May flowers bring pollen, and lots of it. This is bad news for those who suffer from allergies. That abundance of pollen in the air can wreak havoc on your sinuses, throat, nose and more.
And that's just the tip of the iceberg. Everything from the clothes you wear to the bedding you sleep on could be the cause of your allergy attacks. If you're one of those people who get hit the hardest by allergies, know that there are a number of products you can buy now to help alleviate or prevent flare-ups.
From hypoallergenic bedding to powerful air purifiers, the five essentials we've listed below are valuable additions to your allergy-fighting arsenal. They're designed to make your home cleaner, and filled with less dust or allergens that could be contributing to your discomfort. And since allergens come and go throughout the year, you'll be able to get the most of out these items all year long.
Ahead, shop these allergy-relief products that will help make this season less about sneezing and more about enjoying the warm weather and longer daylight.
Down Alternative Comforter ($199; brooklinen.com)
After spending a day outside battling pollen, the last thing you want is a bed that could be irritating your body. Hypoallergenic bedding, while not the be-all and end-all to your allergy woes, is made to reduce the likelihood that your bed is triggering allergies.
When it comes to hypoallergenic comforters, we're fans of Brooklinen's Down Alternative Comforter. When our team tested out the product for ourselves, we were impressed with how fluffy and lightweight it was. Better yet is that the comforter is made with hypoallergenic fibers that can minimize the the chance you'll be exposed to potentially irritating materials. The lifetime warranty that offers free exchanges and replacements to the comforter doesn't hurt either.
Mack Duvet Cover Set ($27.99; wayfair.com)
The second line of defense to hypoallergenic mattresses, pillows and comforters is the bedding sets themselves. Much like the Brooklinen comforter, this will help minimize your chances of allergic reactions while you sleep. A top-rated pick that fits the bill from Wayfair is the Mack Duvet Cover Set, which has received a solid 4.5 stars from over 500 customers. It features a minimalist pinstripe design that can easily work with most spaces and for most seasons. But the real cherry on top is that it's currently 71% off its original price tag of $99.99.
Fellowes AeraMax 100 Air Purifier ($84.15; amazon.com)
Even though you may be in the comfort of your own home and not in the outdoors, that doesn't mean you're necessarily safe from all the allergens in the air. An effective way to ensure that you are is investing in an air purifier. These devices monitor the air quality around your home to help filter out potentially harmful particles floating around. Fellowes AeraMax 100 Air Purifier does it by using a four-stage filtration process that safely removes 99.7% of airborne particles such as pollen, ragweed, dust mites and smoke. Because of its powerful HEPA filter and smart sensors, this device has been certified as asthma and allergy friendly by the Asthma and Allergy Foundation of America.
While the device's recommended space is for smaller rooms (about 200 square feet), its price is affordable enough that you could potentially stock up on a purifier or two to spread out around your home.
SharkNinja Shark Rotator Professional Lift-Away Upright Vacuum ($199.99; amazon.com)
Maybe you have pets that are shedding during the warmer seasons, or maybe your home gets dust bunnies in those tough-to-reach corners. Whatever the reason for needing a powerful vacuum cleaner, now is the time to invest. One option that was designed with allergens in mind is SharkNinja's Shark Rotator Professional Lift-Away Vacuum. This appliance features swivel steering that can help you maneuver into your home's nooks and crannies. And like the Fellowes AeraMax, the vacuum features HEPA filtration (along with an Anti-Allergen Complete Seal technology) that traps up to 99.9% of the dust and allergens around your home into the vacuum, so you don't have to worry about them escaping back into the air. It comes with an extra-long power cord, a pet power brush and a powerful nozzle.
Walgreens Neti Pot Soft Tip ($9.99; walgreens.com)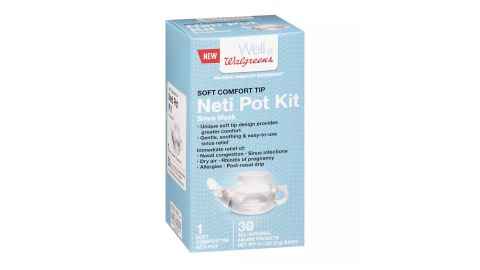 Many of these products are great for preventing allergy attacks. But what if you already have one? That's where a neti pot comes in. These little teapots, usually filled with a saline or salt water solution, help flush out nasal passages so you can breathe easy. The FDA says that, if used correctly, they are safe and effective products to use. The biggest things to note from the FDA are that you should rinse with distilled or sterilized water (not tap), and follow the directions carefully. One ultra-affordable option out there is the Walgreens Neti Pot, which features a supersoft tip to protect your nose. Not too bad for 10 bucks.
Note: The prices above reflect the retailer's listed price at the time of publication.