Norristown, Pennsylvania
CNN
—
Bill Cosby's defense attorney in opening statements Tuesday described Andrea Constand as a "so-called victim" who was really a con artist after his client's money.
"You're going to be saying to yourself, 'What does she want from Bill Cosby?' and you already know. Money, money and lots more money," Cosby attorney Tom Mesereau said. "She was madly in love with his fame and money."
"She has a history of financial problems until she hits the jackpot with Bill Cosby," Mesereau added.
Cosby's defense arguments were part of an aggressive attack on Constand's credibility and came a day after prosecutors said the former Temple University employee was drugged and assaulted by Cosby at his home in January 2004.
The remarks came the day the prosecution began to call witnesses, including one woman who testified that Cosby sexually assaulted her 34 years ago.
Cosby, the 80-year-old TV icon, has pleaded not guilty to three charges of aggravated indecent assault.
'This was about money'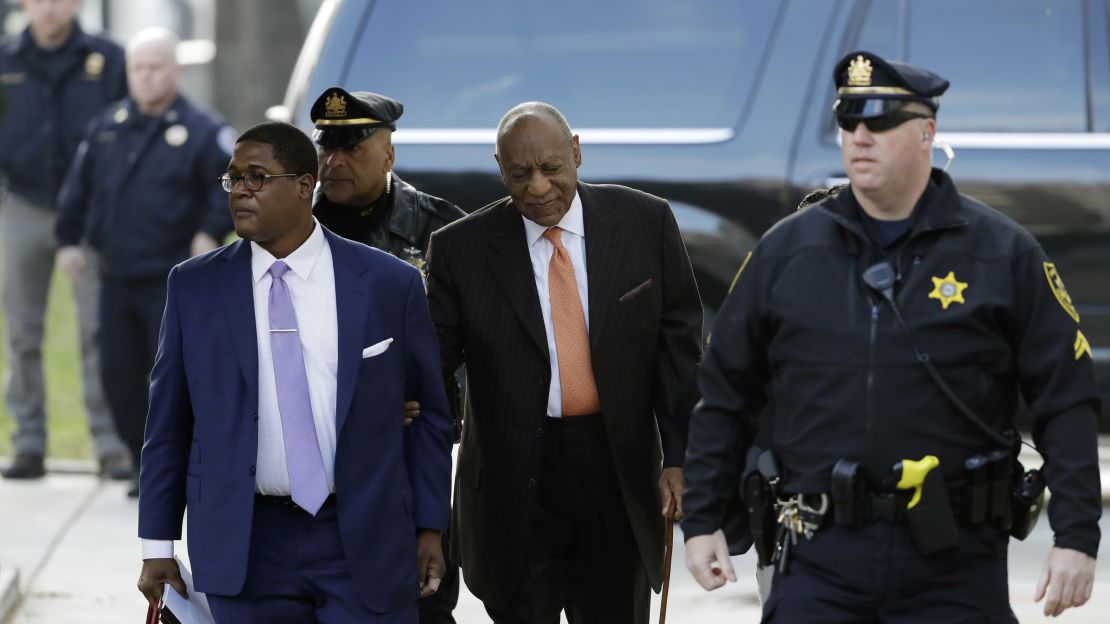 On Monday, prosecutors revealed for the first time that Cosby paid Constand $3.38 million as part of a civil settlement related to the alleged assault. Cosby did not admit any liability, wrongdoing or fault in the settlement.
With little to no forensic evidence, Constand's testimony is central to the case against Cosby. But Mesereau assailed her credibility Tuesday and said that the millions paid to her and the lack of an admission of liability proved the lawsuit wasn't filed for principles.
"This was nothing about principle, this was about money," he said. "The only principle was money, money, money, money."
A previous trial on these charges ended last year in a hung jury and a mistrial. But the retrial takes place in a world colored by the #MeToo movement and its reckoning with celebrities using their power to harass and assault women.
Prosecutors said they plan to call up to five women who have also said Cosby drugged and assaulted them in similar ways. Prosecutors plan to use these witnesses to "prior bad acts" to show that the star's actions with Constand were not a one-time mistake but part of a deliberate pattern.
Mesereau called this strategy "prosecution by distraction" because they did not have enough evidence.
"When you don't have a case, you have to fill the time with something else," he said. "Remember my words as you listen to the people testify."
Expert testimony on assault victims
Mesereau said in opening statements that Constand repeatedly called and contacted Cosby in the time period after the alleged assault but before she reported the allegations to police.
"If you are not interested, why do you keep going back and back and back and back? Because there is something you want. I wonder what it is? She's now a multimillionaire because she pulled it off."
The first of the women to testify about alleged prior acts was Heidi Thomas (then Heidi Johnson), who in 1984 was a model and aspiring actress.
She testified Tuesday that she doesn't remember large blocks of time after Cosby gave her wine while they were going over a scene at a home outside Reno, Nevada.
"I have little snapshots of the next four days after that," she said. "They are not even fuzzy, they are not there."
"I remember waking up in a bed, I don't know in whose bed. I didn't have any clothes on," she said, adding that Cosby was naked and forced himself on her.
Defense attorney Kathleen Bliss began to cross-examine Thomas, but was still questioning her when the judge called an end to the day.
'Delayed reporting' to authorities normal, doc testifies
The first witness in the case was Dr. Barbara Ziv, a forensic psychiatrist who testified about how sexual assault victims behave. She said that this "delayed reporting" is the norm, not the exception.
"Delayed reporting can go from days to weeks to months to years," she said.
"We blame victims for not being the kind of victim that we think they should be. It's part of the rape myth that victims report promptly and display a certain set of symptoms."
Ziv also said most victims don't immediately flee from the scene and that it was a myth that women fight back against unwanted advances.
"A woman's first impulse is to try and find a way to make it make sense, and the only way you can do that is by having contact with that individual again," she said.
'This case is about betrayal'
On Monday, prosecutors said the case was about trust and betrayal. Cosby was a powerful trustee at Temple University, and he worked to gain the trust of Constand, an employee with the Temple women's basketball team, they said.
Cosby betrayed that trust in January 2004 when he pushed her to take drugs and wine that incapacitated her and then sexually assaulted her without her consent, prosecutors said.
"This case is about betrayal, and that betrayal leading to the sexual assault of a woman named Andrea Constand," Montgomery County prosecutor Kevin Steele said.
Constand reported the alleged assault to police a year later, but no charges were filed at the time. She and Cosby then settled a civil lawsuit in 2006 that would remain secret for almost a decade.
As part of that settlement, Cosby paid Constand $3.38 million, prosecutors said for the first time on Monday. The settlement says Cosby entered into the agreement so long as the facts, allegations and information gathered during the course of the litigation did not become public.
In 2015, a judge made parts of that settlement public, including Cosby's deposition in which he admitted he got prescription sedatives to give to women with whom he wanted to have sex.
That admission in the settlement led prosecutors to reopen the case against him, leading to these charges. But the price tag and other details of that agreement had remained a secret until Monday.
The prosecution's opening statement was delayed until Monday afternoon due to a defense motion to dismiss a juror. The defense argued that juror made a comment indicating the comedian is guilty. Ultimately, the judge didn't dismiss any of the jurors. The 12 jurors and six alternates were brought into court and sworn in Monday afternoon.
CNN's Aaron Cooper reported from Norristown, and Eric Levenson wrote in New York.